Join us for a varied and fascinating events programme – both online and in person. From webinars on family and house history that you can research using the 1921 Census of England and Wales (released on 6 January 2022), through to talks on a range of 1920s themes and curatorial tours of our exhibition, 'The 1920s: Beyond the Roar'.
The first events in November 2021 set the scene for understanding the parallels between the 2020s and the 1920s. They will explore the dawn of a new decade, recovery from a global pandemic in the form of the Spanish flu, as well as the story of Claudius Smart, a merchant seaman whose life story tells a broader picture about Empire and British identity in the 1920s.
Events in November 2021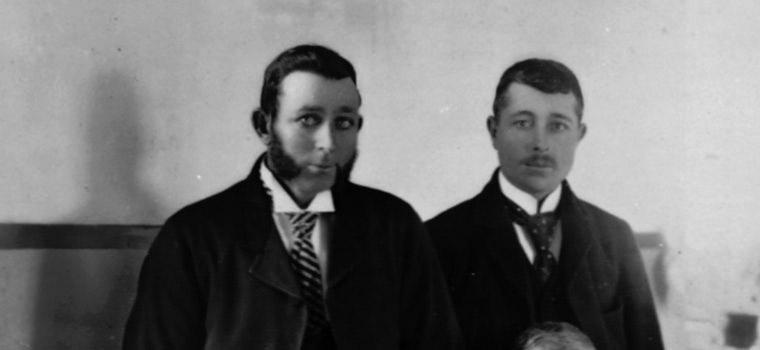 Researching your family history: 20th-century sources (webinar)
Saturday 13 November 2021 at 10:30
Discover your family's past with our top tips.
Join our experts as they introduce you to the key 20th-century sources for family history, including the 1939 Register, and the 1921 and 1911 Censuses. You will learn how to maximise your use of these popular sources, setting you on your way to discover more about your family tree.
A Stranger in a Strange Place (live audio-drama)
Thursday 18 November 2021 at 19:00
'A Stranger in a Strange Place' is a one-off audio drama, exploring repatriation of people from the British West Indies in 1920s Liverpool.
From Marine Engineer, to working as a ship hand and in timber yards, Claudius Smart has given the motherland his blood, sweat and tears – a most loyal son. But now all doors to employment have been closed on him. His crime? Falling in love with May – a white woman. Hurt and betrayed in an openly racist Britain and facing zero employment prospects and hungry stomachs, now Claudius's only choice and wish is for repatriation back to his native land of Jamaica for him, May and their young son. But will his request be granted?
A true story from The National Archives' collection, brought shockingly to life by playwright and screenwriter, Mel Pennant.
This event will be followed by a live Q&A with the writer.
Victory and Loss: Britain after the First World War (online talk)
Friday 19 November 2021 at 14:00
Both a joyous victory and a solemn reminder of all that had been lost – the end of the First World War brought people together in national celebration, yet also deep grief and mourning.
This conflicting time is brought to life as William Butler looks at both aspects of Britain in peacetime. Join him as he explores the widespread joy felt throughout Britain, exemplified at the 1919 Peace Day celebrations, yet also uncovers the deep trauma felt nationally.
Looking at significant examples of memorialisation, such as the Cenotaph created in Whitehall, the reburial of the executed nurse Edith Cavell, and the burial of the Unknown Warrior in Westminster Abbey, this talk will show a very human side of Britain in the aftermath of war.
This talk will be presented by Dr William Butler, Head of Military Records at The National Archives.
Spanish flu and COVID-19: Pandemics and the Roaring Twenties (online talk)
Friday 26 November 2021 at 14:00
Discover the greatest human disaster of the 20th century.
Killing more than 100 million people, the Spanish flu pandemic of 1918 had devastating worldwide effects. In the wake of the tragedy of the First World War, with masses of people having lost their lives, the pandemic left Britain in a disastrous state. However, the horror of this illness was forgotten as the British population roared into the 1920s and the buzz of the jazz age.
Especially relevant now as we emerge from the shadow of our own pandemic, Catharine Arnold, author of Pandemic 1918: The Story of the Deadliest Influenza in History, compares the two pandemics and asks: what, if any, lessons have been learned, and can we expect another Roaring Twenties?
Researching your family history: 19th-century sources (webinar)
Saturday 27 November 2021 at 10:30
Discover how to use 19th- and 20th-century sources in your family history discoveries.
Join our experts as they demonstrate ways to trace lives through the 19th century and shed light on the key sources available to help broaden your understanding of 19th century genealogy. Including civil registration records after 1837 and illustrating the journey of the census through the 19th century, this webinar will set you on your way to discover more about your family tree.
This webinar will be presented by Audrey Collins, Records Specialist, Family History at The National Archives.
More information on events from December 2021 through to May 2022 will be announced soon. Join our mailing list to hear first about upcoming events with priority booking.