Join us for fantastic in-person events at The National Archives in Kew.
The National Archives, Bessant Drive, Richmond, TW9 4DU
The National Archives also hosts a range of online events. To browse these, please see our Online Events page.
Priority booking to all events
Get priority booking to all our events every month when you subscribe to our weekly newsletter. Get priority booking – sign up to our mailing list now.
---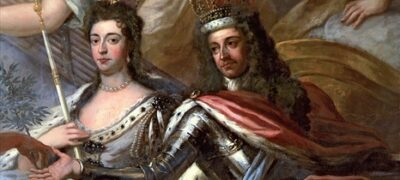 Hands on History document display: State Papers Domestic, William and Mary
Join us for a one-off hands on document display of state papers, covering the period from the Bill of Rights in 1689 to the Death of William III in March 1702.
This event takes place in person at The National Archives in Kew.
Tuesday 27 September at 11:00
Your Street in 1921 – Local history weekends at The National Archives
Discover a national treasure on your doorstep, free and open to all.
The National Archives is running two local history weekends for people of all ages living in the Kew and Richmond-upon-Thames area, in partnership with Richmond Local History Society and Kew Society, as part of Know Your Place festival.
Join us to discover fascinating local stories of residents from 100 years ago, to take part in some of our activities, and even find out who called your house 'home' in 1921.
Find out more: Local history weekends at The National Archives
Saturday 1 and Sunday 2 October, 11:00 to 16:00
No booking required.
Invention Convention: Hands On Sessions – Victorian Design Registers
Join us in exploring the extraordinary world of Victorian inventions and let your imagination run wild! Get hands-on with our Victorian design registers and be inspired to produce your own amazing creations.
All activities are free and open to the whole family, but we recommend booking the hands-on sessions in advance to avoid disappointment. Our shop and café will also be open on the day, along with other free family activities.
Saturday 29 October, 11:00 to 16:00
---
Missed an event or can't watch a talk live?
All events are viewable for 48 hours after the published date and time, which means that attendees who registered but were unable view the live event can catch up at their leisure.
You can also replay most of our talks on our Archives Media Player, where our curated playlists will help you find talks of similar interest. Please be aware that it can take up to three months for past events to appear on our media player.
Common questions about booking and accessing our online events.