Join us for fantastic in-person events at The National Archives in Kew.
We also host a full programme of online events, which can be enjoyed from the comfort of home.
Priority booking to all events
Get priority booking to all our events every month when you subscribe to our weekly newsletter. Get priority booking – sign up to our mailing list now.
---
Behind the Scenes Tours
We are opening the doors of The National Archives' repositories to offer you the chance to go behind the scenes.
Discover how we keep and maintain the record for future generations and explore some of the hidden gems in our collections.
Saturday 15 July at 11:15
Thursday 27 July at 15:30
Thursday 24 August at 15:30
Saturday 16 September at 11:15
Saturday 21 September at 15:30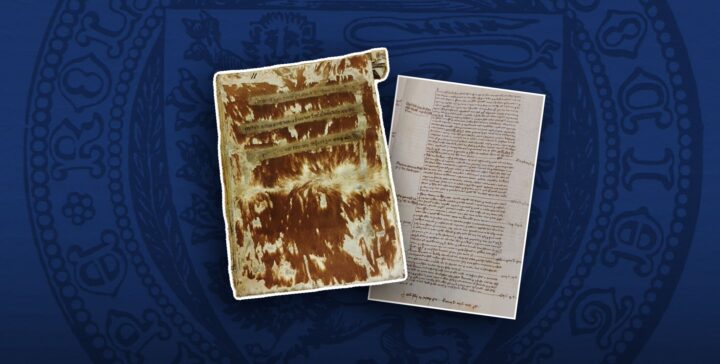 Royal Patronage and Favour in Accounts of the Great Wardrobe (c. 1350-1400)
Join us for the The Pipe Roll Society Annual Lecture.
The Great Wardrobe was one of the principal spending departments of the royal household in the later Middle Ages.
Though fragmentary and incomplete, the surviving accounts of the Great Wardrobe have provided a rich source of information for textile historians. However, the accounts also offer insights into the political values and priorities of successive kings, their consorts and the royal family.
Drawing on livery rolls from the latter half of the fourteenth century, this lecture explores the usefulness of these accounts as a barometer for royal patronage and favour. The lecture will be followed by a display of original documents.
Founded in 1883 at the Public Record Office, the Pipe Roll Society publishes the Pipe Rolls and associated records of medieval English government, and of other manuscripts of national importance prior to the year 1350. It welcomes new members for an annual subscription of just £10. More details can be found on their website at piperollsociety.co.uk
Tuesday 27 June at 17:00

Spirit of Invention mini-talks
Discover the inspiration behind Spirit of Invention. Join our specialists for a ten minute talk about designs in the collection and have the chance to see the designs for yourself.
Festival of Britain  | Tuesday 12 September
Victorian Fashion  | Tuesday 19 September
Victorian Travel  | Tuesday 26 September
First Sunday activities
The first Sunday of every month we are running special hands-on activities inspired by our new exhibition Spirit of Invention! Perfect for anyone curious about invention and the science behind how things work!. Craft your own invention prototypes, take a tour of the exhibition with our own Victorian inventors, get your face painted and much more!

Let's Go Lego |  2nd July, 11- 4pm
A fun filled day of Lego! Join a special Time Travel Club sessions with Bricks McGee, or get constructing with some Lego free play.

Let's Get Inventing |  6th August, 11-4pm
Explore the world of inventions past, present and future!

Cool Science |  3rd September, 11-4pm
The National Physical Laboratory brings their enthusiasm for measuring science and atomic clocks to The National Archives!

Out of this World |  1st October, 11-4pm
Explorer Dome's Inflatable Planetarium is back. Crawl into the darkened dome and discover the worlds that glitter in our night sky!
---
Missed an event or can't watch a talk live?
All events are viewable for 48 hours after the published date and time, which means that attendees who registered but were unable view the live event can catch up at their leisure.
You can also replay most of our talks on our Archives Media Player, where our curated playlists will help you find talks of similar interest. Please be aware that it can take up to three months for past events to appear on our media player.
Common questions about booking and accessing our online events.