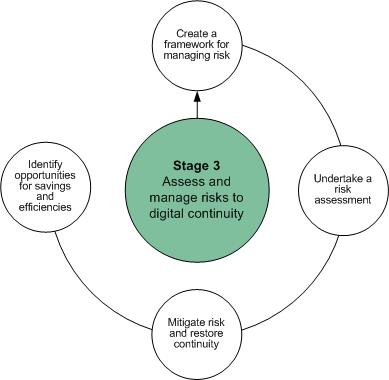 You can manage the risk of losing digital continuity by:
setting out appropriate governance and risk management structures
assigning responsibility for the management of risk to digital continuity
assessing your current level of risk
Read more information about Stage 3:
Stage 3: Assess and manage risks to digital continuity (PDF, 0.13Mb)
Risk assessment handbook
Our risk assessment handbook will help you identify where your information is at risk and take active steps to manage these risks:
Risk Assessment Handbook (PDF, 0.33Mb)
Testing for continuity checklist
The checklist below helps you test that your information asset meets your users' needs to find, open, work with, understand and trust the information it contains. This is aimed primarily at information asset owners.
Testing for Continuity Checklist (PDF, 0.06Mb)
Managing digital continuity loss
Already lost the ability to use your information as you need? Our guidance below will help you to examine why you have lost continuity, how you may be able to restore it, and how you can prevent it from happening again.
Managing Digital Continuity Loss (PDF, 0.25Mb)
Self-assessment tool
The Information Management Assessment (IMA) programme has produced a tool to assist government organisations in self-assessing the effectiveness of their approach to information and records management. Find out more on our risk assessment page, or register for the tool.