War Office: Tanks manual, 1918 (WO 158/832)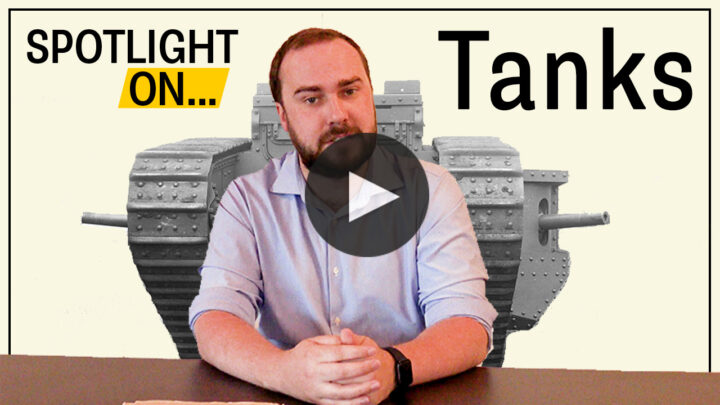 We hope you enjoyed watching our Education Service video with collections expert Will Butler looking at our War Office series. This video focuses on a manual from August 1918 about the role of tanks in warfare. It helps explore the impact of this technology during the First World War.
Download Spotlight On: Tanks Resource Pack
Watch the video then try and answer the following questions:
What was the War Office?
When was it created?
What type of sources can be found in the War Office collection?
What does this reveal about the range of material available?
What is the date of the document examined in the video?
What does the earlier correspondence in the file suggest about the document examined?
From looking at the cover of the document, why do you think the document says it is for 'For Official use only'?
Who issued the document?
Can you explain the purpose of the document?
Why does the document say on its cover that is ' To supersede….S.164…S.S..204…S.S.135'
What insight, according to the video, does the document reveal about military views on:

The use of tanks on the battlefield
How they should be used by the military in an offensive
The impact of tanks on the enemy?

Find out about the use of tanks at: Battle of Flers-Courcelette (15th September 1916); Battle of Cambrai (1917), the first large scale use of tanks. For more information on the use of tanks in the First World War see the Imperial War Museum
Use The National Archives research guides to find records on the First World War.
Related Resources





Connections to Curriculum
Key stage 4
AQA GCSE History

Conflict and tension: the First World War, 1894–1918: Military developments in 1918 and their contribution to Germany's defeat: the evolution of tactics and technology.
Key stage 5
Edexcel GCE History

The British experience of warfare, c1790–1918: Western Front: the use of new fighting techniques and new technology.

OCR GCE History

The Changing Nature of Warfare 1792–1945: The impact of technological change