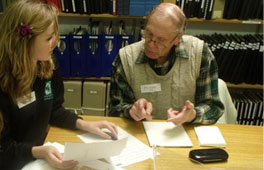 Together with partners, we aim to
deliver a single leadership role for the archives sector in England
deliver our strategic vision for archives, Archives Unlocked
deliver strategic sector engagement, helping archives services and their parent bodies to respond to government policy, and to develop in ways that strengthen the national network of provision
provide a policy information and advice role for government
encourage new thinking and initiatives in the sector
develop and implement an accreditation scheme for archives
inform government policy
ensure archives are embedded in Arts Council England's wider cultural offering
Jisc and the Archives Hub
In September 2017, The National Archives and Jisc signed a Memorandum of Understanding (PDF, 0.26MB) in which several areas of collaboration were identified and agreed. One of these was a commitment to work together to improve both Discovery and Archives Hub, to explore the interoperability of data between them, improve the user experience of both systems and if possible to highlight the interconnectivity between collections in the two systems.
We have begun this work by preparing a document with Jisc setting out our complementary approach to the two services across the areas of user interfaces, data, sharing and outreach. Read our 2018 short paper, From coexistence to complementarity: the Discovery service and the Archives Hub (PDF, 0.34 MB)
We will continue to examine areas for collaboration over the next two years, beginning with a feasibility and scoping study.
Arts Council England and Research Libraries UK
We work with Arts Council England on several initiatives (PDF, 0.03MB) and have agreed our approach to working together in a Memorandum of Understanding (PDF, 0.24MB).
We have also signed a Memorandum of Understanding (PDF, 0.25MB) with Research Libraries UK, which sets out the role of both organisations and how we will work together in the future to achieve our goals.
Other partnerships
Additionally, many of our current initiatives are delivered in partnership with archives and interested bodies.
Museums Association statement
We also support this statement by the Museums Association (PDF, 0.27MB), which recognises the essential role that museums play in holding items of artistic, cultural, historic and scientific importance on behalf of society. Unethical sale of parts of their collections risks reputational damage to museums and organisations associated with them. Those who have signed this statement want to work with museums to find the most effective ways to develop, protect and engage with our public collections so that we can meet our collective responsibility to pass on this precious legacy to the next generation.