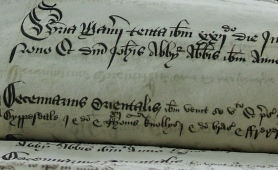 In 2011, The National Archives took on additional leadership responsibilities for archives in England.
We work with all archives including:
national institutions and local authorities
universities, libraries and museums
businesses and charities
private and specialist institutions
We also work with other government departments to do this.
Our approach to the leadership role is a collaborative one, supporting partnerships and working to encourage a sustainable and innovative archives sector.
Alongside our leadership role, we are continuing to deliver our obligations under the Public Records Act and Historical Manuscripts Commission Warrant.
Our leadership statement
Since The National Archives has now held the leadership role of the archives sector in England for more than ten years, we have taken the opportunity to review our approach to archives sector leadership.
We commissioned Activist Group to independently undertake a comprehensive survey of the sector to gather feedback on where we have succeeded in our leadership role and where we need to focus our attention going forward to make improvements. Over 140 people responded to the survey and a further 100 stakeholders were consulted during the process.
Read the full statement on our refreshed leadership offer
First leadership review
In 2013, The National Archives commissioned the Cultural Consulting Network (CCN), to review its leadership of the archive sector two years on from taking over the responsibility from the Museum, Libraries and Archives Council.
The aim of the review was to:
look at what had been achieved
look at whether stakeholders and partners had recognised the change in our leadership role
make recommendations about what can be done differently to make The National Archives more effective as a sector leader in the future
CCN's analysis was based on gathering extensive qualitative views from a range of our stakeholders with an interest in its leadership role. Their conclusions were based primarily on these external perspectives.
Review of The National Archives' sector leadership function (DOC, 0.53MB)
The National Archives' response to the leadership review (DOC, 0.04MB)
The report indicated that after the initial two-year period of leadership, The National Archives had made real progress in establishing itself in the sector leadership role and in taking up the accompanying challenges.
The report also outlined a number of recommendations that influenced our future planning, including a re-organisation of the Archive Sector Development department in 2015-16. Alongside extensive consultation, these insights also fed directly into the co-creation of Archives Unlocked, our strategic vision for archives.