This story is one of the winning stories in the 20sStreets competition. The competition invited entrants to research and share stories of the 1920s, searching for the most fascinating local history stories covered by the 1921 Census of England and Wales. There were six winning stories and twelve runners-up entries.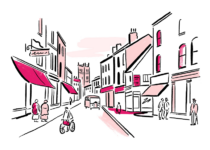 ---
Watford in the 1920s: three ladies of Trewins Department Store
By Helen George, winner (one of five) in the Individual category
The year 1921 had dawned. In the prosperous Hertfordshire town of Watford the new decade was truly starting to roar. The popular choice for concerts and whist drives was Kingham Hall, while the Emperor Ballroom offered up to date dances every Saturday night. The Essex Arms Hotel was the place to lunch, dine and stay", and the Watford Piano Saloon did a brisk trade in gramophones and records. The town had no fewer than four cinemas; such was the local passion for films that Bateman's Opticians advertised its treatments for "Cinema Headache"
Above all, Watford was the foremost shopping destination for the county. It had a High Street packed with high-class shops, two cattle markets, and no fewer than two department stores: Clements and Trewins. During the war business had boomed in Watford and its citizens had money to spend. In October 1919 Trewins, already famous for its extravagant displays and exhibitions of women's clothing, advertised its magnificent array of new fashions and the opening of its new tea rooms and soda fountain.
Trewins had opened in Watford in 1880 as a family drapers, inviting customers to view its household linens, mantles, hosiery and trimmings. The business prospered, and in 1918 it was sold to American Gordon Selfridge to become one of his fifteen provincial stores. Trewins benefited particularly from the post-war prosperity of female customers. Many Watford ladies had moved out of low-paid domestic service into higher paid work with more regular hours in shops and offices.
Such was Trewins' success that it provided living quarters for its staff at Osborne House in Queen's Street. The 1921 Census shows that there were twenty two shop workers, a housekeeper and five domestic staff who were resident at this address. Among the shop workers were three unmarried ladies: Rose Garman, aged 30, a dress maker; Florence Nobbs, aged 31, a draper's buyer; and Edith Partington, aged 33, a milliner.
Despite the post-war gaiety, Watford had suffered great loss during the recent conflict. In early 1919 a civic Roll of Honour was unveiled listing the names of the 818 men of the town who had died. They represented approximately nine per cent of the town's immediate pre-war male population born between 1876 and 1900. The 1921 Census reveals that among Watford citizens aged between 25 and 34 there were 3,252 men compared to 3,900 women, a 20 per cent "excess". Nearly 40 per cent of women in this age group were unmarried, with most of them labelled as "spinsters" . "In Watford there is a preponderance of females over males" stated the West Herts and Watford Observer in August 1921 .
However in Watford, even if a woman could not find a husband she could still find well-paid employment to support herself financially. The 1921 census report town shows that 16 per cent of the town's female workforce were clerks or draughtsman, 11 per cent worked in commerce, finance or insurance, 11 per cent worked in the printing and paper making industries, and 7 per cent were employed in professional occupations . Yet in the retail world of the 1920s the professions of drapery and millinery could also provide excellent career opportunities.
Rose Garman, Florence Nobbs and Edith Partington all entered these professions at a young age. Rose was born in Saffron Walden in Essex in 1891; by the age of 20 she was already working as a dressmaker. Florence was born in Umberleigh in Devon in 1889; at 22 she was working as an assistant at a store in Guildford High Street in Surrey. Edith was born in Hereford in 1887. Her family later moved to Northampton, and by 1911 they were all engaged in dress and hat making. Did Watford's renowned status as an affluent retail destination attract all three ladies, from diverse corners of England, to Trewins in order to further their careers?
In the 1920s fashion had never been so accessible. The clothing in vogue combined glamour with simplicity and affordability. Gone were the restricting corsetry, elaborate dressing and heavily decorated wide brim hats of the pre-war days. The new decade saw comfortable sports wear worn as outfits for daytime, while embellished shifts and drop-waist dresses, pearls and headband accessories were on trend for evening wear. The simple and affordable cloche hat was phenomenally popular from 1922 until the early 1930s. Made of felt or straw, it could be decorated with beads, lace and ribbons to suit every occasion. Some brides wore cloche hats at their weddings! The simplicity of 1920s clothing also saw a boom in home dressmaking. New materials such as artificial silk were available and affordable, paper patterns were easier to use, and the first electric sewing machines were coming onto the markets. For tailoresses, milliners, drapers and haberdashers, business must have been brisk.
We might conclude that the fashion careers of Rose, Florence and Edith were firmly established by the time they left Trewins in Watford. The population register of November 1939 tells us how their working lives had progressed. As the 1930s came to a close Rose was working as a tailoress in Harrow, North London, and sharing a home with three other women. Florence as also living in Harrow, in her own home; her occupation is listed as a shopkeeper specialising in women's wear. Edith had returned to Northampton to live with her family and was also a shopkeeper specialising in millinery. Of the three ladies, Edith was the only one who eventually married. Her wedding took place on 5 August 1942 at Horsemarket Methodist Chapel in Northampton. At the age of 54 she married 47 year old Joseph Lister, a widower and smallholder from Cambridgeshire.
All three ladies lived long lives. Edith died in Northampton aged 76 in April 1963; Florence died in Watford aged 89 in January 1979; and Rose died in Middlesex aged 90 in May 1981.
In October 1928 Watford indulged in a growing national trend for Shopping Weeks . There were exhibitions of goods, amusements, attractions, prizes, free gifts and bargains galore! Shop windows, including Trewins, overflowed with the latest women's fashions, and Watford ladies no doubt took great pleasure in exercising their purchasing power. Yet behind the glamour and pleasure of shopping in Watford lay significant social and demographic changes. Rose, Florence and Edith show how, in the aftermath of the First World War, three brave and resourceful ladies could make their own way in the world through a career in fashion.
---
The rest of the winning and runners-up stories will be published on our 20sStreets portal in the coming weeks.