This story is one of the runners-up stories in the 20sStreets competition. The competition invited entrants to research and share stories of the 1920s, searching for the most fascinating local history stories covered by the 1921 Census of England and Wales. There were six winning stories and twelve runners-up entries.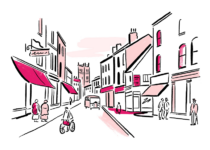 ---
Change through a child's eyes – Lily, aged 11 (1928)
By Laura Lee, runner up (one of ten) in the Individual category
There is a motor car roaring round the corner towards us. The acrid smell of the fumes makes my eyes sting and my throat constrict as it goes barrelling through the open South Gates of Betley Hall [1], missing my sister Molly and I by inches, the noise of the engine only just drowning out the lively chatter of the car's occupants. Molly, three years younger than I, clutches at my jumper sleeve in fright, and I give her hand a gentle squeeze. She stares after this smelly metal monster in wide-eyed amazement as it proceeds up the tree-lined drive. We'd seen motor cars pass through the village before, but this one with its group of chattering strangers was invading the grounds of Betley Hall itself! I couldn't have been more indignant if it had driven into our own front room. What would Lady Mac [2] have said?
Molly is too young to remember when Lady Mac died six years ago. We heard some horrible story about how she'd fallen down the grand marble staircase and died of her injuries. [3] When Molly threw my Sunday gloves into the horse trough last year, I told her that the ghost of Lady Mac would come and get her while she was asleep. Lady Mac always wore long black clothes [4], a frightening figure who reminded me of the witches I'd seen in storybooks. Whenever we saw her drive through the village in her carriage, Mother and all the other Betley women had to curtsey, and even I at five years old had to attempt this, although it turned into more of a clumsy stumble which made the women smile and Mother sigh, especially when I tripped over my own foot in the process. Lady Mac would only ever give us a slight incline of her head in return, often we were ignored completely. Grandad Clarke [5]  told me that after Lady Mac died her beautiful horses were shot. I wept for days, and it seemed to me that from then on life would be full of strange and unsettling changes, which I could neither predict nor control.
Grandad Clarke doesn't hold with motor cars either. As he says to anyone who'll listen: 'What's wrong with horses, that's what I'd like ter know, served man well enough since pagan times ain't they?' But horses are Grandad's life. He's been the coachman at Betley Hall for so long, even before Mother and Father were born. 'Since Henry VIII's time', giggles Molly, which earns her a sharp telling-off from Mother for disrespecting her elders. But I know what she means. Generations of our family have served the gentry folk at Betley Hall and we've been brought up to revere them without question as our lords and masters, just a little lower than God and the King in our eyes. Ever since little Molly could toddle, Mother would pack us both off to Sunday School in the Chapel [6], where Mrs Maydew would hand out the well-thumbed Victorian hymn books for the singing. My favourite hymn is 'All Things Bright and Beautiful', with its images of the country life we know so well – trees, meadows, flowers and birds. There's also a verse in it that goes:
"The rich man in his castle, The poor man at his gate, God made them, high or lowly, And ordered their estate". [7]
This 'order of estate' became as much a part of our catechism as The Lord's Prayer or The Ten Commandments. But now everything's changed. There is no Betley Hall Estate anymore. It's all broken up into fragments, like a pitcher lying smashed on the floor, breaking up our way of life with it. Father went to the Betley Hall Estate auction at The Royal Hotel in Crewe. [8] I wouldn't have wanted to go even if I'd been allowed. It went against just what I held most sacred – some stony-faced auctioneer dividing up Lady Mac's estate like the Roman soldiers dividing up Jesus' garments when He was crucified. Father said some of our neighbours attended the auction to bid for their rented houses so they could own them outright and not have to pay rent anymore. Mr Hockenhull bought his cottage for £150, [9] and then his son Fred went round boasting to everyone that his father was a landowner now. He's got no respect.
Betley Hall was the lifeblood in my family's veins, as vital to our existence as the air we breathe. We've never known a life without it. Grandad Clarke as coachman, and his father and grandfather before him, Father, Uncle George and Uncle Alfred working on the Hall farm and in the gardens, Mother as a kitchen maid before her marriage. Betley Hall gave our family a steady income that put a roof over our heads, food on the table and clothes on our backs, and somehow, we felt that what it couldn't provide just wasn't worth having.
It's night time now and Molly and I are in bed, but I'm not asleep. I can hear Mother and Father talking in the kitchen in low voices, and I quietly creep out of our bedroom, padding softly along the bare floorboards towards the kitchen door, which has been left slightly ajar.
'They say they're turning the Hall into a hotel, Mary', says Father. 'Wilmot[10]  and some others have seen adverts in the newspaper for it. [11] Dancin' til all hours, parties in the grounds, Lord knows what'. I feel my blood run cold. I can just about see Mother, sitting at the kitchen table with her eyes downcast and her fingers interlaced in front of her, as though she is praying. She slowly lifts her head, and when she speaks, her voice comes out in the thread of a whisper. 'What does this mean for us, Jack? Will they let you keep your job there?'
My heart is pounding so loudly that I fear it will burst out of my chest at any moment and alert Mother and Father to my presence. If Father lost his job…, would we have to move away? Leave Grandad Clarke and all our family and friends? The thought was too terrible to contemplate – the thought that not only Betley Hall, but Betley itself might become a closed chapter of our lives forever.
---
Footnotes
[1] – Betley is a rural village on the border of North Staffordshire and South Cheshire. Betley Hall, situated at the north end of Betley, was a dominant feature of village life during the 19th century, up to the early 1920s.
[2] Margaret Mary Teresa MacDonald, nee Blount (1846 – 1922), known in the village as 'Lady Mac', owner of Betley Hall. She was married twice. Her first husband was George Edmund Wicksted (1836 – 1895) and her second husband was Col John Andrew MacDonald (1837-1916).
[3] Smith, M.E. (2005) The Tollet Family of Betley Hall, Betley Local History Society, Betley
[4] Smith, M.E. (2005), Betley Local History Society Newsletter Volume 8 Issue 1 © Betley Local History Society and Mavis E. Smith
[5] Joe Clarke (1868-1967) served as coachman at Betley Hall for many years under various employers and died a year short of his centenary.
[6] As remembered by Betty Walker, who grew up in Betley in the 1920s.
[7] https://hymnsocietygbi.org.uk/1961/10/treasure-no-24-the-rich-man-in-his-castles
[8] The Betley Hall Estate was sold at auction at The Royal Hotel, Crewe in February 1925.
[9] Thompson, D.B. (2013) The Legacy of "The Tollets' Estate" in the Landscape of the Present-Day Village of Betley as Reflected in the Sale of 1925, Betley Local History Society, Betley
[10] Wilmot Taylor, village blacksmith who later converted Betley Smithy into a garage
[11] In 1928 and 1929, there were a considerable number of newspaper advertisements for Betley Hall Hotel, which offered such activities as boating, dancing, tennis and whist
Images
Betley Hall – Watkin family collection
'Grandad Clarke' – Hatton, M. and Thompson, D.B. (2004) Betley Local History Society Newsletter Volume 4
Issue 1. © Betley Local History Society, Mike Hatton and David Thompson
Text
Smith, M.E. (2009) Betley Local History Society Newsletter Volume 8 Issue 1. © Betley Local History Society and Mavis E. Smith
Smith, M.E. et al. (ed.) (1999) Portrait of a Community, Betley & Balterley Parish Council, Betley
Smith, M.E. (2005) The Tollet Family of Betley Hall, Betley Local History Society, Betley
Speake, R. (ed.) (1984) Betley in Old Picture Postcards, European Library, Zaltbommel (Netherlands)
Thompson, D.B. (2013) The Legacy of "The Tollets' Estate" in the Landscape of the Present-Day Village of Betley as Reflected in the Sale of 1925, Betley Local History Society, Betley
George Edmund Wicksted 1836-1895 – Ancestry®
John Andrew Macdonald 1837-1916 – Ancestry®
Treasure No 24: The Rich Man in His Castles | The Hymn Society of Great Britain and Ireland (hymnsocietygbi.org.uk)
The rest of the winning and runners-up stories will be published on our 20sStreets portal in the coming weeks.