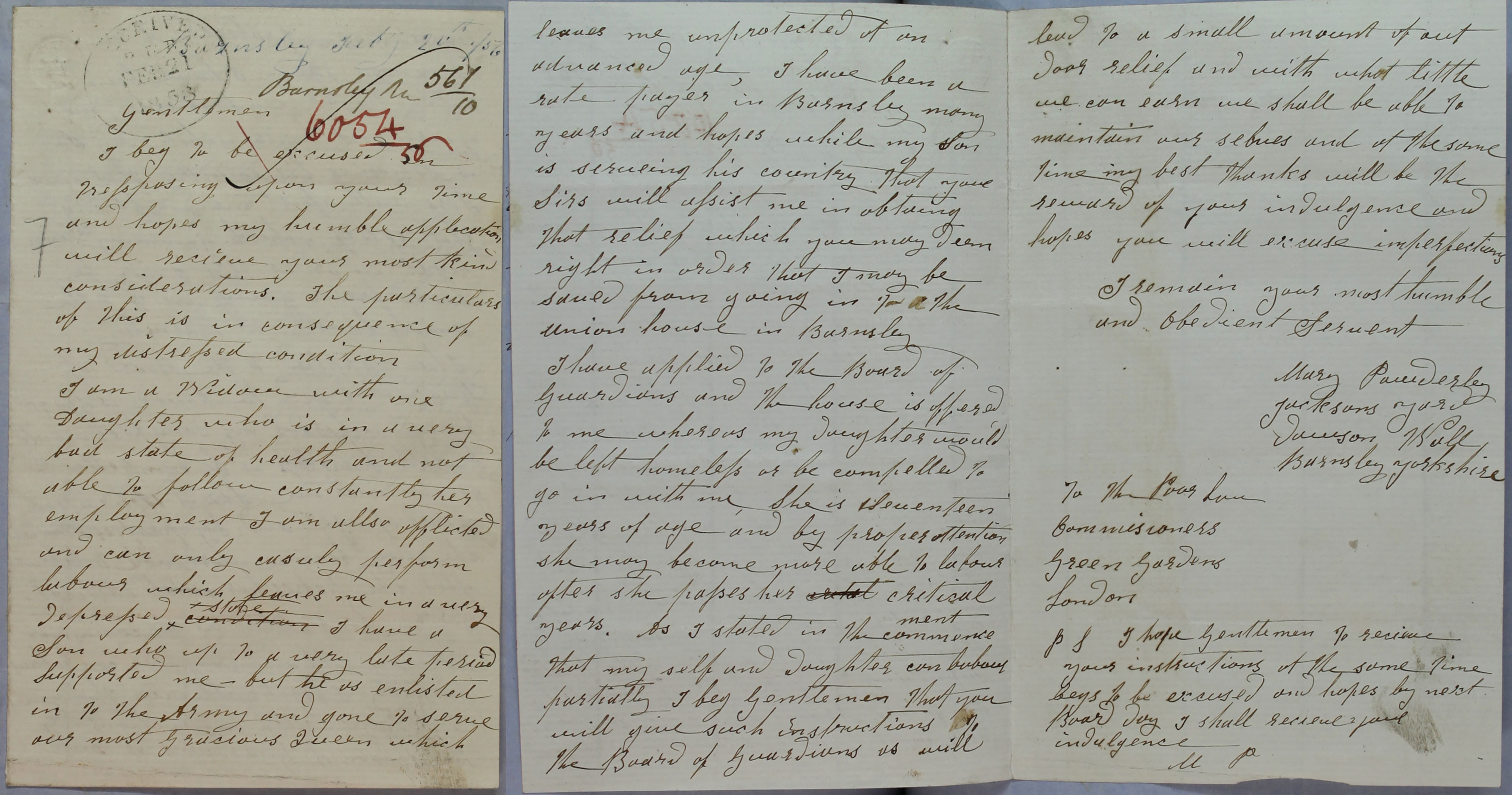 Letter from a widow explaining why she does not want to go to the workhouse, 20 February 1856, Catalogue ref: M12/14677
Transcript
Barnsley,
February 20th, 1856
Gentlemen, I beg to be excused in trespassing upon your time and hope my humble application will receive your most kind considerations. The particulars of this is in consequence of my distressed condition. I am a widow with one daughter who is in a very bad state of health and not able to follow constantly her employment. I am also afflicted and can only casually perform labour which leaves me in a very depressed condition. I have a son who for a short period supported me, but he has enlisted in the army and gone to serve our most Gracious Queen which leaves me un-supported at an advanced age, I have been a rate payer in Barnsley and hope while my son is serving his country that you sirs will assist me in obtaining that relief which you may deem right in order that I may be saved from going in to the Union house in Barnsley. I have applied to the Board of Guardians and the house if offered to me, whereas my daughter would be left homeless or be compelled to go in with me, she is seventeen years of age and by proper attention she may become able to labour after she passes her critical years. As I stated in the commencement, that myself and daughter can labour partially, I beg gentlemen that you will give such instructions to the Board of Guardians as will lead to a small amount of outdoor relief and with what little we can earn we shall be able to maintain ourselves and at the same. My best thanks will be the reward of your indulgence and hopes you will excuse imperfections.
I remain your most humble and obedient servant,   Mary Powderley, Jacksons Yard,   Dawson Well, Barnsley, Yorkshire.
To the Poor Law Commissioners, Green Gardens, London
P.S. I hope, Gentlemen to receive your instruction at the same time, [I beg] to be excused and hope by next Board day, I shall receive your indulgence.  M.P.
Return to Workhouse Voices