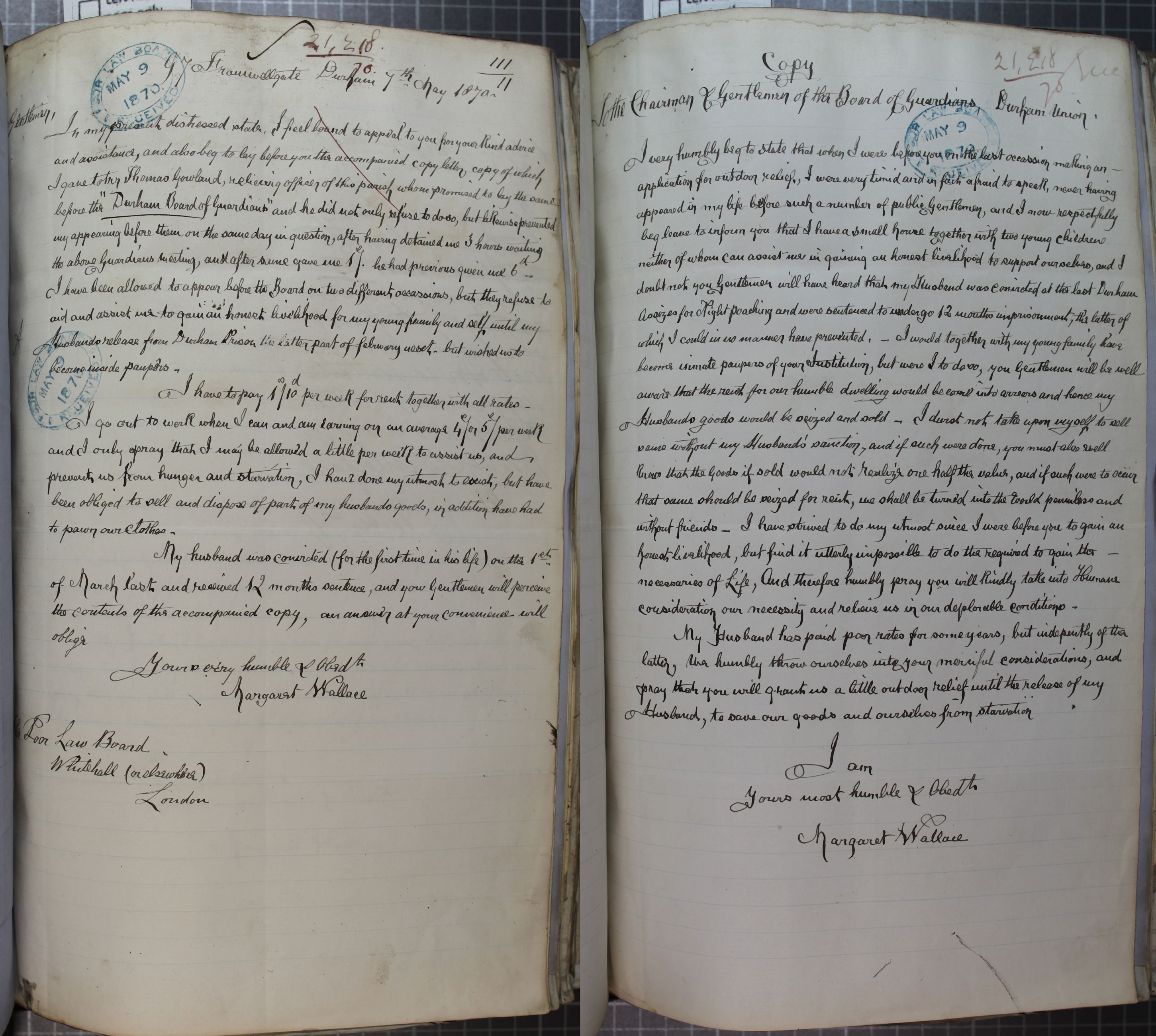 A letter from a woman who has been refused outdoor relief and is in very distressed state, 7 May 1870, Catalogue ref: MH12/3025.
Poor Law Union: Durham Poor
Union counties: County Durham
Transcript
97 Framwellgate
Durham 7th May 1870 [Gentlemen]
In my present distressed state, I feel bound to appeal to you for your kind advice and beg to lay before you this letter, a copy of which I gave to Mr Thomas Gowland, relieving officer of this parish, whom promised to lay the same before the Durham Board of Guardians. He did not only refuse to do so, but likewise prevented my appearing before them on the same day in question, after having detained me 3 hours waiting for the above Guardians meeting, and afterwards gave me 1 shilling, he had previously given me 6 pence. I have been allowed to appear before the Board on two different occasions, but they refuse to aid and assist me to gain an honest livelihood for my young family and self, until my husband's release from Durham Prison, the latter part of February next but wished us to become inside paupers [take indoor relief in the workhouse].
I have to pay 1shilling and 10 pence per week for rent together with all rates. I go out to work when I can and am earning on average 4 shillings or 5 shillings per week and I only pray that I may be allowed a little per week to assist us, and prevent us from hunger and starvation. I have done my utmost to exist, but have been obliged to sell & dispose of part of my husband's goods, in addition have had to pawn our clothes.
My husband was convicted (for the first time in his life) on the 1st of March last and received 12 months' sentence, and you gentlemen will perceive the contents of the accompanied copy, an answer at your convenience, will oblige.
Yours very humble & obedient Margaret Wallace.
Poor Law Board Whitehall (or elsewhere), London.
[Copy of letter given to Mr Thomas Gowland, enclosed with the above letter to the Poor Law Board]]
The Chairman, & Gentlemen of the Board of Guardians, Durham Union.
I very humbly beg to state that when I were before you on the last occasion making an application for outdoor relief, I were very timid and in fact afraid to speak, never having appeared in my life before such a number of public gentlemen, and I now respectfully beg leave to inform you that I have a small house together with two young children neither of whom can assist me in gaining an honest livelihood to support ourselves. I doubt not, you Gentlemen will have heard that my husband was convicted at the last Durham Assizes for Night poaching and was sentenced to undergo 12 months imprisonment, the latter of which I could in no manner have prevented.  I would together with my young family have become inmate paupers of your institution, but were I to do so, you Gentlemen will be well aware that the rent for our humble dwelling would become into arrears and hence my husbands' goods would be seized and sold. I dare not take it upon myself to sell these goods without my husbands' sanction If such were done, you must also well know that the goods, if sold, would not realize one half their value, and if such were to occur that same should be seized for rent. We shall be turned into the world penniless and without friends. I have strived to do my utmost since I was before you to gain an honest livelihood, but find it utterly impossible to do the required to gain the necessaries of life. And therefore humbly pray you will kindly take into humane consideration our necessity and relieve us in our deplorable condition.
My husband has paid poor rates for some years, but independently of the latter, we humbly throw ourselves into your merciful considerations, and pray that you will grant us a little outdoor relief until the release of my husband, to save our goods and ourselves from starvation. I am yours most humble & obedient, Margaret Wallace.
Return to Workhouse Voices