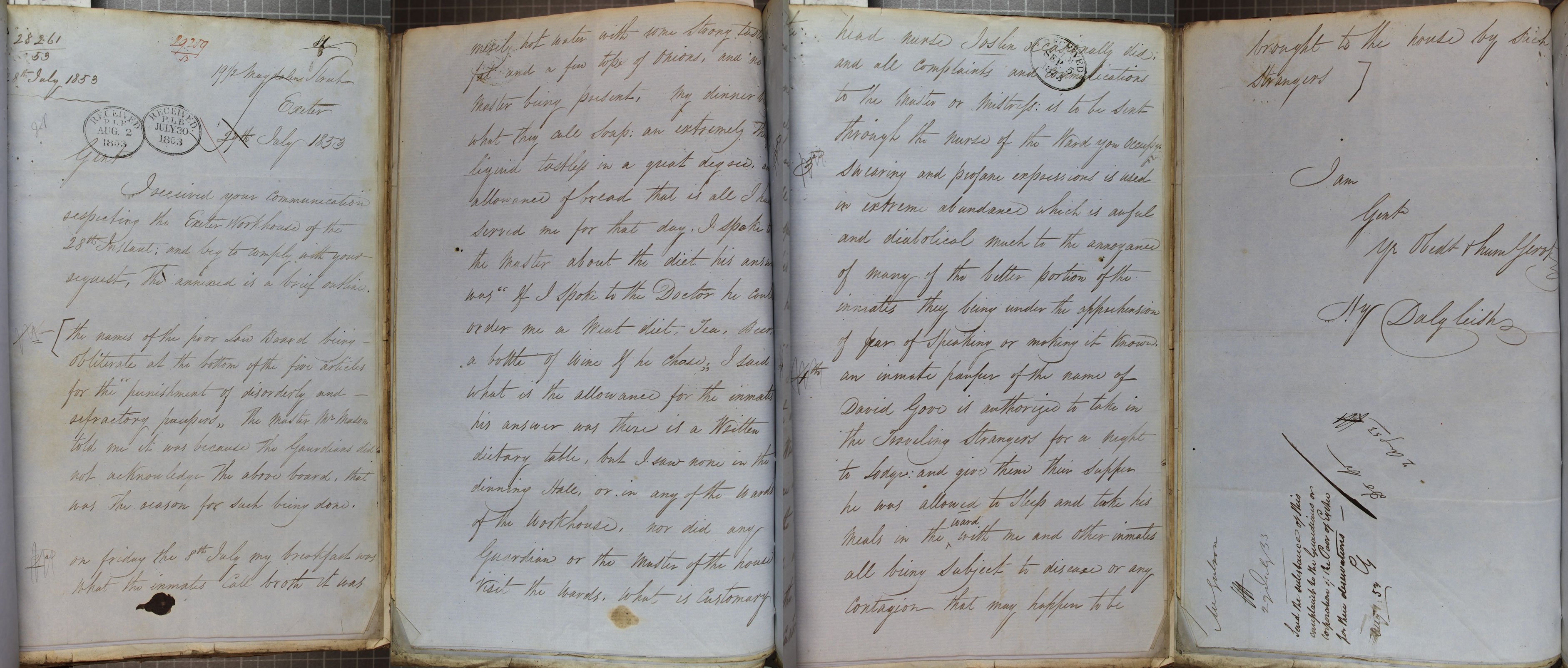 A former inmate of a workhouse complains about treatment and conditions, 29 July 1853, Catalogue ref:  MH12/2239.
Poor Law Union: Exeter
Union counties: Devon
Transcript
19½ Magdelen Street
Exeter
29th July 1853
Gents
I received your communication respecting the Exeter Workhouse of the 28th instant; and beg to comply with your request, the attached is a brief outline. First, the names of the poor Law Board being obliterated at the bottom of the five articles for the "punishment of disorderly and refractory paupers". The Master, Mr Mason told me it was because the Guardians did not acknowledge the above board, [and] was the reason for such being done. Secondly, on Friday the 8th July, my breakfast was what the inmates call broth, it was mostly hot water with some strong taste [with] fat and a few tops of onions, and [no] Master being present. My dinner [was] what they call soup, a liquid tasteless in a great degree, [and] allowance of bread, that is all I [had] served me for that day. I spoke to the Master about the diet, his answer was "If I spoke to the Doctor he could order me a meat diet, tea, beer, a bottle of wine if he chose".  I said what is the allowance for the inmates? His answer was there is a written dietary table, but I saw none in the dining hall, or in any of the wards of the workhouse, nor did any Guardian or the Master of the house visit the wards. What is customary?  The head nurse, Joslin occasionally did, and send all complaints and communications to the Master or Mistress [are] to be sent through the nurse of the ward you occupy. [Thirdly], swearing and profane expressions [are] used in extreme abundance which is awful and diabolical, much to the annoyance of many of the better portion of the inmates [who are] under the apprehension of fear of speaking or making it known.  [Fourthly], an inmate pauper of the name of David [Good] is authorized to take in the travelling strangers for a night to lodge: and give them their supper. He was allowed to sleep and take his meals in the ward with me and other inmates, all being subject to disease or any contagion that may happen to be brought to the house by such strangers.
I am gentlemen, your & humble servant Henry Dalglish.
Return to Workhouse Voices