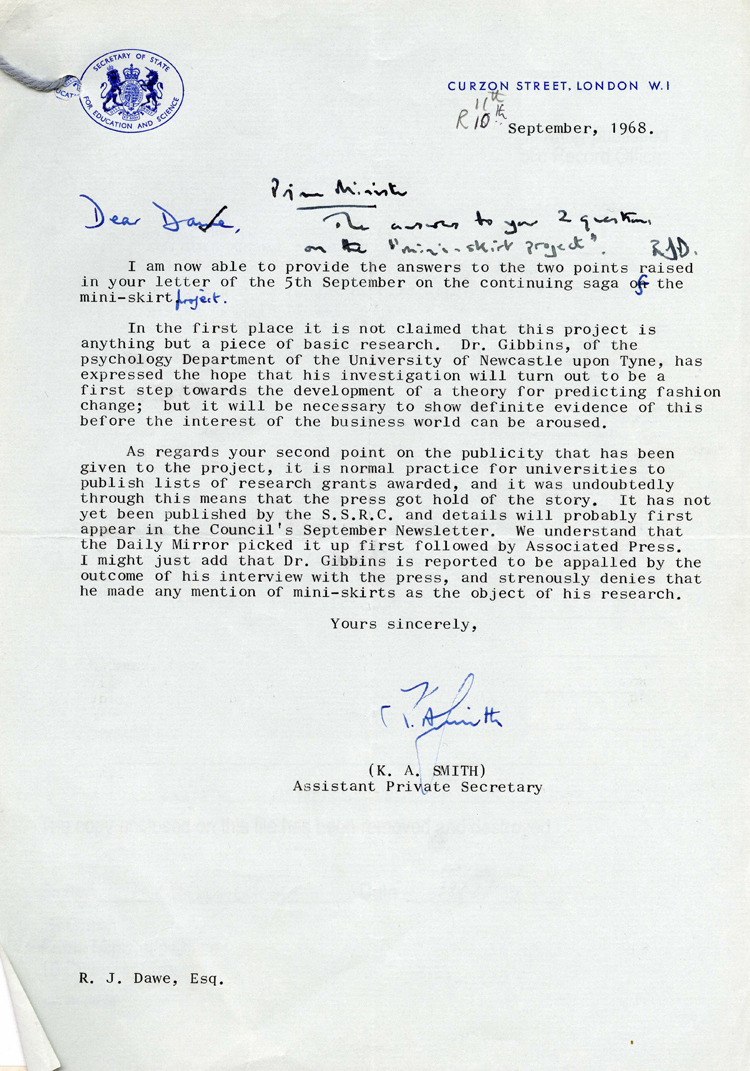 Letter from Mr. K. Smith, at the Department of Education and Science, about university research funding in response to an enquiry by Prime Minister Harold Wilson, September 1968 (PREM 13/2594)
Transcript
CURZON STREET, LONDON W.I
10/11th September, 1968.
Prime Minister
The answers to your 2 questions on the mini-skirt project R.J.D [hand written note]
Dear Dawe
I am now able to provide the answers to the two points raised in your letter of the 5th September on the continuing saga of the mini-skirt. In the first place it is not claimed that this project is anything but a piece of basic research. Dr. Gibbins, of the psychology Department of the University of Newcastle upon Tyne, has expressed the hope that his investigation will turn out to be a first step towards the development of a theory for predicting fashion change; but it will be necessary to show definite evidence of this before the interest of the business world can be aroused.
As regards your second point on the publicity that has been given to the project, it is normal practice for universities to publish lists of research grants awarded, and it was undoubtedly through this means that the press got hold of the story. It has not yet been published by the S.S.R.C. and details will probably first appear in the Council's September Newsletter. We understand that the Daily Mirror picked it up first followed by Associated Press. I might just add that Dr. Gibbins is reported to be appalled by the outcome of his interview with the press, and strenously denies that he made any mention of mini-skirts as the object of his research.
Yours sincerely,
(K. A. SMITH)
Assistant Private Secretary
R. J. Dawe, Esq.
Return to Sixties Britain