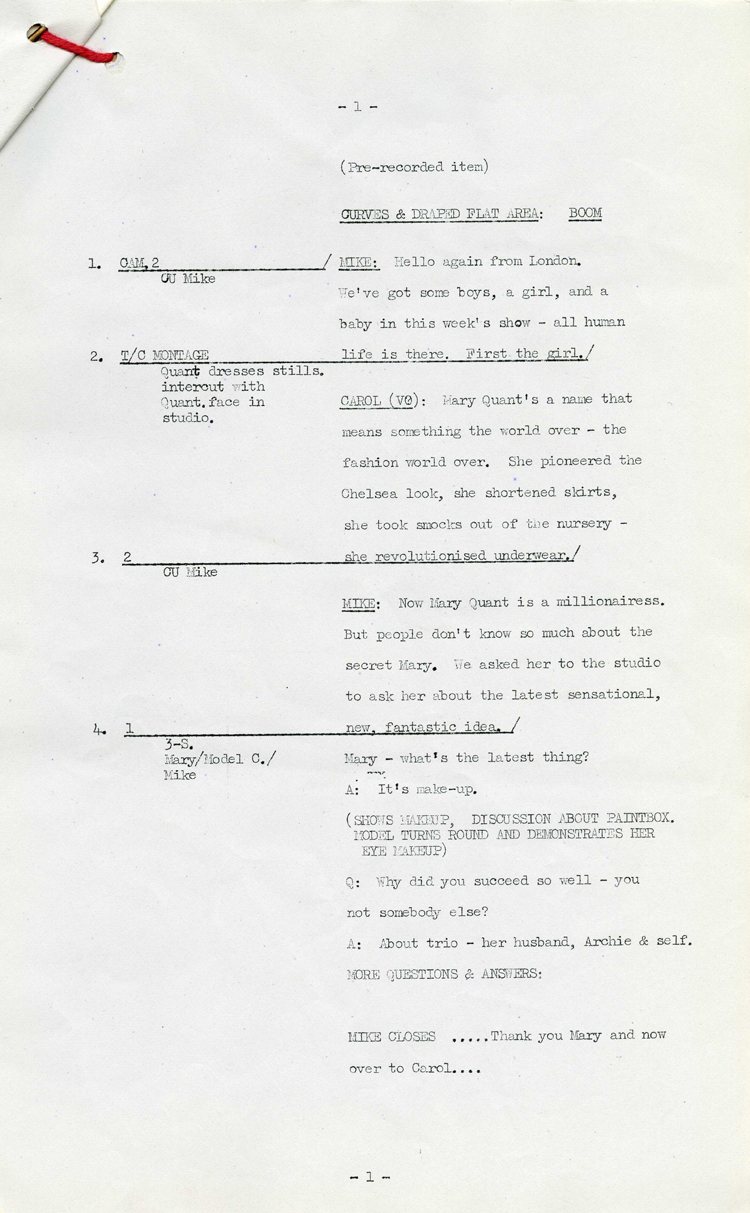 Production notes and script for a short film item about Mary Quant in "London Line Colour "C" No.4″, 1966 (INF 6/1237)
Transcript
(Pre-recorded item)
CURVES & DRAPED FLAT AREA: BOOM
1. CAM. 2 [Camera]
——
CU [close up] Mike
MIKE: Hello again from London. We've got some boys, a girl, and a baby in this week's show – all human life is there. First the girl.
2. T/C MONTAGE [T/C means telecine, a process to convert movie footage to videotape for distribution on TV]
Quant dresses stills, intercut – with Quant face in studio.
CAROL (V/0) [Voice Over]:
Mary Quant's a name that means something the world over – the fashion world over. She pioneered the Chelsea look, she shortened skirts, she took smocks out of the nursery – she revolutionised underwear.
3. CU [close up] Mike
——
MIKE: Now Mary Quant is a millionairess. But people don't know so much about the secret Mary. We asked her to the studio to ask her about the latest sensational, new, fantastic idea.
—— 4. 3. S [Stills]
Mary/Model C.
Mike
Mary- What's the latest thing?
A: It's make-up.
[SHOWS MAKEUP, DISCUSSION ABOUT PAINTBOX. MODEL TURNS ROUND AND DEMONSTRATES HER EYE MAKEUP]
Q: Why did you succeed so well – you not somebody else?
A: About trio – her husband, Archie & self.
MORE QUESTIONS & ANSWERS:
MIKE CLOSES ….Thank you Mary and now over to Carol…
Return to Sixties Britain