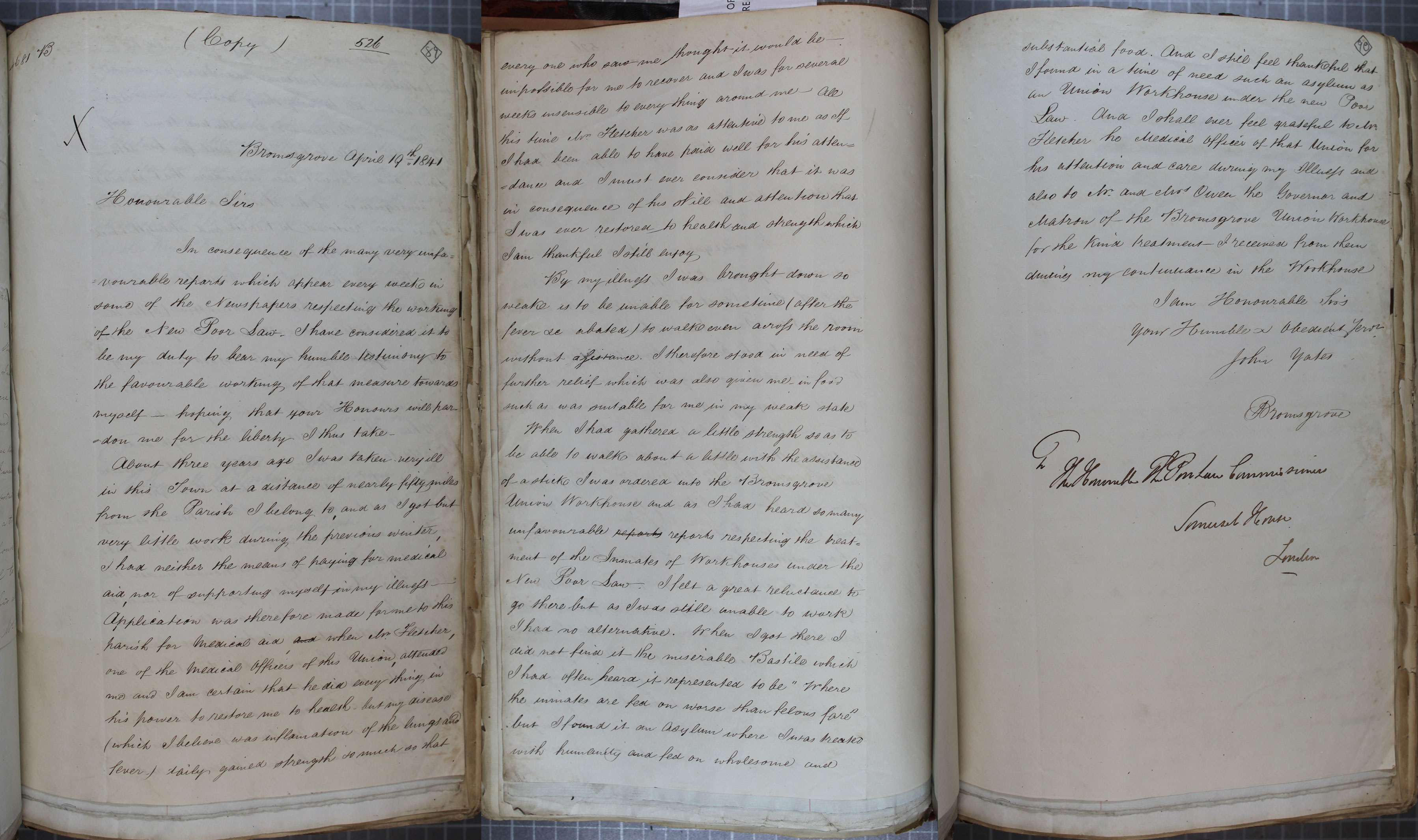 This letter to the Poor Law Commission describes good treatment by workhouse officers at Bromsgrove Poor Law Union, 19 April 1841 Catalogue ref:  MH12/13905/50,
Poor Law Union: Bromsgrove
Union counties: Shropshire, Staffordshire, Warwickshire and Worcestershire
Transcript
Bromsgrove, April 19th, 1841.
In consequence of the many very unfavourable reports which appear every week in some newspapers respecting the working of the new poor law, I have considered it to be my duty to bear my humble testimony to the favourable workings of that measure myself. Hoping that your honours will pardon me for the liberty I thus take.
About three years ago I was taken ill in this town at a distance of nearly fifty miles from the parish I belong to and as I got but very little work during the previous winter I had neither the means for paying for medical aid nor of supporting myself in my illness. Application was therefore made for me to this parish for medical aid when Mr. Fletcher one of the medical officers of this Union attended me and I am certain that he did everything in his power to restore me to health but my disease (which I believe was inflammation of the lungs) and daily gained strength so much so that everyone [who] saw me thought it would be impossible for me to [recover] and I was for several weeks insensible to everything [around] me. All this time Mr. Fletcher was as attentive to me as if I had been able to have paid well for his [services] and I must ever consider that it was in consequence of his skill and attention that I was ever restored to [health] and strength which I am thankful I still enjoy.
By my illness I was brought down [weakened] as to be unable for some time after the fever abated [lessened] to even [cross] the room without assistance. I therefore, am in need of further relief which was also given me such as was suitable for me in my weak state. When I had gathered a little strength as to be able to walk about a little with the assistance stick [walking stick] I was ordered into the Bromsgrove Union Workhouse and I had heard so many unfavourable reports [regarding] the treatment of the inmates of workhouses under the poor law. I felt a great reluctance to go there but as I was unable to work I had no alternative. When I got there, represented to be "Where the inmates are fed on worse [than] felons fare [food]" but I found it an asylum where I was [treated] with humanity and fed on wholesome and [substantial] food. And I still feel thankful that I found in a [time] of need such an asylum, a union Workhouse, the new poor law. And I shall ever feel grateful to Mr. Fletcher the Medical officer of that union for his care during my illness and also to Mr. and Mrs. the governor and matron of the Bromsgrove union Workhouse in the kind treatment I received from them during my continuance in the Workhouse. I am Honourable Sirs, Your Humble and Obedient Servant, John Yates, Strand Bromsgrove.
Return to Workhouse Voices