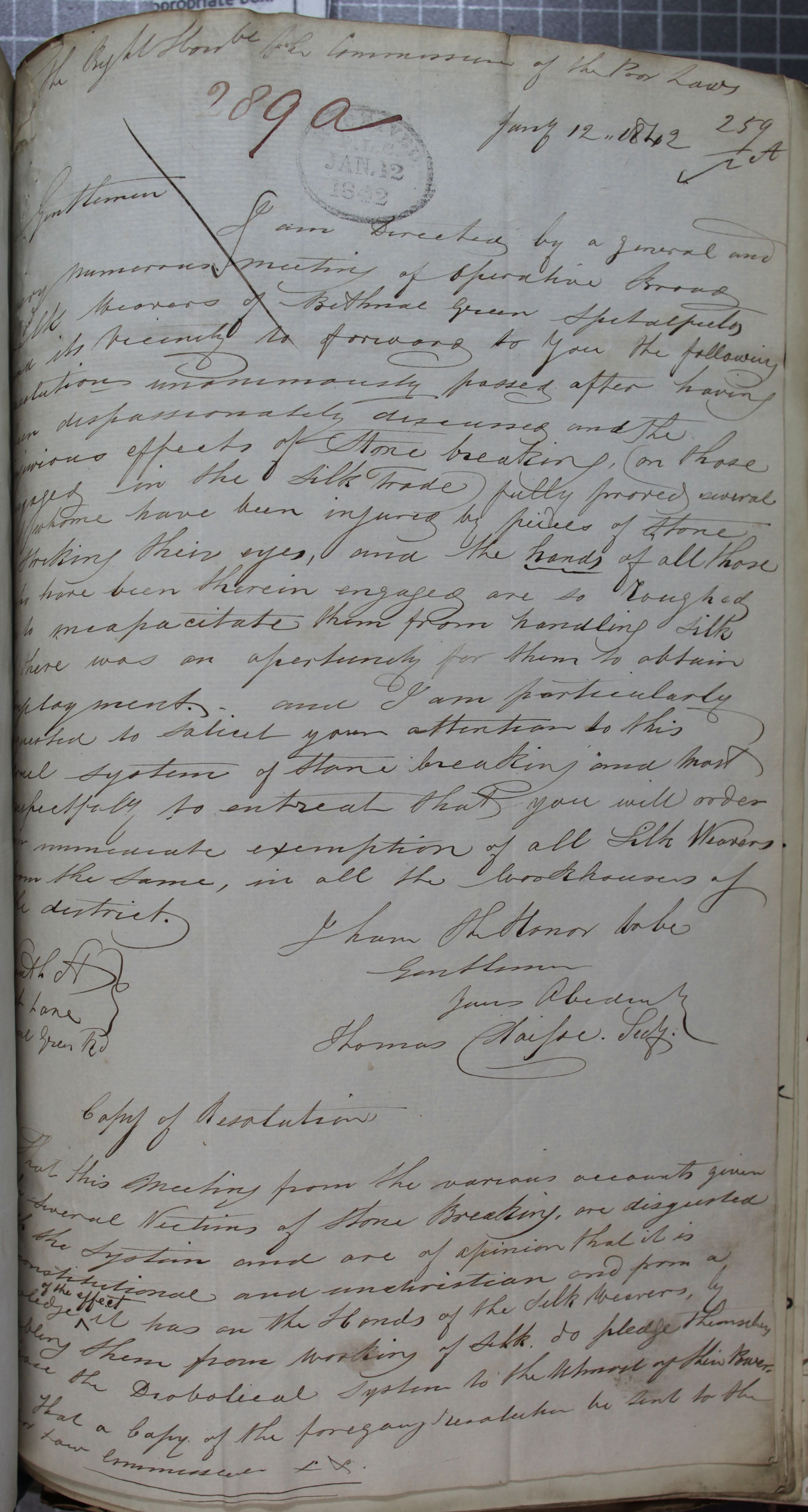 Petition from silk weavers explaining the impact of stone breaking on their hands, 12 January 1842, Catalogue ref: MH 12/6843
Poor Law Union: Bethnal Green
Union counties: Middlesex
Transcript
The Right Honourable the Commission of the Poor Laws
January 12, 1842
Gentlemen
I am directed by a large general meeting of the Broad Silk Weavers of Bethnal Green, Spitalfields and its locality to forward to you, the following resolution, which was unanimously passed after having been dispassionately discussed. [It concerns] the [harmful effects] of stone breaking on those engaged in the silk trade. Several of whom, have been injured by pieces of stone nicking their eyes, and the hands of all those who have been engaged in this are so roughed [grazed] as to incapacitate them from handling silk if there was an opportunity for them to obtain employment. I am particularly requested to solicit your attention to this cruel system of stone breaking and most respectfully to entreat that you will order an immediate exemption of all silk weavers from it in the workhouses of the district.
I have the Honour to be
Gentlemen
Yours, obediently
Thomas Claisse, Secretary
Copy of resolution of the silk weavers' union:
That this meeting from the various accounts given by several victims of stone breaking, are disgusted with the system and are of opinion that it is unconstitutional and unchristian and from a knowledge of the effect it has on the hands of the silk weavers, by disabling them from working of silk, do pledge themselves [opposed] to the diabolical system to the utmost of their power. That a copy of the resolution be sent to the Poor Law Commissioners.
Return to Workhouse Voices