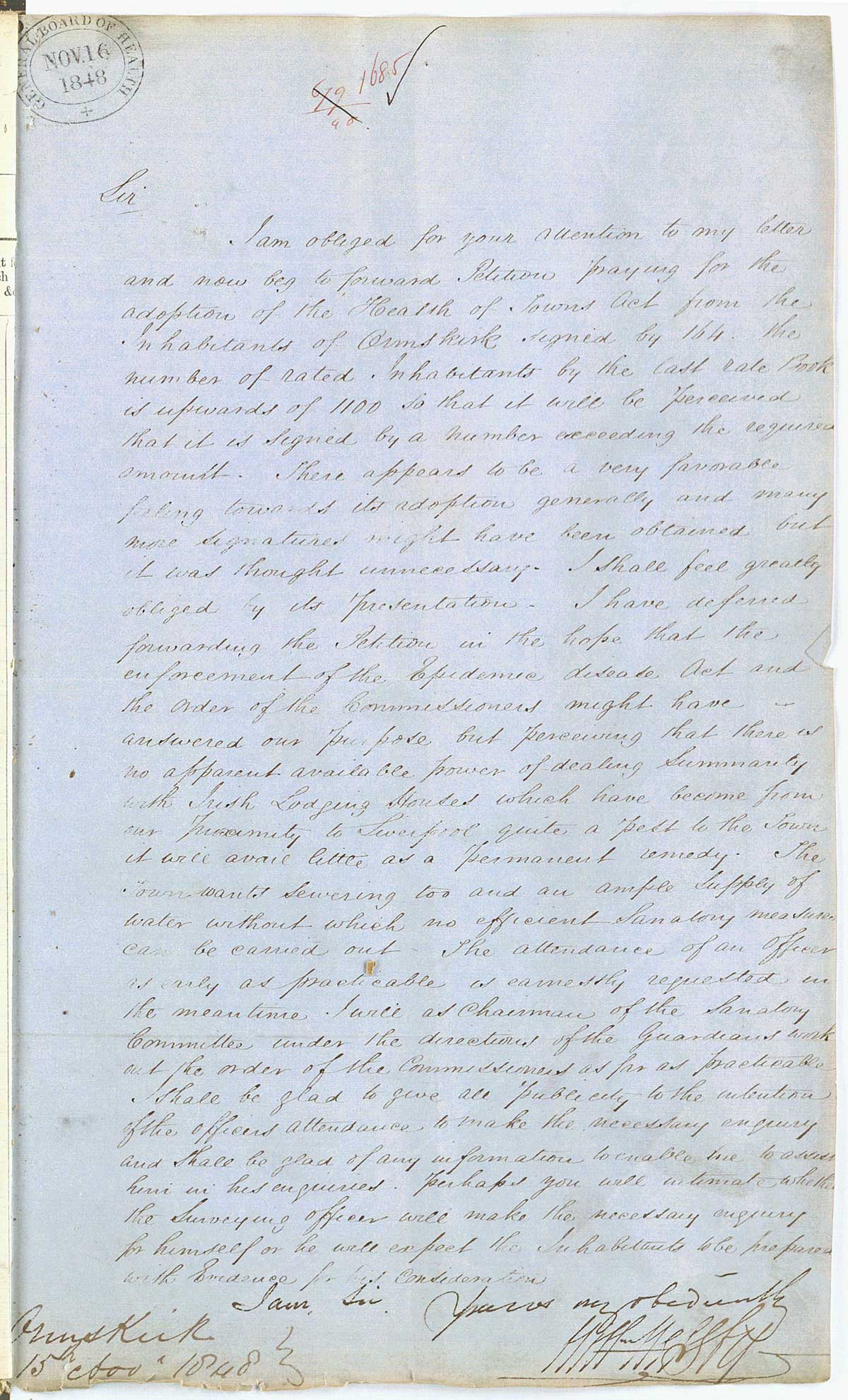 A letter from the Chairman of the Sanitary Committee of Ormskirk in Lancashire to the General Board of Health to request that it set up a Local Board of Health, 15 October, 1848, Catalogue ref: MH13/138.
After such a request, the General Board of Health sent an inspector to look at the sanitary condition of the town. At least ten percent of the ratepayers had to sign a petition to request their own board. We have included in this collection a subsequent petition from local towns' people in Ormskirk contesting the need for a local board.
Transcript
Sir
I am obliged for your attention to my letter and now beg to forward Petition praying for the adoption of the Health of Towns Act from the Inhabitants of Ormskirk signed by 164.The number of rated Inhabitants by the Cast rate Book is upwards of 1100 so that it will be perceived that it is signed by a number exceeding the required amount. There appears to be a very favourable feeling towards its adoption generally and many more signatures might have been obtained but it was thought unnecessary. I shall feel greatly obliged by its presentation. I have deferred forwarding the Petition in the hope that the enforcement of the Epidemic disease Act and the Order of the Commissioners might have answered our purpose but perceiving that there is no apparent available power of dealing Summarily with Irish Lodging Houses which have become from our proximity to Liverpool quite a pest to the town it will avail little as a permanent remedy.
The town wants sewering too and an ample supply of water without which no efficient sanitary measures can be carried out. The attendance of an officer as early as practical is earnestly requested in the meantime. I will as Chairman of the Sanitary Committee under the directions of the Guardians work out the order of the Commissioners as far as practicable shall be glad to give all publicity to the intention of the officers' attendance to make the necessary inquiry and shall be glad of any information to enable me to assess him his inquiries. Perhaps you will intimate whether the surveying officer will make the necessary inquiries for himself or he will expect the inhabitants to be prepared with evidence for his consideration.
I am, Sir, Yours very obediently,
Ormskirk, 15th October, 1848
Return to Victorian Industrial Towns