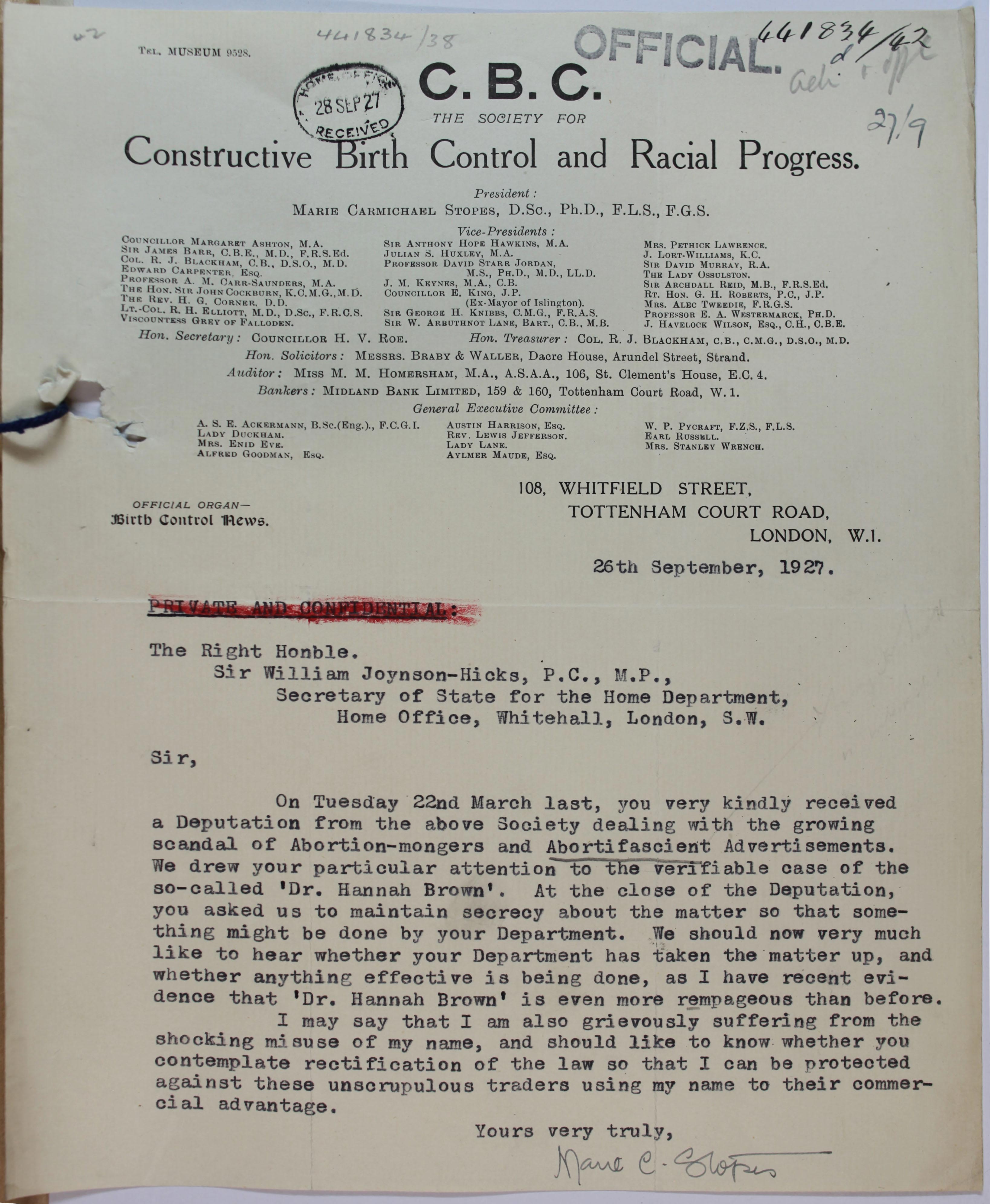 Letter to Home Secretary from Marie Stopes & Constructive Birth Control and Racial Progress Society about her name being used without her consent backstreet by abortionists and advertisers, 26 September 1927, (Catalogue ref: HO 45/24782)
Transcript
C.B.C.
THE SOCIETY FOR
Constructive Birth Control and Racial Progress:
President: Marie Carmichael Stopes, D. SC., Ph..D, F.L.S., F.G.S
[…]
Official Organ                                                               108, Whitfield Street,
Birth Control News                                                     Tottenham Court Road
London, W.1
26th September, 1927
PRIVATE AND CONFIDENTIAL
The Right Honourable
Sir William Joynson-Hicks, P.C., M.P.,
Secretary of State for the Home Department,
Home Office, Whitehall, London, S.W.
Sir,
On Tuesday 22nd March last, you very kindly received a Deputation from the above Society dealing with the growing scandal of Abortion-mongers and Abortifacient Advertisements [advertisements for drugs that cause an abortion].  We drew your particular attention to the verifiable case of the so-called 'Dr Hannah Brown'. At the close of the Deputation, you asked us to maintain secrecy about the matter so that something might be done by your Department. We should now very much like to hear whether your Department has taken the matter up, and whether anything effective is being done, as I have recent evidence that 'Dr Hannah Brown' is even more rampageous [violent or unruly] than before.
I may say that I am also grievously suffering from the shocking misuse of my name, and should like to know whether you contemplate rectification [change or correction] of the law so that I can be protected against these unscrupulous traders using my name to their commercial advantage.
Yours very truly,
Marie Stopes
Return to Twenties Britain (part one)