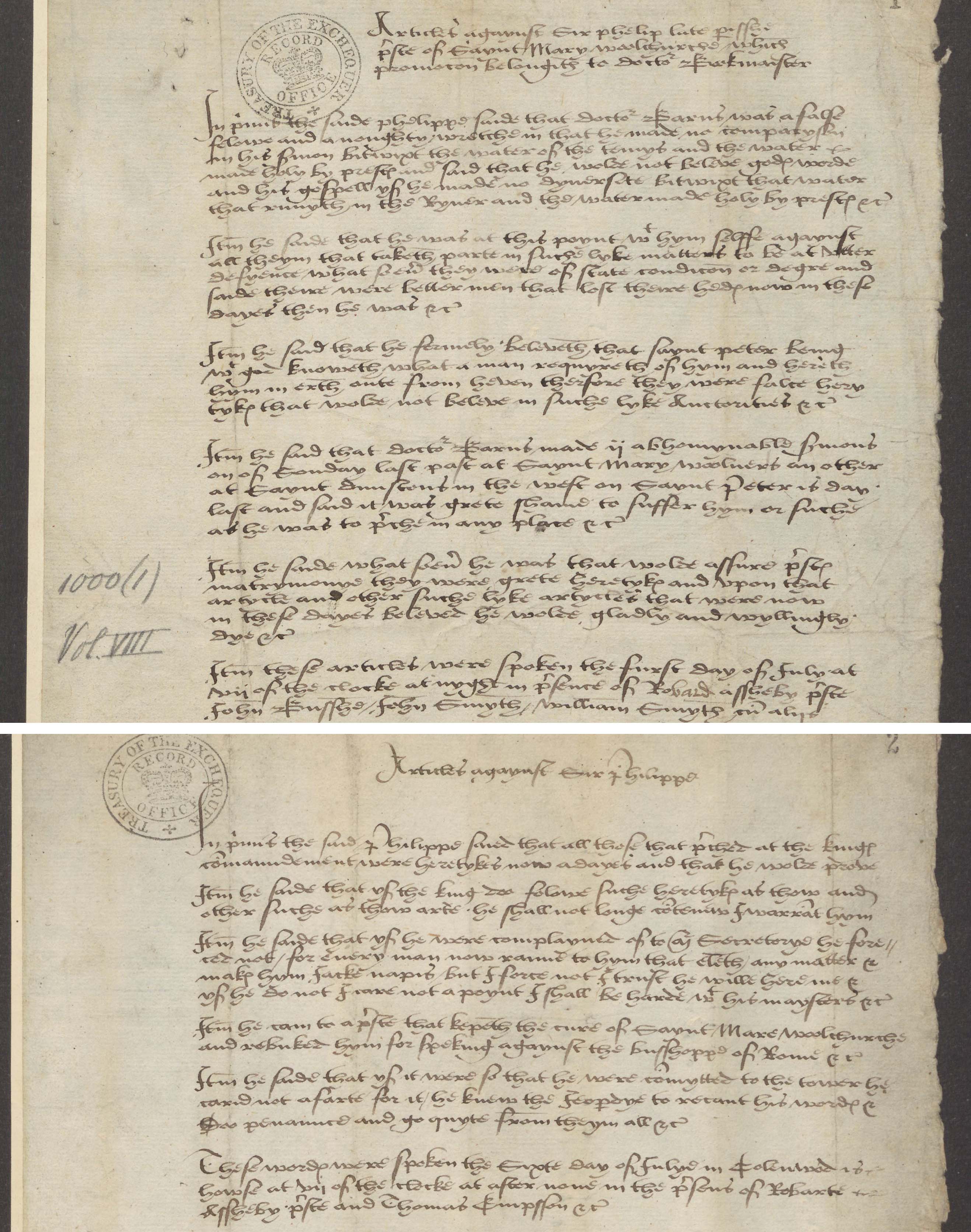 Both documents here record conversations involving a conservative priest in London criticising the sermons of a leading evangelical, Robert Barnes, and evangelical ideas. These conversations took place in private houses or workplaces and would have required one of the witnesses to report Phelippes to the authorities, 6 July 1535 (SP1/94, f.1r&2r)
6 July 1535    [The preaching of novelties]
Transcript
[f.1r]
Articles against Sir [not a knight, 'Sir' was often given as a courtesy address to priests] Phelip late parish priest of Saint Mary Woolchurch [parish in the City of London, near junction of Cheapside and Cornhill] which promotion [position] belonged to doctor Bookmaister
In primis [in the first place] the said Phelippe said that doctor Barnes [Robert Barnes, the prominent evangelical, preacher, royal chaplain and agent for Cromwell] was a false fellow and a noughty [naughty] wretch in that he made no comparison in his sermon betwixt [between] the water of the Thames and the water made holy by priests and said that he would not believe god's word and his gospel if he made no diversity betwixt that water that runneth in the River and the water made holy by priests &c.
Item [in addition] he said that he was at this point with himself against all they that taketh part in such like matters to be at utter defiance what so ever they were of state condition or degree and said there were better men that lost their heads now in these days then he was &c
Item he said that he firmly believeth that saint Peter being with god knoweth what a man required of him and heard him in earth out from heaven therefore they were false heretics that would not believe in such like Authorities &c
Item he said that doctor Barnes made two abominable sermons one of Sunday last past at Saint Mary Woolners [St Mary Woolnoth, London parish next to St Mary Woolchurch], another at Saint Dunstan's in the west [parish outside the City of London's walls, near Holborn and the Inns of Court] on Saint Peter's day last and said it was great shame to suffer him or such as he was to preach in any place &c
Item he said what so ever he was that would assure priests matrimony they were great heretics and upon that article and other such like articles that were now in these days believed he wold gladly and willingly die &c
Item these articles were spoken the first day of July at vii [seven] of the clock at night in presence of Robard Assheby priest John Busshe. John Smyth William Smyth cum alus [with others]
[f.2r]
Articles against Sir Phelippe
In primis the said Phelippe said that all these that preached at the king's commandment were heretics nowadays and that he would prove
Item he said that if the king do follow such heretics as thou and other such as thou arte he shall not long continue I warrant him
Item he said that if he were complained of to Master Secretary [Thomas Cromwell] he feared [?] not for every man now ran to him that eleth [telleth] any matter & makes him Jacke napis [jackanapes, a tame monkey], but I force not I trust he will hear me & if he do not, I care not a point I shall be hard with his masters &c
Item he came to a priest that kept the cure of Saint Mary Woolchurche and rebuked him for speaking against the bishop of Rome [a common way of referring to the pope by evangelicals and later Protestants] &c
Item he said that if it were so that he were committed to the tower he cared not a fart for it, he knew the jeopardy [danger] to recant [retract] his words & do penance and go quite from thine all &c
These words were spoken the sixth day of July in Colenwood's house at vii of the clock at afternoon in the presence of Robert Asshby priest and Thomas Empsson &c.
Return to English Reformation c1527-1590