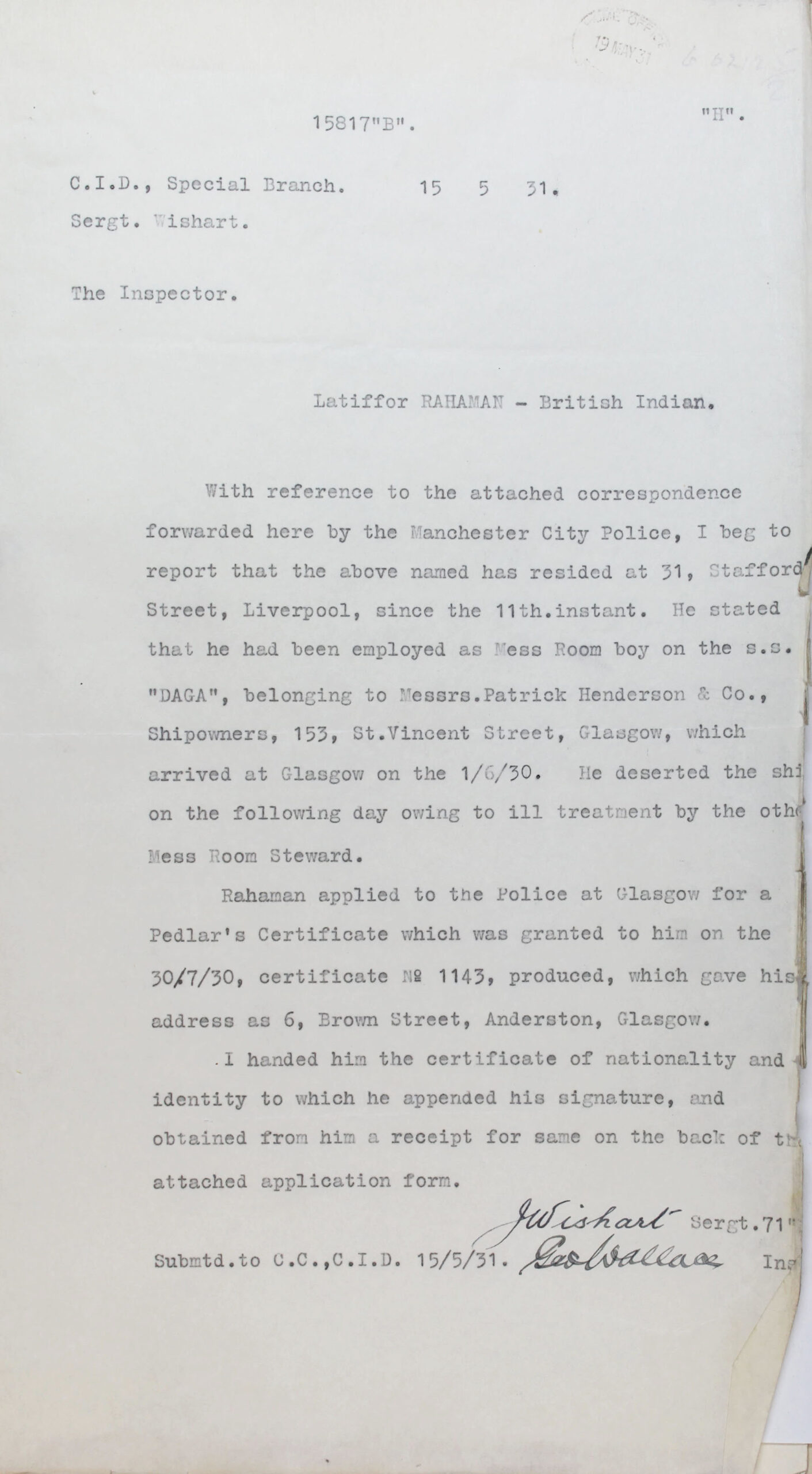 Document (a) about seafarer Latiffor Rahaman.
NATIONALITY AND NATURALISATION (including Certificates of British Origin): Special Certificate of Nationality (Coloured Seamen): Lattifor Rahaman. 1931. Catalogue ref: HO 45/14443.
What type of document is this?
Who has made it?
What was Latiffor doing as a job when he left the ship?
How do you think he would have felt leaving?
What does this document tell you about your seafarer's life?
Transcript
15817"B".  "H".
C.I.D., Special Branch. 15 5 31.
Sergt. Wishart
The Inspector.
Latiffor RAHAMAN – British Indian
With reference to the attached correspondence forwarded here by the Manchester City Police, I beg to report that the above named has resided at 31, Stafford Street, Liverpool, since the 11th.instant. He stated that he had been employed as Mess Room bo on the s.s. "DAGA", belonging to Messrs.Patrick Henderson & Co., Shipowners, 153 St. Vincent Street, Glasgow, which arrived at Glasgow on the 1/6/30. He deserted the ship on the following day owing to ill treatment by the other Mess Room Steward.
Rahaman applied to the Police at Glasgow for a Pedlar's certificate which was granted to him on the 30/7/30, certificate no. 1143, produced, which gave his address as 6, Broom Street, Anderston, Glasgow.
I handed him the certificate of nationality and identity to which he appended his signature, and obtained from him a receipt for same on the back of the attached application form.
[signature J. Wishart Sergt. 71"
Submtd. To C.C.,C.I.D. 15/5/31 [signature] Inspector
Return to Seafarers' Stories