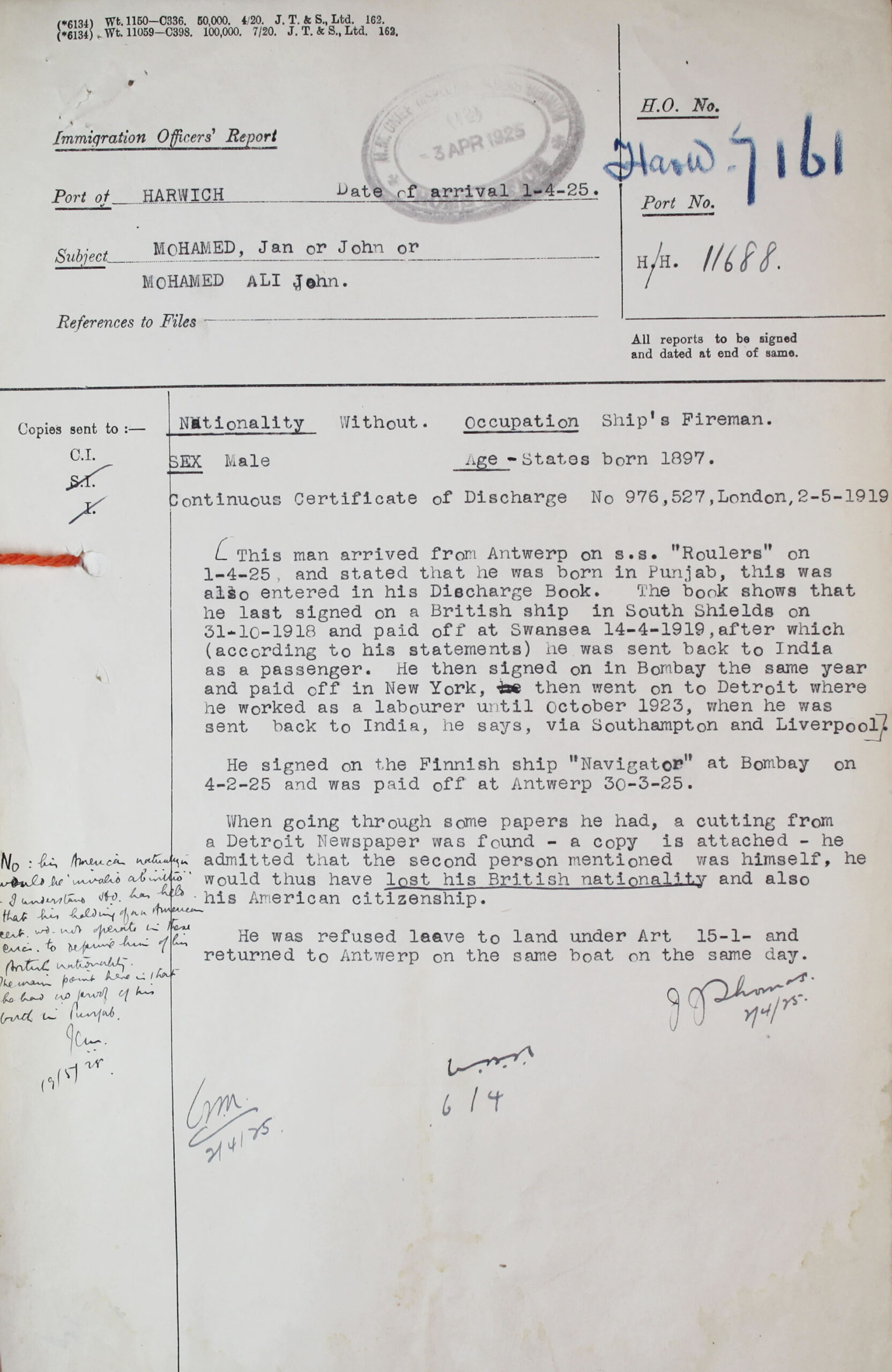 Document (a) about seafarer Jan Mohamed.
NATIONALITY AND NATURALISATION (including Certificates of British Origin): Special Certificate of Nationality (Coloured Seamen): Jan Mohamed. 1925-1930. Catalogue ref: HO 45/13750.
What type of document is this?
What do we learn about your seafarer's journey?
The author uses language like 'states' and gives two different version of Jan's name.
What does this reveal about the attitudes of the authorities?
Why was this document made?
Transcript
Immigration Officer's Report
Port of: HARWICH
Date of arrival 1-4-35
Subject: MOHAMED, Jan or John or
MOHAMED  ALI  John
References to Files
Nationality: Without. Occupation: Ship's Fireman
SEX: Male Age: States born 1897.
Continuous Certificate of Discharge No  976,527, London 2-5-1919
This man arrived from Antwerp on s.s "Roulers" on 1-4-25, and stated that he was born in Punjab, this was also entered in his Discharge Book. The book shows that he last signed on a British ship in South Shields on 31-10-1918 and paid off at Swansea 14-4-1919, after which (according to his statements) he was sent back to India as a passenger. He then signed on in Bombay the same year and paid off in New York then went on to Detroit where he worked as a labourer until October 1923, when he was sent back to India, he says , via Southampton and Liverpool.
He signed on the Finnish ship "Navigator" at Bombag on 4-2-25 and was paid off at Antwerp 30-3-25.
When going through some papers he had, a cutting from a Detroit newspaper was found- a copy is attached- he admitted that the second person mentioned was himself, he would thus have lost his British nationality and also his American citizenship.
He was refused leave to land under Art 15-1- and returned to Antwerp on the same boat on the same day.
Return to Seafarers' Stories