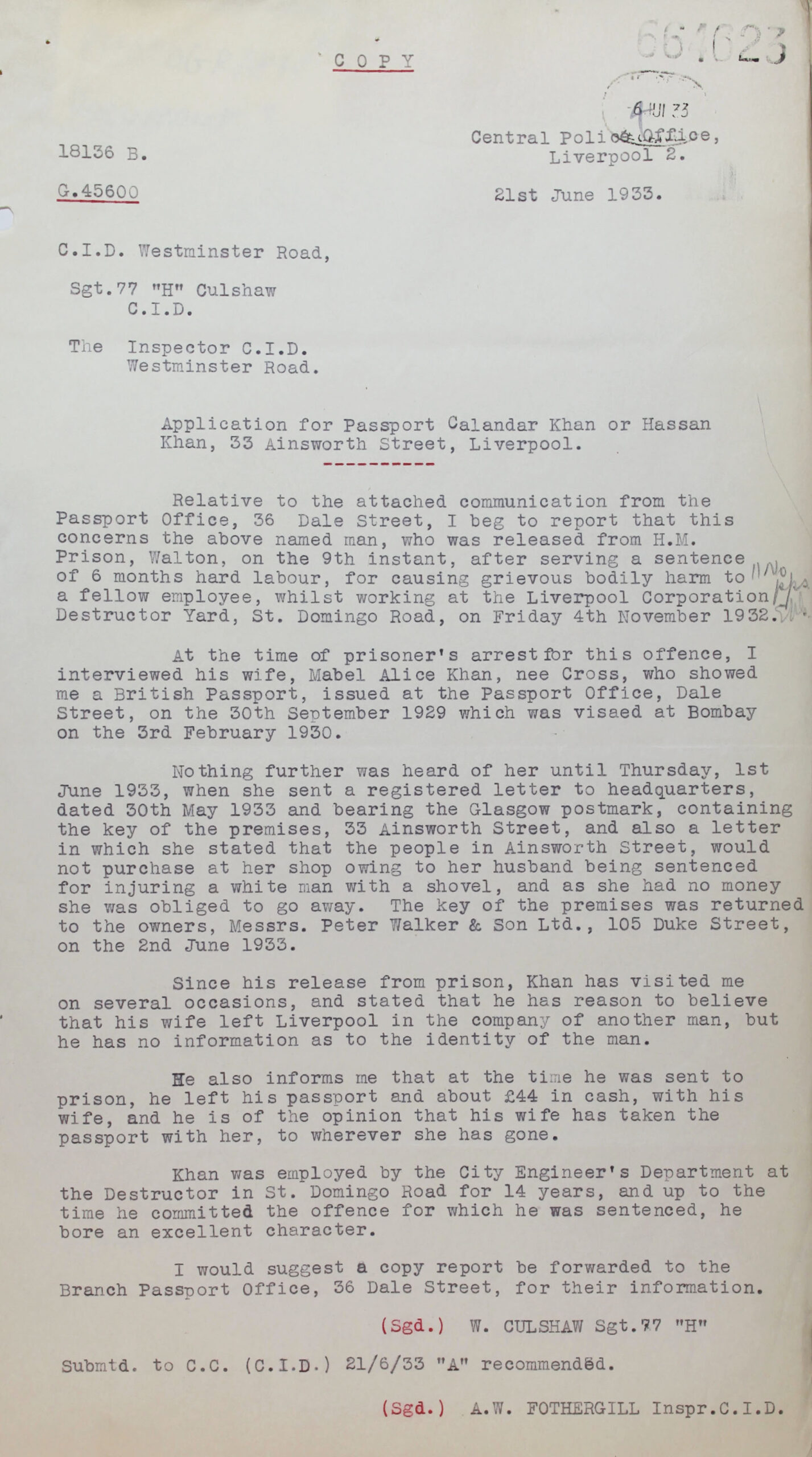 Document (b) about seafarer Hassan Khan.
NATIONALITY AND NATURALISATION (including Certificates of British Origin): Special Certificates of Nationality (Coloured Seamen): Hassan Khan or Calandar Khan. 1933-1934. Catalogue ref: HO 45/15863.
What type of document is this? Who made it?
What has happened to Hassan?
What has been the impact of this?
What does this document tell you about your seafarer's life?
Transcript
661623
COPY
18136 B
Central Police Office, Liverpool 2.
G.45600
21st June 1933.
C.I.D. Westminster Road,
Sgt.77 "H" Culshaw
C.I.D.
The Inspector C.I.D.
Westminster Road.
Application for Passport Calandar Khan or Hassan Khan, 33 Ainsworth Street, Liverpool.
Relative to the attached communication from the Passport Office, 36 Dale Street, I beg to report that this concerns the above named man, who was released from H.M. Prison, Walton, on the 9th instant, after serving a sentence of 6 months hard labour, for causing grievous bodily harm to a fellow employee, whilst working at the Liverpool Corporation Destructor Yard, St. Domingo Road, on Friday 4th November 1932.
At the time of the prisoner's arrest for this offence, I interviewed his wife, Mabel Alice Khan, nee Cross, who showed me a British Passport, issued at the Passport Office, Dale Street, on 30th September 1929, which was visaed at Bombay on the 3rd February 1930.
Nothing further was heard of her until Thursday, 1st June 1933, when she sent a registered letter to headquarters, dated 30th May 1933, and bearing the Glasgow postmark, containing the key of the premises, 33 Ainsworth Street, and also a letter in which she stated that the people in Ainsworth Street, would not purchase at her shop owing to her husband being sentenced for injuring a white man with a shovel, and as she had no money she was obliged to go away.  The key of the premises was returned to the owners, Messrs. Peter walker & Son Ltd., 105 Duke Street, on 2nd June 1933.
Since his release from prison, Khan has visited me on several occasions, and stated that he has reason to believe that his wife left Liverpool in the company of another man, but he has no information as to the identity of the man.
He also informs me that at the time he was sent to prison, he left his passport and about £44 in cash, with his wife, and he is of the opinion that his wife has taken the passport with her, wherever she has gone.
Khan was employed by the City Engineer's Department at the Destructor in St. Domingo Road for 14 years, and up to the time he committed the offence for which he was sentenced, he bore an excellent character.
I would suggest a copy report be forwarded to the Branch Passport Office, 36 Dale Street, for their information.
(Sgd.) W. CULSHAW Sgt.77 "H"
Submtd. To C.C. (C.I.D.) 21/6/33 "A" recommended.
(Sgd.) A.W. FOTHERGILL Inspr.C.I.D.
Return to Seafarers' Stories