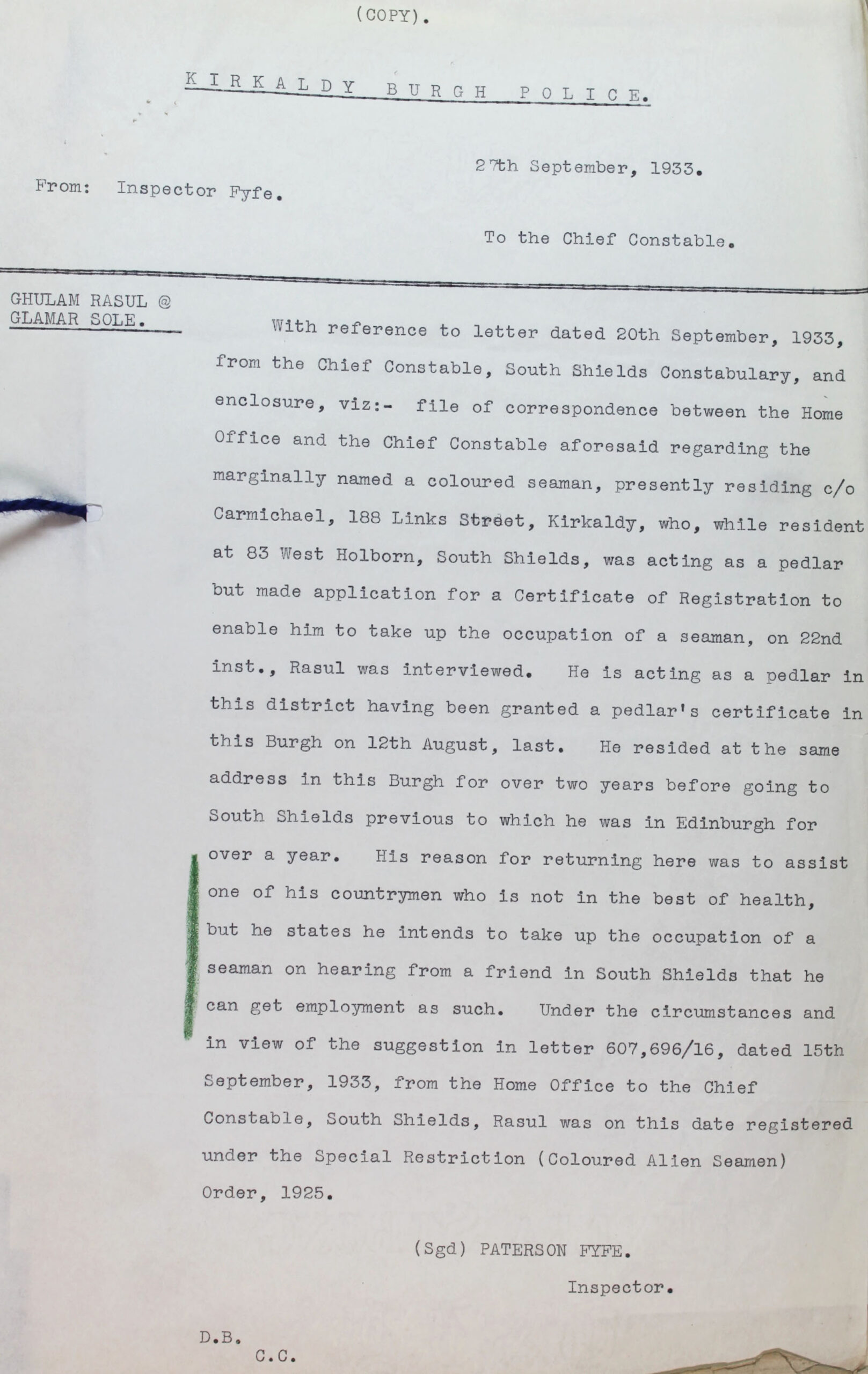 Document (b) about seafarer Ghulam Rasul.
NATIONALITY AND NATURALISATION (including Certificates of British Origin): Special Certificates of Nationality (Coloured Seamen): Controversial cases. 1931-1934. Catalogue ref: HO 45/15774
Who made this document?
This document was made a few months after the first. Where is Ghulam now living? Why did he move here?
What more do we learn about Ghulam's life?
Transcript
(COPY).
27TH September, 1933.
From: Inspector Fyfe.
To the Chief Constable.
GHULAM RASUL@
GLAMAR SOLE.
With reference to letter dated 20th September, 1933, from the Chief Constable, South Shields Constabulary, and enclosure, viz:- file of correspondence between the Home Office and the Chief Constable aforesaid regarding the marginally named a coloured seaman, presently residing c/o Carmichael, 188 Links Street, Kirkaldy, who, while resident at 83 West Holborn, South Shields, was acting as a pedlar but made application for a Certificate of Registration to enable him to take up the occupation of a seaman, on 22nd inst., Rasult was interviewed. He is acting as a pedlar in this district having been granted a pedlar's certificate in this Burgh on 12th August, last. He resided at the same address in this Burgh for over two years before going to South Shields previous to which he was in Edinburgh for over a year. His reason for returning here was to assist one of his countrymen who is not in the best of health, but he states he intends to take up the occupation of a seaman on hearing from a friend in South Shields that he can get employment as such. Under the circumstance and in view of the suggestion in letter 607, 696/16, dated 15th September, 1933, from the Home Office to the Chief Constable, South Shields, Rasul was on this date registered under the Special Restriction (Coloured Alien Seamen) Order, 1925.
(Sgd) PATERSON FYFE
Return to Seafarers' Stories