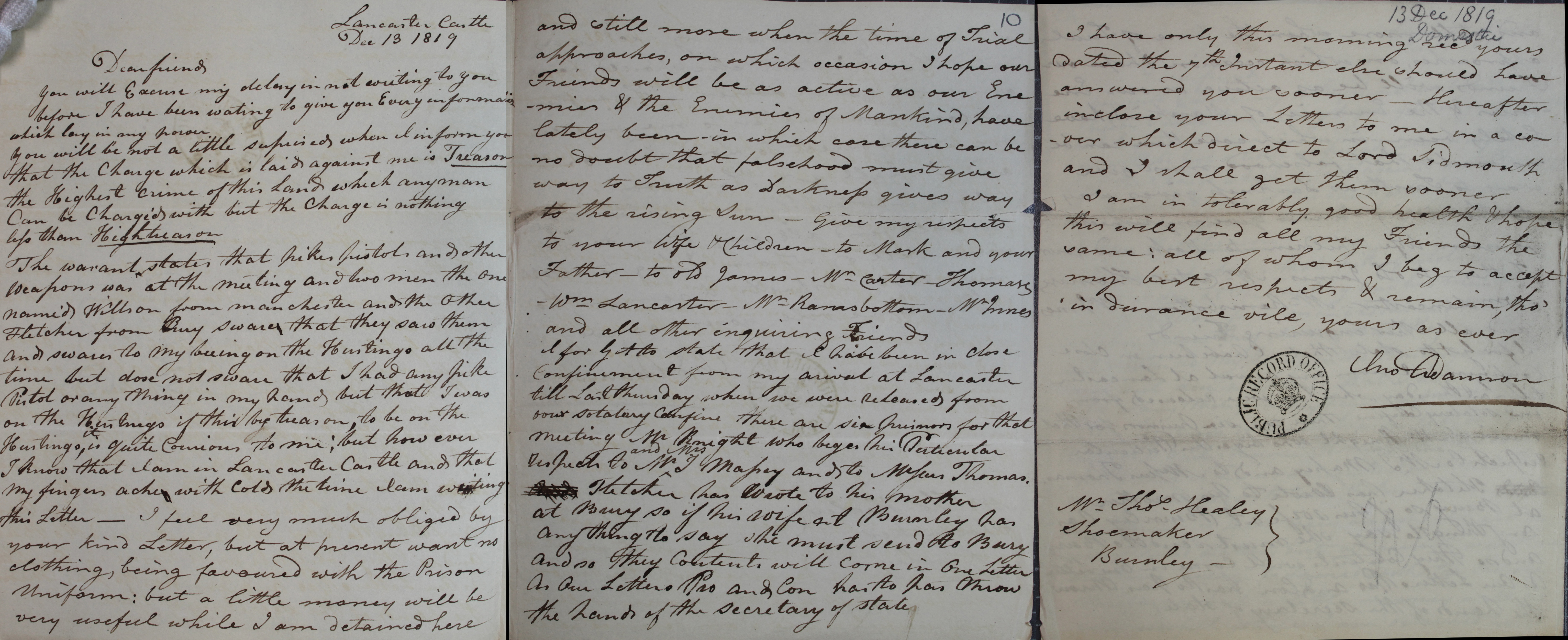 Many big, open-air protests were held to demonstrate against Peterloo. John Adamson spoke at one near Burnley on 15 November 1819. He was imprisoned in Lancaster Castle with five others on a charge of treason, which carried the death penalty. Some of the people at the meeting had secretly carried pike heads, which they said were to protect themselves in case of attack by cavalry. [See image of pike heads in this collection]. Adamson was sentenced to fifteen months' imprisonment on the reduced charge of holding an unlawful meeting. While awaiting trial he wrote this letter to his friend Thomas Healey. Trials like this show how concerned the government was to stop the protests from turning into a rebellion.
(Catalogue reference HO 42/201/10)
Transcript
Lancaster Castle, December 13th 1819
Dear Friend,
You will excuse my delay in not writing to you before. I have been wanting to give you every information which lay in my power. You will be not a little surprised when I inform you that the charge which is laid against me is Treason the Highest crime of this land which any man can be charged with but the charge is nothing less than High treason. The warrant states that pikes and pistols and other weapons was at the meeting and two men, the one named Willson from Manchester and the other Fletcher from Bury swear that they saw them and swears to my being on the Hustings all the time, but does not swear that I had any pike, pistol or anything in my hand but that I was on the Hustings, if this be treason, to be on the Hustings it is quite curious to me; but however I know that I am in Lancaster Castle and that my fingers ache with cold the time I am writing this letter — I feel very much obliged by your kind letter, but at present want no clothing, being favoured with Prison uniform: but a little money will be very useful while I am detained here and still more when the time of Trial approaches, on which occasion I hope our Friends will be as active as our Enemies of Mankind have lately been in which case there can be no doubt that falsehood must give way to Truth as Darkness gives way to the rising sun. — Give my respects to your wife and children — to Mark and your Father — to old James — Mr. Carter-Thomas — William Lancaster — Mr Ramsbottom — Mr Inns and all other inquiring Friends. I forget to state that I have been in close confinement from my arrival at Lancaster till last Thursday when we were released from our solitary confinement. There are six prisoners for that meeting, Mr Knight who begs his particular respect to Mr & Mrs Massey and to Mister Thomas. Fletcher has wrote to his mother at Bury so if his wife at Burnley has anything to say she must sent to Bury and so their contents will come in one letter. As our letters pro and con has to pass through the hands of the Secretary of State.
I have only this morning received yours dated the 7th instant else should have answered you sooner — Hereafter enclose your letters to me in a cover which direct to Lord Sidmouth and I shall get them sooner. I am in tolerably good health and I hope this will find all my friends the same: all of whom I beg to accept my respects and remain, though in durance vile [in harsh conditions], yours as ever,
Mr Thomas Healey
Shoemaker
Burnley
Return to Protest and democracy 1818 to 1820, part 2