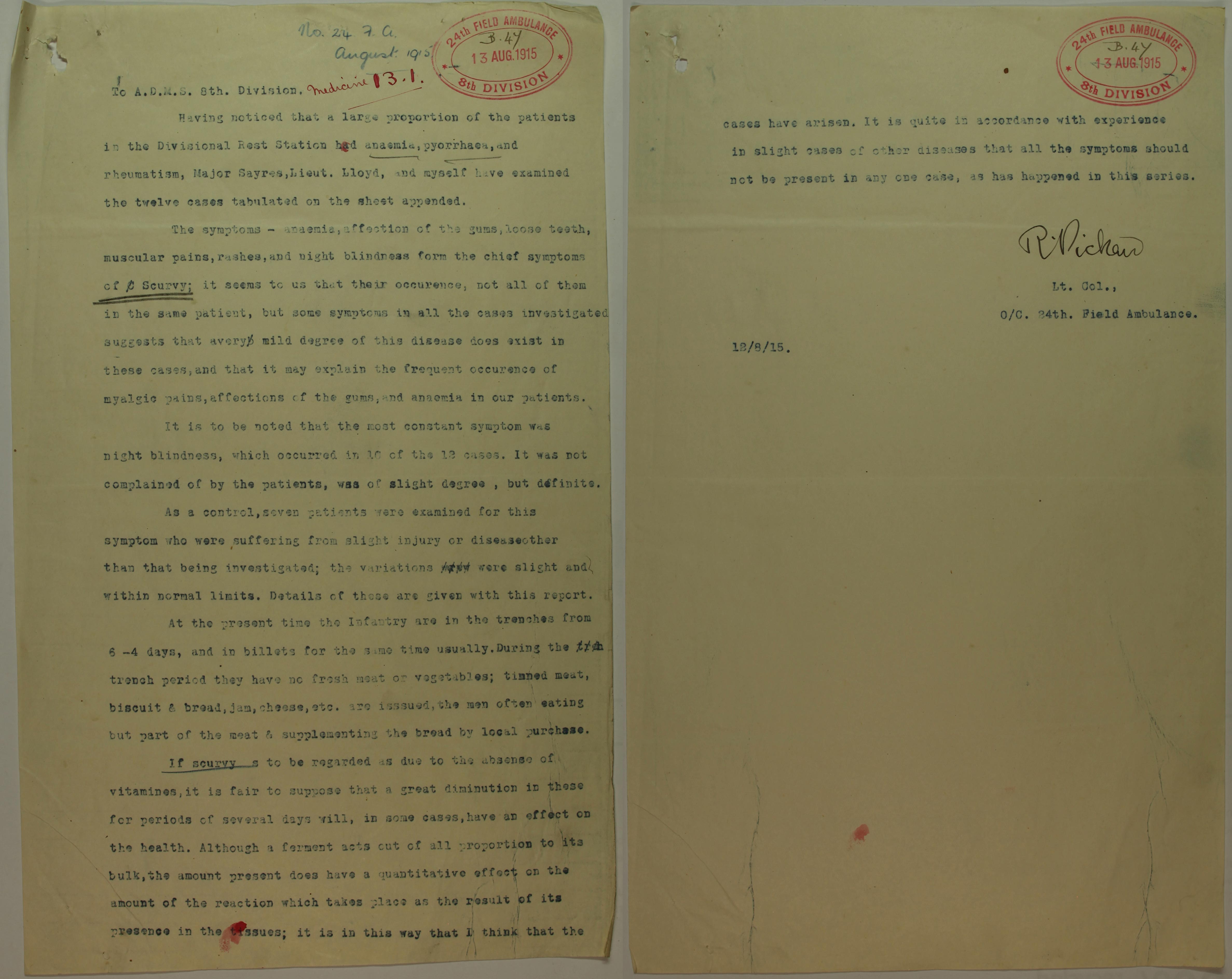 Report to the A.D.M.S. [Assistant Director of Medical Services] 8th Division from Officer Commanding of 24th Field Ambulance concerning research into the increased number of cases of scurvy, 13th August 1915, (Catalogue ref: WO 95/1703)
Transcript
TO A.D.M.S. 8th Division
Having noticed that a large proportion of the patients in the Divisional Rest Station had anaemia [low iron], pyorrhoea [inflamed gums with the discharge of pus and loosening of the teeth] and rheumatism, Major Sayres, Lieut. Lloyd and myself have examined the twelve cases tabulated on the sheet appended.
The symptoms- anaemia, affection of the gums, loose teeth, muscular pains, rashes, and night blindness form the chief symptoms of scurvy, it seems to us that their occurrence, not all of them in the same patient, but some symptoms in all cases investigated suggests that a very mild degree of this disease does exist in these cases, and that it may explain the frequent occurrence of myalgic pains, affections of the gums, and anaemia in our patients.
It is to be noted that the most constant symptom was night blindness, which occurred in 10 out of 12 cases. It was not complained of by the patients, was of slight degree, but definite.
As a control, seven patients were examined for this symptom who were suffering from slight injury or disease other than that being investigated, the variations were slight and within normal limits. Details of these are given with this report. At the present time the Infantry are in the trenches from 6-4 days, and in billets for the same time usually. During the trench period they have no fresh meat or vegetables; tinned meat, biscuit & bread, jam, cheese, etc. are issued, the men often eating but part of the meat & supplementing the bread by local purchase.
If scurvy is to be regarded as due to the absence of vitamins, it is fair to suppose that a great diminution in these for periods of several days will, in some cases, have an effect on health. Although a ferment acts outs all proportion to its bulk, the amount present does have a quantitative effect on the amount of the reaction which takes place as the result of its presence in the tissues; it is in this way that I think that the cases have arisen. It is quite in accordance with experience in slight cases of other diseases that all the symptoms should not be present in any one case, as has happened in this series.
12/8/5     R. Pickard, Lt. Colonel, O/C [Officer Commanding] 24th Field Ambulance
Return to Medicine on the Western Front (part one)