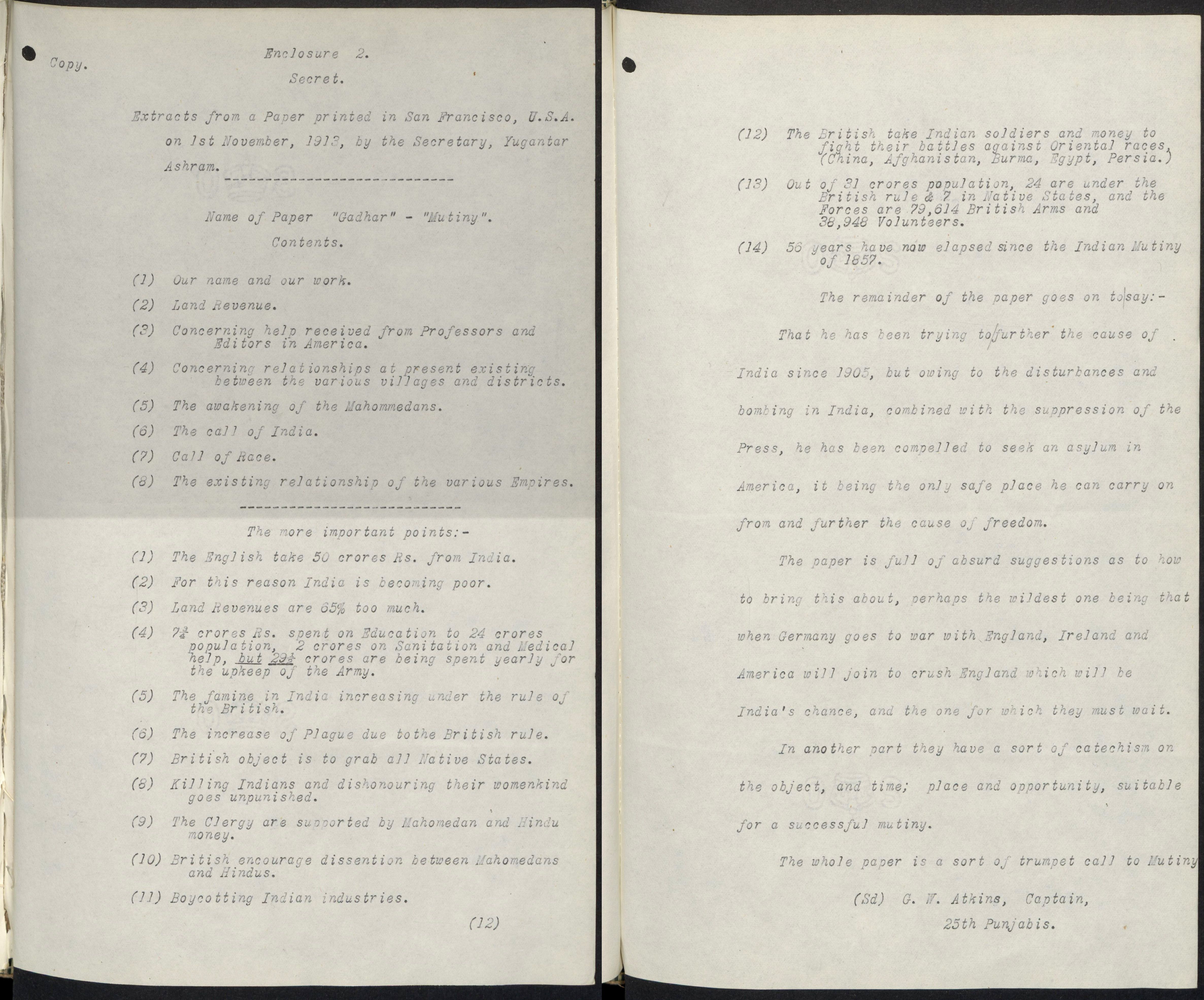 Translated extract from Ghadar paper, 1914 (catalogue reference FO 371/2152)
This document summarises what the British government considers to be 'Hindu agitation' in the USA against His Majesty's Imperial Government. The extract comes from the newspaper Ghadar, edited in San Francisco by Har Dyal, and shows how radical Indians viewed British rule in India. G W Atkins, the writer, does not appear to have a high opinion of the paper.
Transcript
… The more important points:–
1. The English take 50 crores Rupees from India.
2. For this reason India is becoming poor.
3. Land revenues are 65% too much.
4. 7 ¾ crores Rupees spent on education to 24 crores population, 2 crores on sanitation and medical help but 29 ½ crores are being spent yearly for the upkeep of the army.
5. The famine in India increasing under the rule of the British.
6. The increase of plague due to the British rule.
7. British object is to grab all Native states.
8. Killing Indians and dishonouring their womenkind goes unpunished.
9. The clergy are supported by Mahomedan and Hindu money.
10. Britain encourages dissension between Mahomedans and Hindus.
11. Boycotting Indian industries.
12. The British take Indian soldiers and money to fight their battles against Oriental races (China, Afghanistan, Burma, Egypt and Persia.)
13. Out of 31 crores population, 24 are under the British rule, and 7 in Native States and the Forces are 79,614 British arms and 38,949 volunteers.
14. 56 years have now elapsed since the Indian mutiny of 1857.
The remainder of the paper goes on to say:–
That he has been trying to further the cause of India since 1905, but owing to the disturbances and bombing in India, combined with the suppression of the Press, he has been compelled to seek asylum in America, it being the only safe place he can carry on from and further the cause of freedom. The paper is full of absurd suggestion as to how to bring this about, perhaps the wildest one being that when Germany goes to war with England, Ireland and America will join to crush England which will be India's chance, and the one for which they must wait.
In another part they have a sort of catechism on the object, and time; place and opportunity, suitable for a successful mutiny.
The whole paper is a sort of trumpet call to mutiny.
Signed. G W Atkins, Captain, 25th Punjabis.
Return to Loyalty and dissent