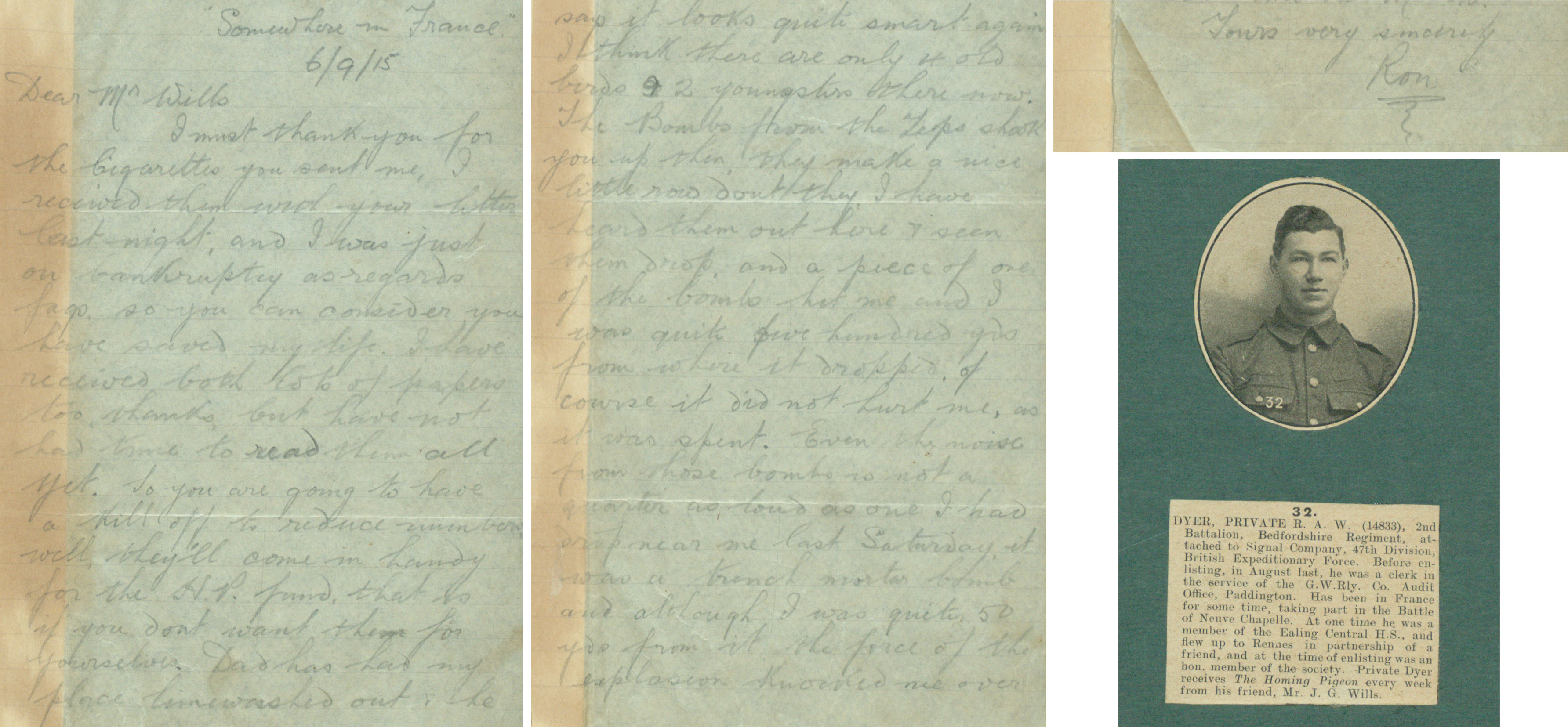 This is one of many letters sent by staff of the Great Western Railway Audit office at Paddington who had enlisted to fight in the First World War. (RAIL 253/516)
Ronald Arthur William Dyer, 7 August 1915, 'Somewhere in France'. Born: 11 April 1895, Regiment: 2nd Bedfordshire Regiment, attached to Signal Company, Royal Engineers, 47 Division, Regiment number: 14833, Rank: Private, Died: 1969
Transcript
Letter (extract)
… I must thank you for the cigarettes you sent me, I received them with your letter last night, and I was just on bankruptcy as regards fags, so you can consider you have saved my life. So you are going to have a (pigeon) kill off to reduce numbers, well, they'll come in handy for the homing pigeon fund, that is if you don't want them for yourselves. Dad has had my place lime-washed out, he says it looks quite smart again. I think there are only four old birds and two youngsters there now.
The bombs from the Zeps (Zeppelins) shook you up then, they make a nice little row don't they. I have heard them out here and seen them drop, and a piece of one of the bombs hit me and I was quite 500 yards from where it dropped, of course it did not hurt me, as it was spent. Even the noise from those bombs is not a quarter as loud as one I had drop near me last Saturday, it was a trench mortar bomb and although I was quite 50 yards from it the force of the explosion knocked me over.
Yours very sincerely
Ron
Newspaper cutting
Dyer, Private R.A.W. (14833) 2nd Battalion Bedfordshire Regiment, attached to Signal Company, 47th Division, British Expeditionary Force. Before enlisting, in August last, he was a clerk in the service of the Great Western Railway Company Audit office, Paddington. Has been in France for some time, taking part in the Battle of Neuve Chapelle.  At one time he was a member of the Ealing Central H.S. (Pigeon Society) and flew up to Rennes (France) in partnership of a friend, and at the time of enlisting was an hon. member of the society. Private Dyer receives The Homing Pigeon every week from his friend, Mr J.G. Wills.
Return to Letters from the First World War, part two