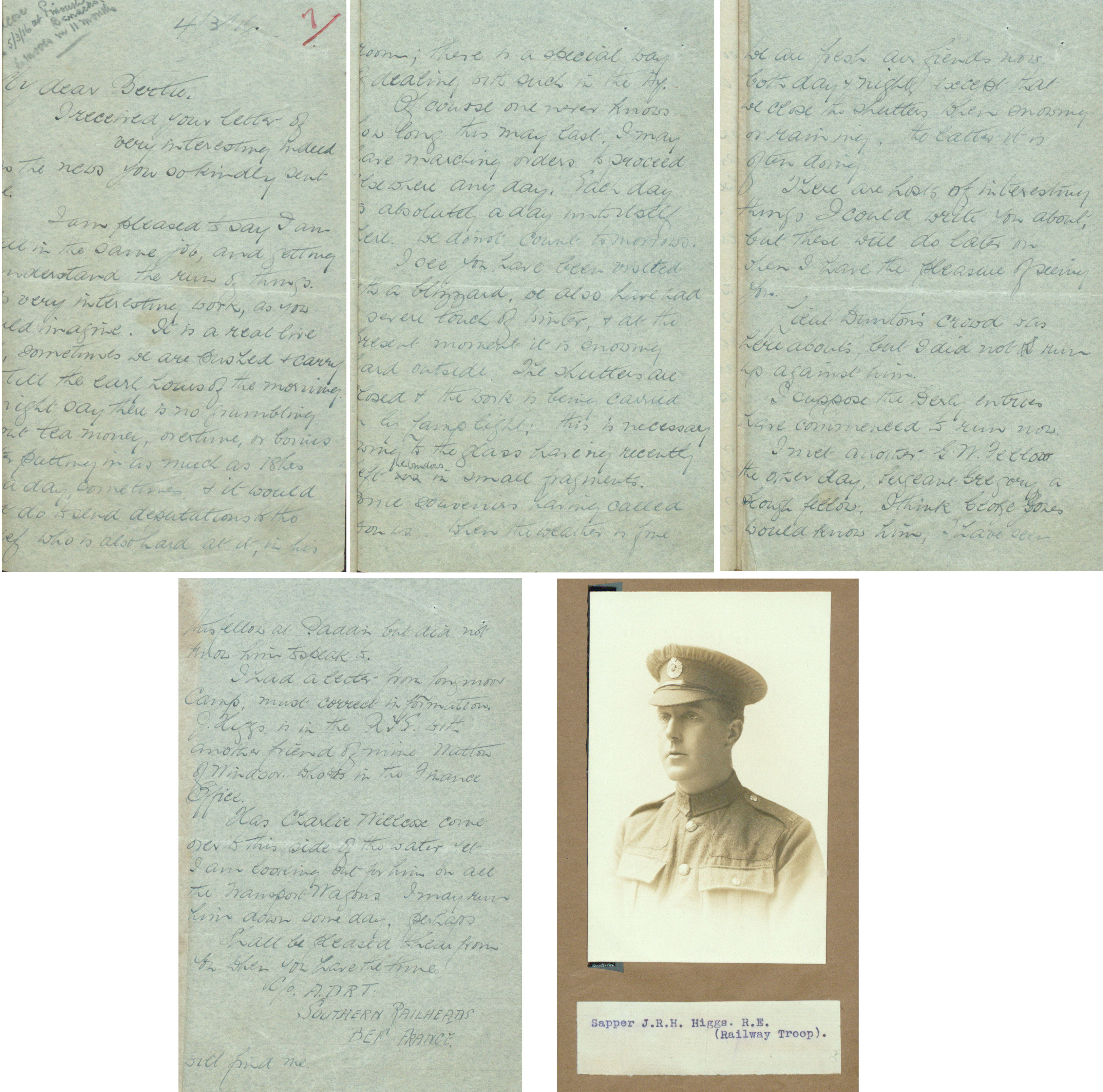 This is one of many letters sent by staff of the Great Western Railway Audit office at Paddington who had enlisted to fight in the First World War.
Mark Anthony Russell, 4 February 1916, France. Born: 30 March 1883, Regiment: Railway Troop, Royal Engineers, Regiment number: 138053, Rank: Sapper, Died: 1965
The photograph shows John Higgs, whom Russell knew and who was also in the Railway Troop, Royal Engineers. (RAIL 253/516)
Transcript
My Dear Bertie
… I am pleased to say I am still in the same job and getting to understand the run of things. It is very interesting work, as you would imagine. It is a real line here, sometimes we are pushed and carry on till the early hours of the morning. I might say there is no grumbling about tea money, overtime or bonus quotas putting in as much as eighteen hours a day sometimes and it would not do to send deputations to the chief who is also hard at it, in his room; there is a special way of dealing with such in the army.
Of course one never knows how long this may last I may have marching orders to proceed elsewhere any day. Each day is absolutely a day unto itself here. We don't count tomorrow.
I see you have been visited with a blizzard, we also have had a severe touch of winter and at the present moment it is snowing hard outside. The shutters are closed and the work is being carried on by lamplight, this is necessary owing to the glass having recently left the windows in small fragments some souvenirs [shells] having called upon us. When the weather is fine we are fresh air fiends now both day and night except that we close the shutters when snowing or raining. The latter it is often doing.
There are hosts of interesting things I could write you about but these will do later on when I have the pleasure of seeing you. Lieut. Dunton's crowd was hereabouts, but I did not run up against him.
I suppose the Derby* entries have commenced to run now. I met another GW fellow the other day, Sergeant Gregory, a Slough fellow. I think George Jones would know him. I have seen this fellow at Paddington but did not know him to speak to.
I had a letter from Longmoor Camp. Must correct information. J. Higgs is in the Railway Transport Engineers with another friend of mine, Watton of Windsor who was in the Finance office…
*This was a voluntary recruitment policy in Britain created in 1915. The idea behind it was that men who voluntarily registered would be called to serve in the forces only when necessary. Men were classified according age and marital status, and single men were to be called first.
Return to Letters from the First World War, part two