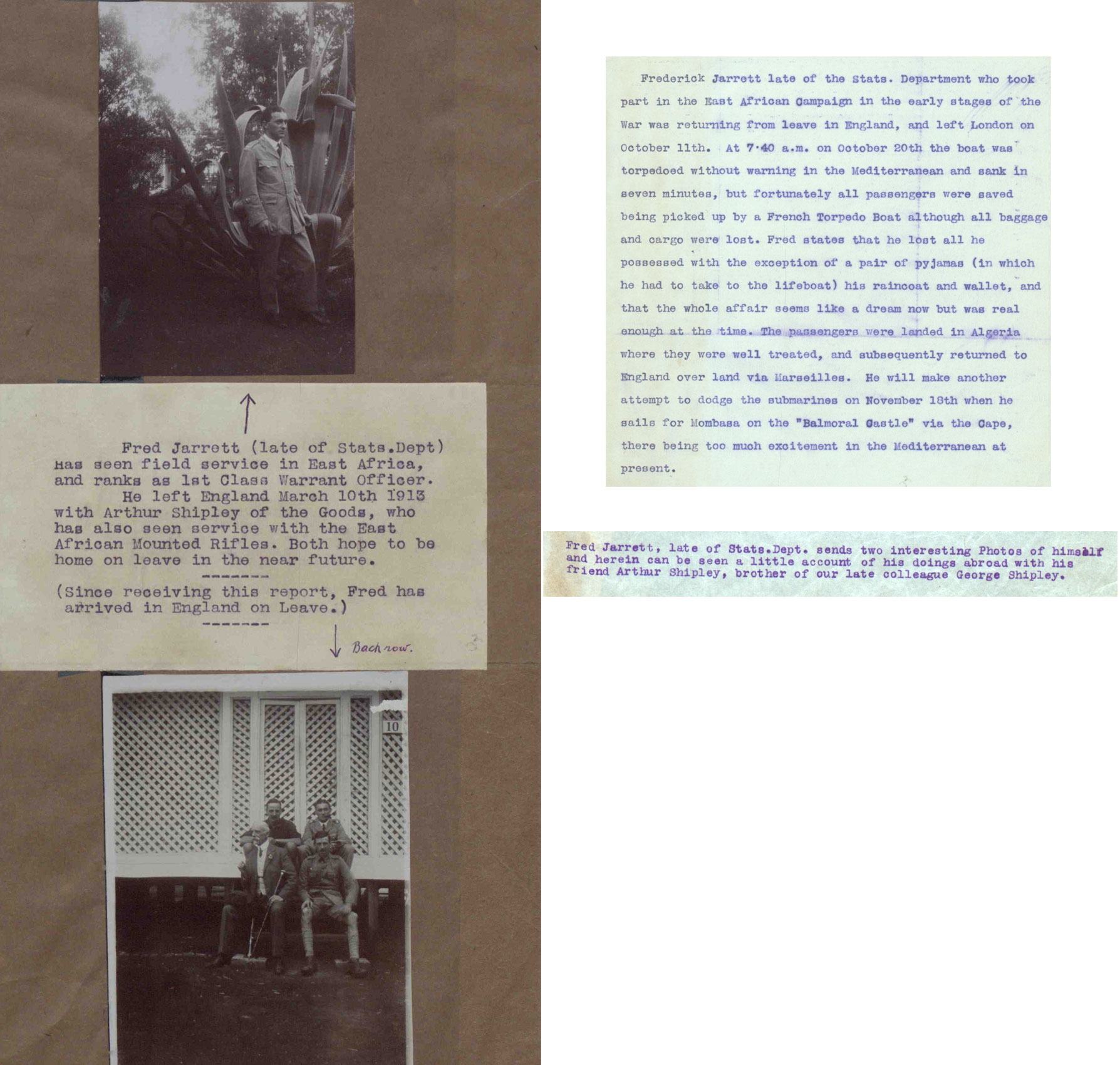 This is one of many letters sent by staff of the Great Western Railway Audit office at Paddington who had enlisted to fight in the First World War. (RAIL 253/516)
Frederick Jarrett, photographs, a typed extract and an account, August-November 1916. Born: 10 June 1891, Regiment: East African Mounted Rifles
Note: In March 1919 Jarrett was promoted to Acting Assistant Chief Accountant of Uganda Railway. In 1935 he became Colonial Treasurer for St Helena.
Transcripts
Photograph caption (left)
Fred Jarrett (late of Stats. Dept) has seen field service in East Africa and ranks as a First Class Warrant Officer. He left England March 10th 1913 with Arthur Shipley of the Goods, who has also seen service with the East African Mounted Rifles. Both hope to be home on leave in the near future. (Since receiving this report, Fred has arrived in England on leave)
Extract of office newsletter (top right)
Frederick Jarrett late of the Stats. Dept who took part in the East African campaign in the early stages of the war was returning from leave in England, and left London on October 11th. At 7.40am, on October 20th the boat was torpedoed without warning in the Mediterranean and sank in seven minutes, but fortunately all passengers were saved being picked up by French torpedo boat although all baggage and cargo were lost. Fred states that he lost all he possessed with the exception of a pair of pyjamas (in which he had to take a lifeboat) his raincoat and wallet, and that the whole affair seems like a dream now but was real enough at the time. The passengers were landed in Algeria where they were well treated, and subsequently returned to England over land via Marseilles. He will make another attempt to dodge the submarines on November 18th when he sails for Mombassa on the Balmoral Castle via the Cape, there being too much excitement in the Mediterranean at present.
Extract of office newsletter (bottom right)
… Fred Jarrett, late of Stats. Dept. sends two interesting Photos of himself and herein can be seen a little account of his doings abroad with his friend Arthur Shipley, brother of our late colleague George Shipley.
Return to Letters from the First World War, part two