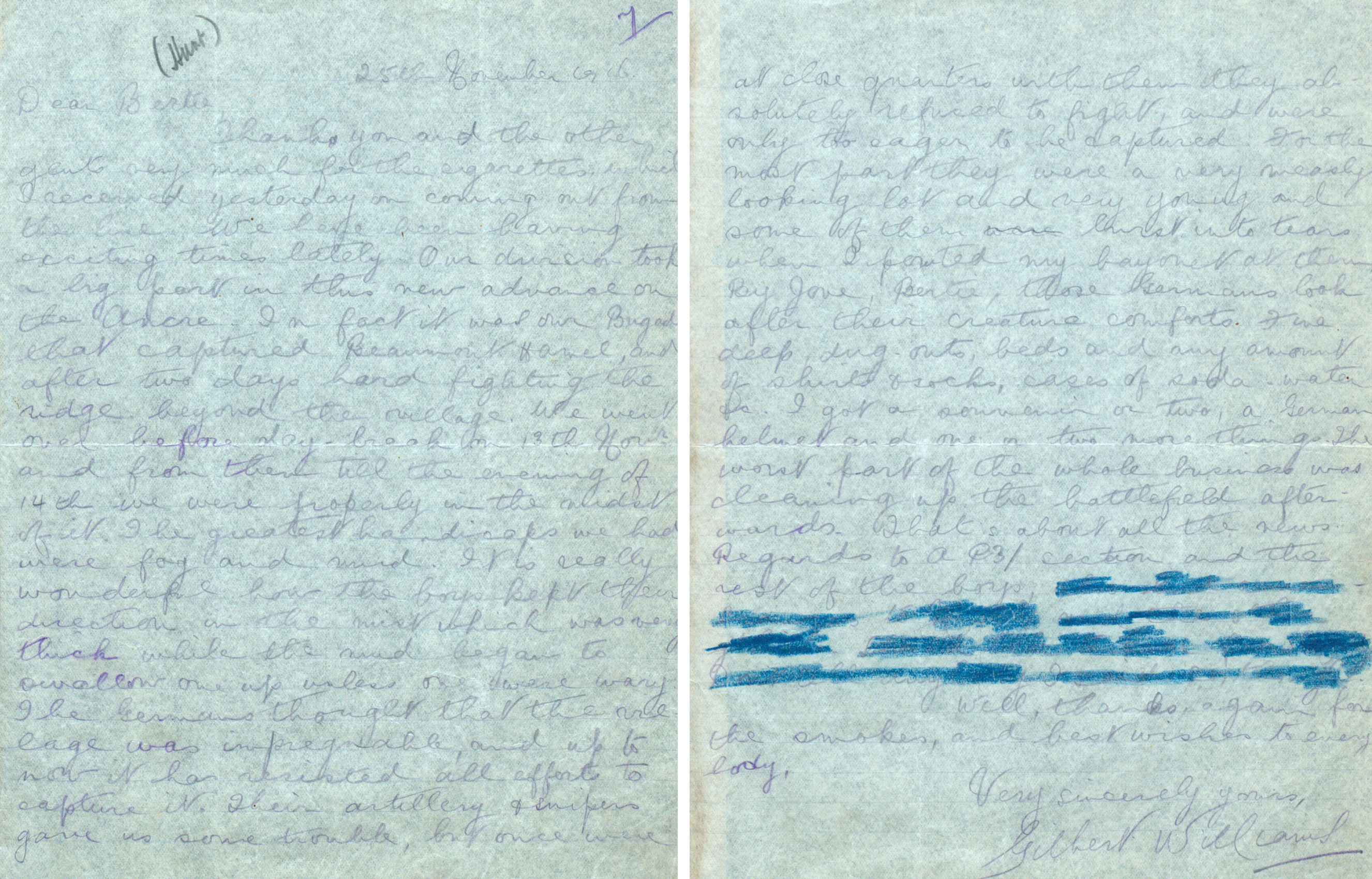 This is one of many letters sent by staff of the Great Western Railway (GWR) Audit office at Paddington who had enlisted to fight in the First World War. (RAIL 253/516)
Gilbert Williams, 25 November 1916, France. Born: 18 April 1894, Regiment: 1/6 Seaforth Highlanders, Regiment number: 2175, Rank: Private, Died: 1967
Note: Williams also fought in Second World War, and returned from war on 15 November 1948.
Transcript
Dear Bertie,
Thank you and the other gents very much for the cigarettes which I received yesterday on coming out from the line. We have been having exciting times lately. Our division took a big part in this new advance on the Ancre. In fact, it was our Brigade that captured Beaumont Hamel, and after two days hand fighting the ridge beyond the village. We went over before day break on the 13th November and from there till the evening of 14th we were properly in the midst of it. The greatest handicaps we had were fog and mud. It is really wonderful how the boys kept their direction in the mist which was very thick while the mud began to swallow one up unless one was wary. The Germans thought the village was impregnable, and up to now it has resisted all efforts to capture it. Their artillery and snipers gave us some trouble, but once we were at close quarters with them, they absolutely refused to fight, and were only too eager to be captured. For the most part they were a very measly looking lot and very young and some of them burst into tears when I pointed my bayonet at them. By Jove, Bertie, those Germans look after their creature comforts. Fine deep dugouts and any amount of shirts and socks and cases of soda water etc., I got a souvenir or two, a German helmet and one or two more things. The worst part of the whole business was cleaning up the battlefield afterwards. That's about all the news. Regards to the Audit agreements section and the rest of the boys. [Lines censored]
Well thanks again for the smokes, and very best wishes to everybody.
Very sincerely yours,
Gilbert Williams
Return to Letters from the First World War, part two