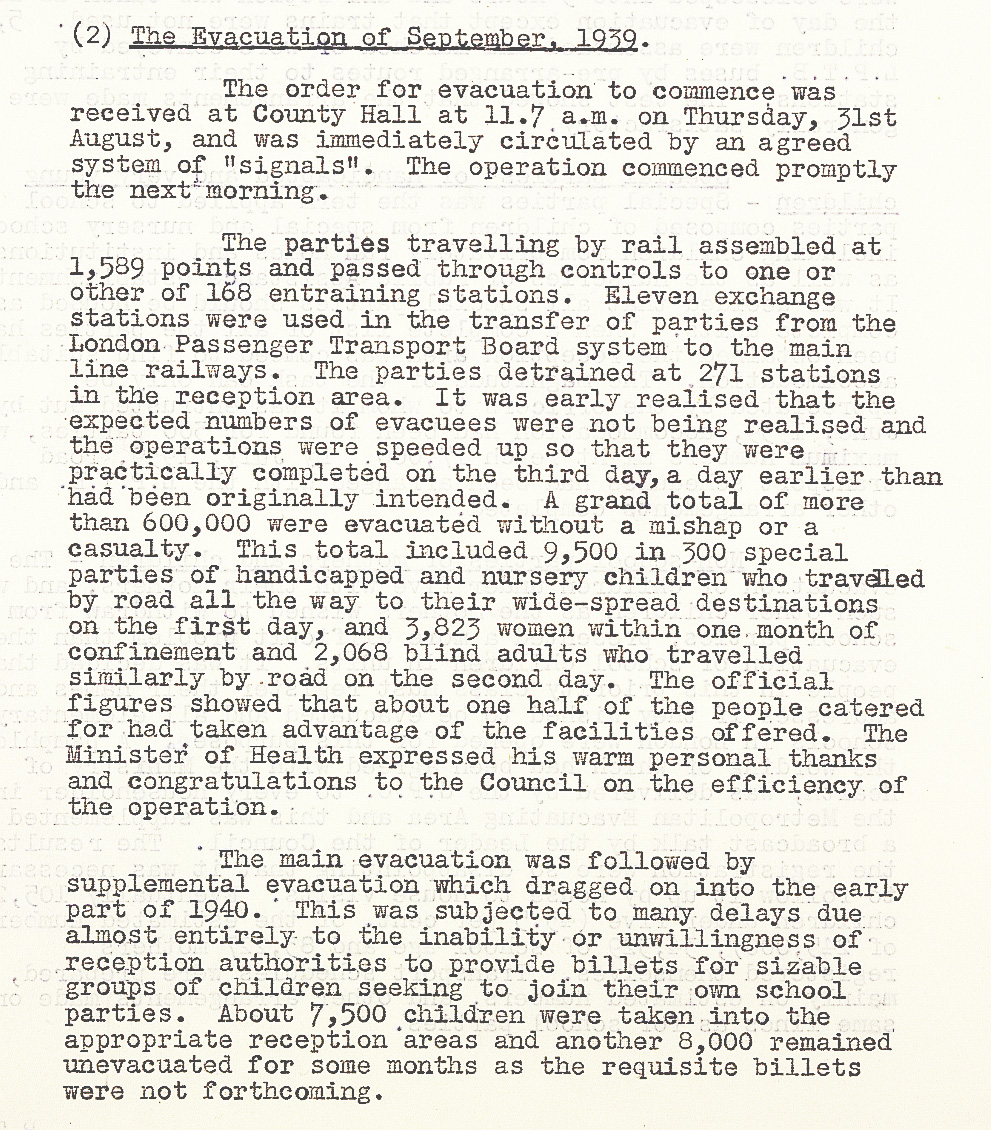 London County Council Study of Evacuation, 1940, Catalogue ref: ED 138/49
This source provides detail on how evacuation was organised and who was evacuated as part of the process.
How was evacuation organised?
What problems emerged with evacuation by 1940?
Transcript
(2) The Evacuation of September, 1939.
The order for evacuation to commence was received at County Hall at 11.7 a.m. on Thursday, 31st August, and was immediately circulated by an agreed system of "signals". The operation commenced promptly the next morning.
The parties travelling by rail assembled at 1,589 points and passed through controls to one or other of 168 entraining stations. Eleven exchange stations were used in the transfer of parties from the London Passenger Transport Board system to the main line railays. The parties detrained at 271 stations in the reception area. It was early realised that the expected numbers of evacuees were not being realised and the operations were speeded up so that they were practically completed on the third day, a day earlier than had been originally intended. A grand total of more than 600,000 were evacuated without a mishap or a casualty. This total included 9,500 in 300 special parties of handicapped and nursery children who travelled by road all the way to their wide-spread destinations on the first day, and 3,823 women within one month of confinement and 2,068 blind adults who travelled similarly by road on the second day. The official figures showed that about one half of the people catered for had taken advantage of the facilities offered. The Minister of Health expressed his warm personal thanks and congratulations to the Council on the efficiency of the operation.
The main evacuation was followed by supplemental evacuation which dragged on into the early part of 1940. This was subjected to many delays due almost entirely to the inability or unwillingness of reception authorities to provide billets for sizeable groups of children seeking to join their own school parties. About 7,500 children were taken into the appropriate reception areas and another 8,000 remained unevacuated for some months as the requisite billets were not forthcoming.
Return to Home Front 1939-1945 (part one)