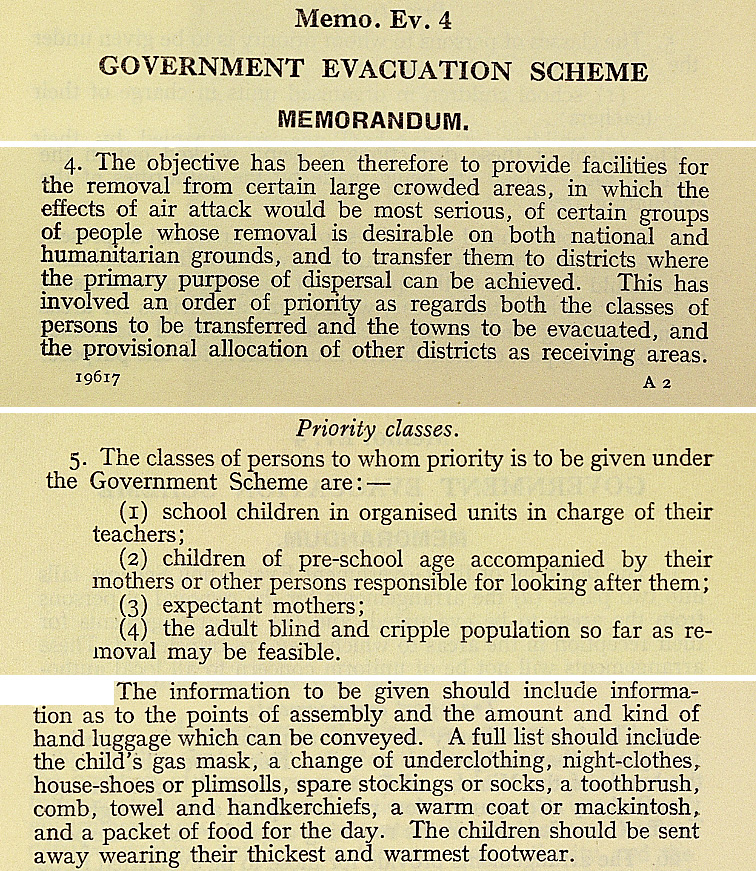 Ministry of Health Memorandum Government Evacuation Scheme, 1939, Catalogue ref: ED 138/48
Evacuation took place in several waves. On 1 September 1939, when Germany invaded Poland and two days before the British declaration of war, children were evacuated. In three days 1.5 million evacuees were sent to rural locations considered to be safe.
Why did the British government want city children to leave their homes in 1939?
Transcript
Memo. Ev. 4
GOVERNMENT EVACUATION SCHEME
MEMORANDUM.
4. The objective has been therefore to provide facilities for the removal from certain large crowded areas, in which the effects of air attack would be most serious, of certain groups of people whose removal is desirable on both national and humanitarian grounds, and to transfer them to districts where the primary purpose of dispersal can be achieved. This has involved an order of priority as regards both the classes of persons to be transferred and the towns to be evacuated, and the provisional allocation of other districts as receiving areas.
Priority classes.
5. The classes of persons to whom priority is to be given under the Government Scheme are:-
(1) school children in organised units in charge of their teachers;
(2) children of pre-school age accompanied by their mothers or other persons responsible for looking after them;
(3) expectant mothers;
(4) the adult blind and cripple population so far as removal may be feasible.
The information to be given should include information as to the points of assembly and the amount and kind of hand luggage which can be conveyed. A full list should include the child's gas mask, a change of underclothing, night-clothes, house-shoes or plimsolls, spare stockings or socks, a toothbrush, comb, towel and handkerchiefs, a warm coat or mackintosh, and a packet of food for the day. The children should be sent away wearing their thickest and warmest footwear.
Return to Home Front 1939-1945 (part one)