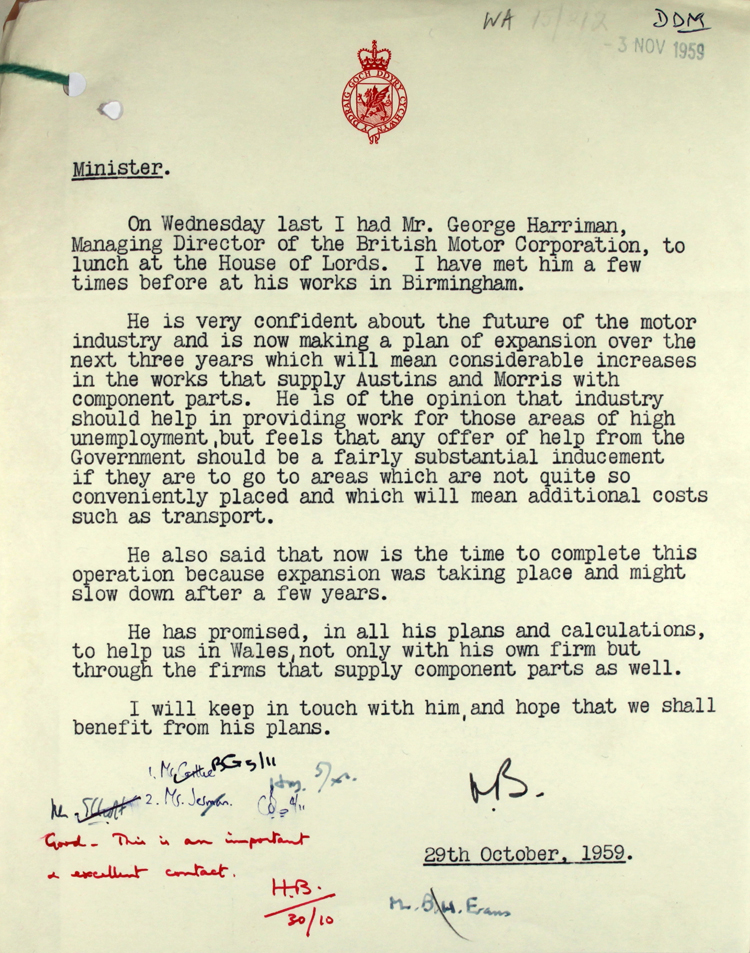 Note to the Minister for Welsh Affairs Henry Brooke from Lord Brecon, Minister of State for Welsh Affairs, 29th October 1959 (BD 25/27)
Transcript
Minister
On Wednesday last I had Mr. George Harriman, Managing Director of the British Motor Corporation, to lunch at the House of Lords. I have met him a few times before at his works in Birmingham.
He is very confident about the future of the motor industry and is now making a plan of expansion over the next three years which will mean considerable increase in the works that supply Austins and Morris with component parts. He is of the opinion that industry should help in providing work for those areas of high unemployment, but feels that any offer of help from the Government should be a fairly substantial inducement if they are to go to areas which are not quite so conveniently placed which will mean additional costs such as transport.
He also said that now is time to complete this operation because expansion was taking place and might slow down after a few years.
He has promised, in all his plans and calculations, to help us in Wales, not only with his own firm but through the firms that supply component parts as well.
I will keep in touch with him, and hope that we shall benefit from his plans.
M.B.
29th October, 1959
[Handwritten]
Good – this is an important and excellent contact. H.B. 30/10
Return to Fifties Britain