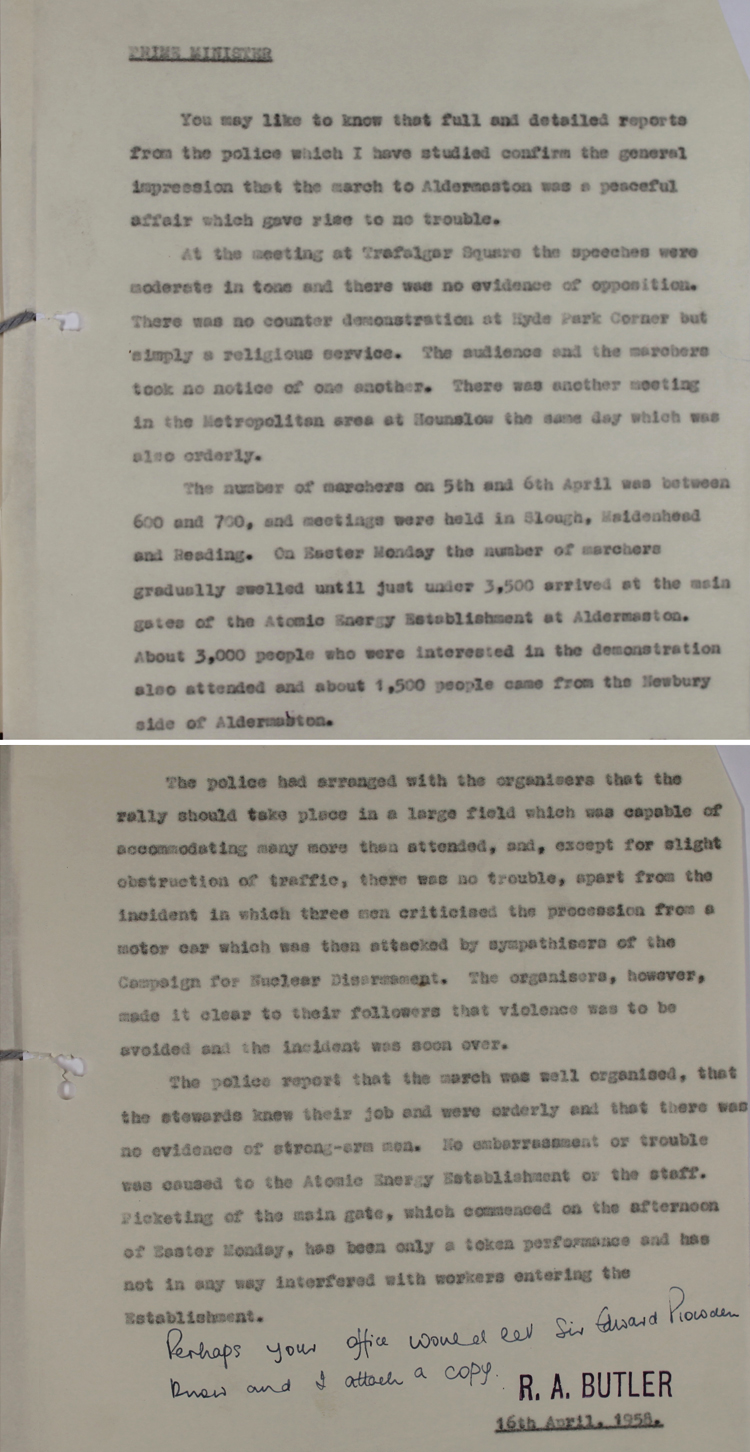 Note from the Home Secretary R. A. Butler to Prime Minister Harold Macmillan, 16th April 1958 (HO 325/149)
Transcript
PRIME MINISTER
You may like to know that full and detailed reports from the police which I have studied confirm the general impression that the march to Aldermaston was a peaceful affair which gave rise to no trouble.
At the meeting at Trafalgar Square the speeches were moderate in tone and there was no evidence of opposition. There was no counter demonstration at Hyde Park Corner but simply a religious service. The audience and the marchers took no notice of one another. There was another meeting in the Metropolitan area of Hounslow the same day which was also orderly.
The number of marchers on 5th and 6th April was between 600 and 700, and meetings were held in Slough, Maidenhead and Reading. On Easter Monday the number of marchers gradually swelled until just under 3,500 arrived at the main gates of the Atomic Energy Establishment at Aldermaston. About 3,000 people who were interested in the demonstration also attended and about 1,500 people came from the Newbury side of Aldermaston.
The police had arranged with the organisers that the rally should take place in a large field which was capable of accommodating many more the attended, and, except for slight obstruction of traffic, there was no trouble, apart from the incident in which three men criticised the procession from a motor car which was then attacked by sympathisers of the Campaign for Nuclear Disarmament. The organisers, however, made it clear to their followers that violence was to be avoided and the incident was soon over.
The police report that the march was well organised, that the stewards knew their job and were orderly and that there was no evidence of strong-arm men. No embarrassment or trouble was caused to the Atomic Energy Establishment or the staff. Picketing of the main gate, which commenced on the afternoon of Easter Monday, has been only a token performance and has not in any way interfered with workers entering the Establishment.
Perhaps your office would let Sir Edward Plowden know and I attach a copy
[Hand written]
R.A. BUTLER
16th April, 1958
Return to Fifties Britain