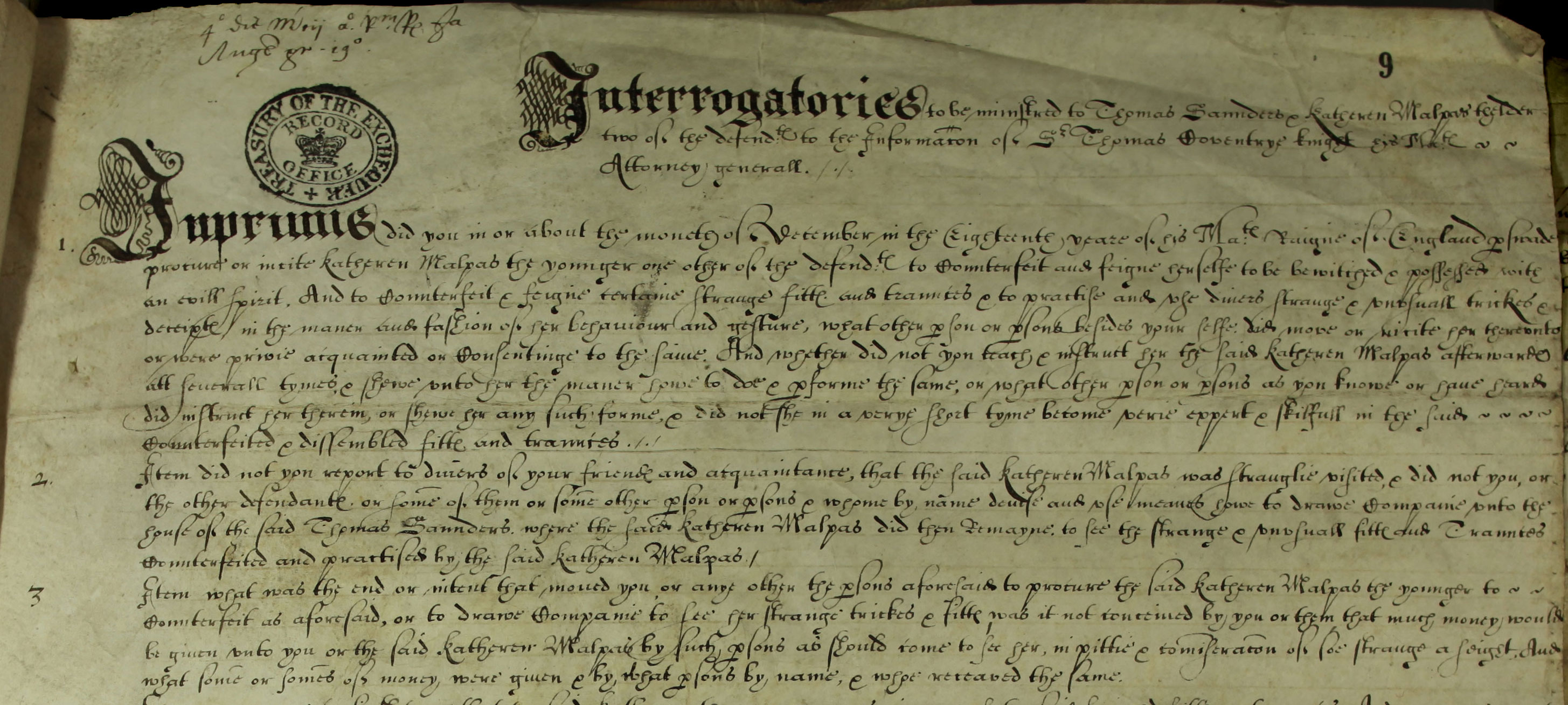 Katherine Malpas: Interrogatories put to Thomas Saunders & Katherine Malpas the elder. (Catalogue ref: STAC 8/32/13)
In the course of a legal trial witnesses would be called to answer Interrogatories (questions) about the case. This source contains three of the questions that were put to Thomas Saunders and Katherine Malpas (the elder) who were accused of pretending that Katherine Malpas (the younger) was a witch for their own financial gain, February 1622.
Transcript
Interrogatories to be ministered to
two of the defendants to the Information of Sir Thomas Coventry Knight his Majesty's
Attorney General [the Crown's adviser and representative in legal matters]
1. Imprimis [Firstly] did you in or about the month of December in the Eighteenth year of his Majesty's Reign or England persuade
procure or incite Katherine Malpas the younger one other of the defendants to Counterfeit and fain [fake] herself to be bewitched & possessed with
an evil spirit. And to counterfeit & feign certain strange fits and trances & to practice and use divers strange & unusual tricks &
deceits in the manner and fashion or her behaviour and gesture, what other person or persons besides you self did move or incite her thereunto
or were privy acquainted or consenting to the same. And whether did not you teach & instruct her the said Katherine Malpas afterwards
at several times & shew unto her the manner how to do & perform the same or what other person or persons as you know or have heard
did instruct her therein, or show her any such form & did not she in a very short time become very expert & skilful in the said
counterfeited & dissembled fits and trances.
2. Item did you not report to divers of your friends and acquaintances that the said Katherine Malpas was strangely visited & did not you, or
the other defendants or some of them or some other person or persons, & whom by name devise and use means how to draw company unto the
house of the said Thomas Saunders where the said Katherine Malpas did then remain to see the strange & unusual fits and trances
counterfeited and practised by the said Katherine Malpas.
3. Item what was the end or intent that moved you, or any other the persons aforesaid to procure the said Katherine Malpas the younger to
be given unto you or the said Katherine Malpas by such persons as should come to see her, in pity & commiseration of so strange a sight. And
what sum or sums of money were given & by what persons by name & who received the same.
Return to Early Modern witch trials