Here you can find a selection of resources created during the course of our projects that can be used with your own community groups either as a resource or as inspiration for your own projects. These resources are intended to be used as provided or as inspiration for projects of your own.
Online resources
Case studies
Exhibitions
Useful blogs
Audio resources
Online resources

Colouring for Relaxation
Inspired by Arts in Care Homes' National Day celebrating creativity and culture, we've prepared some colouring-in activities for you based upon photographs in our collections. This activity is for all to enjoy.
The photographs range from Lyme Regis and Ireland to Ghana and Delhi and we've included a few things to consider while you work on them.

Five Photos
Five Photos is an online resource designed to encourage people to engage creatively with our collections. It aims to provide a mindful, social or reminiscence-based activity for those shielding or in care home settings.
The five images you see here feature scenes from Britain, Africa and the Caribbean, taken between 1926 and 1965.
Remembering the past, growing the future
This project explored the history of Pakistani migration to Wakefield, West Yorkshire. Explore the original project. 
Loyalty and Dissent
As part of the First World War commemoration programme, this project worked with historians and playwrights to devise a series of short plays and accompanying education resources exploring the topic of South Asia and the First World War. Explore the original project. 
Classroom resource: 

themed document collection.

Contains twenty five documents relating to the experiences of people from South Asia at the time of the First World War.

 

Read the Loyalty and Dissent scripts

 

The script pack contains bold new works from five playwrights from the Tamasha Developing Artists (TDA) programme. Each writer was commissioned to research and develop pieces inspired by documents held at The National Archives.

 
Caribbean through a lens
We worked with community groups to share and explore our collection of Caribbean images resulting in 35 different community projects regionally, from poetry to exhibitions, reminiscence to film. Explore the original project. 
Case studies
There Be Monsters mental health project
This project used devices and imaginary creatures inscribed on some of our oldest maps. They inspired adults with experience of mental ill health to create a sculpture which now sits in our grounds. 
The case study describes our experience of working on the project, as well as the experiences of the participants involved. 
Exhibitions
Memories from the Islands
This exhibition was co-curated by participants from Haringey U3A in partnership with Bruce Castle Museum, Tottenham. It features 28 images from our collection of Caribbean images from the Ministry of Information and the participants' amusing and informative childhood reminiscences. It is available to loan. Please contact us for more information. 
Useful blogs
Diverse Histories
Mental Health and Wellbeing
Queer Histories
Audio resources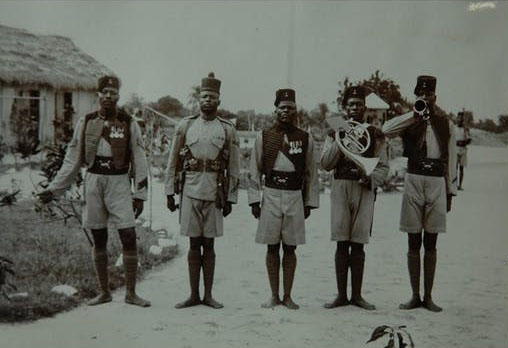 Diverse Histories