Provision of archives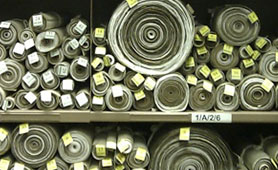 All organisations need to provide for the management of their records, including for the long term, as an essential part of their effective administration and governance.
Some types of business are subject to specific legislation and regulations, for example pharmaceutical, nuclear power, railway, health and engineering businesses. For the public sector, see below
Records created in central government departments and agencies, the courts and the National Health Service are subject to the Public Records Act 1958 and are preserved at The National Archives or in places of deposit
Some types of record, with specific legal functions, are bound by legislation. For example, the Manorial Documents Rules are made under the Law of Property Act 1922 and apply to the records of manorial courts and their administration
Local authorities must comply with the requirements of the local government acts regarding the safe-keeping and democratic accessibility of records. Wales has specific legislation
Other organisations maintain or deposit archives that are of local or community interest. These can meet business requirements and also have wider cultural value.
Access to archives
Legislation comes from a variety of sources and applies differently according to the type of archive and its holdings.
All archives
The information contained in archives of all kinds is subject to different regulation.
Public sector organisations, for example local authorities and universities
Most access requirements are determined by:
The Code of Practice on records management issued under section 46 of the Freedom of Information Act recommends a joined-up approach in public authorities to managing freedom of information, data protection, environmental information regulations, and identifying archival material.
HMC Warrant
The HMC Warrant empowers The National Archives (with the Keeper of Public Records as Historical Manuscripts Commissioner) to locate and support the preservation of and access to all manuscripts and records not covered by the Public Records Act, wherever they are located. The activities of the Commission are now undertaken within Archives Sector Development.
Further useful links