As part of their placement researching the Prize Papers, PhD student, theatre-maker and poet S L Grange conducted research into our HCA records series. Each HCA record below has inspired a poem, collected here as a project called Letters of No Moment.
Named after the term used by previous High Court of Admiralty (HCA) clerks, translators and archivists for correspondence and personal papers not considered of relevance to a case, this project seeks out the marginalised, peripheral (and often female) voices that drift through the miscellany of the HCA's papers: the fragments of other/othered, subaltern bodies and lives as they pass briefly through the frame. A hasty note from a struggling businesswoman, a dispute between two working widows, a community of Portuguese migrant women fighting for compensation, the third-hand story of a French convert to Islam and her children aboard a captive ship, a shipwright's wife being granted power of attorney … Letters of No Moment collects these fragments, and both generates and records conversations between S L Grange – a queer AFAB artist – and these long-past lives, all lost together in the archives.
You can learn more about this project by reading this blog post, which is part of our Research Exchange blog series.
As part of our organisation's strategy, Archives for Everyone and our aim of being an inclusive, disruptive archive, The National Archives encourages a wide range of audiences to use our records as the basis for creative expression. Some other examples of artist's engagement with our records are the Art and Archives event series and the In Their Own Write project's artist-in-residence.
Please note that views expressed and/or the works developed by the artist do not reflect the views of The National Archives or its staff. The National Archives is the official archive of the UK government, England and Wales. We are home to 1,000 years of history and are the guardians of some of the world's most iconic documents, from the Domesday Book to Downing Street tweets. We believe that archives are for everyone because they are about everyone, past, present and future. Our collections contain ideas, language and imagery from original records which reflect historical viewpoints and attitudes. Some may be considered offensive. However, we think it important to show them here as accurate representations of the record to help us understand the past.
---
HCA 30 841 586 – The John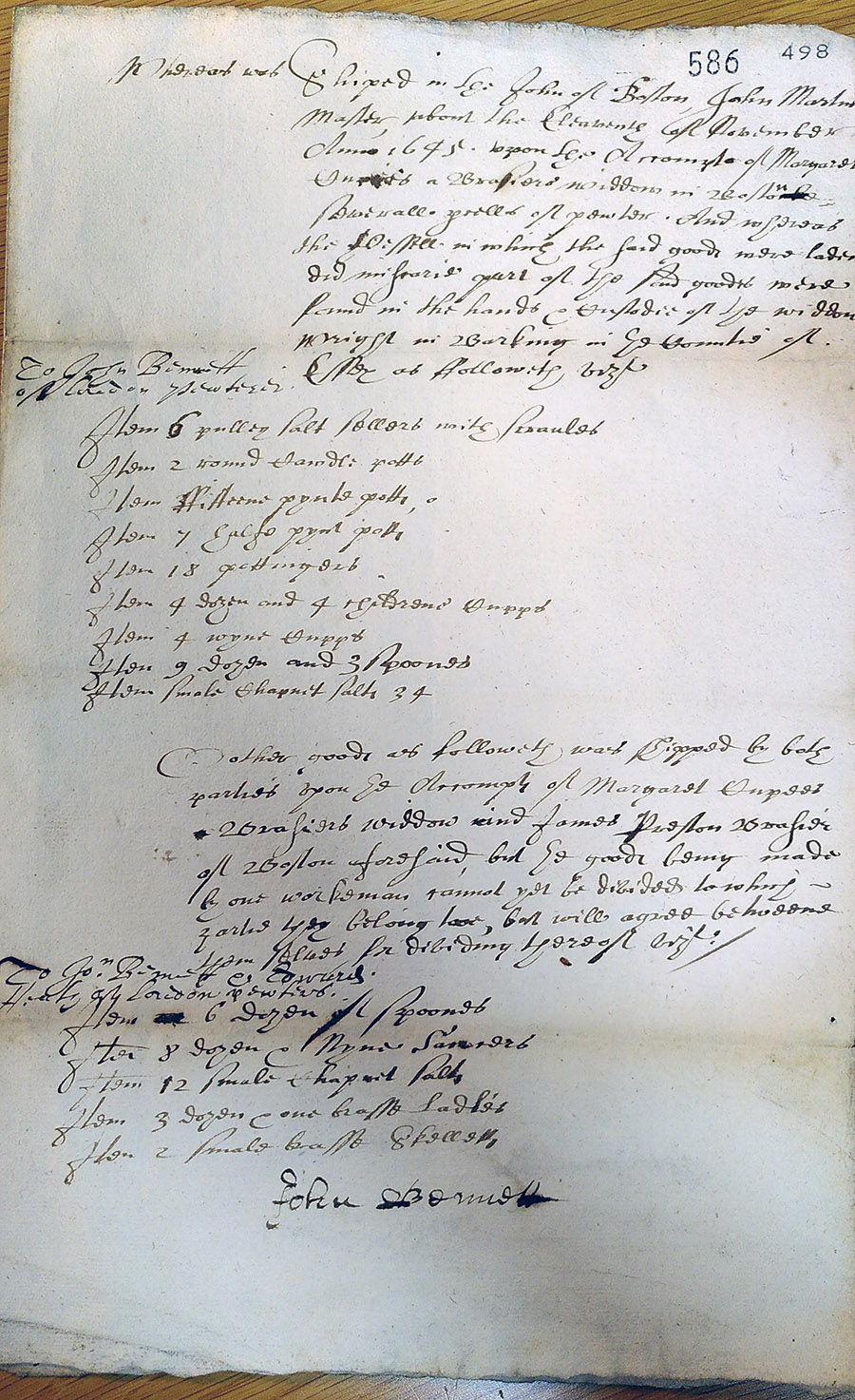 Shipped in the John of Boston, John Martin master, about the eleaventh of November Anno 1645 upon the Account of Margaret Cupeer a Brazier's widdow in Boston Sevairall pieces of pewter. And whereas this vissell in which the said goods were laden did miscarie part of the said goods were found in the hands and custodie of the widdow Wright in Barking in the Countie of Essex as followeth viz
To John Bennett of London Pewterer
Item 6 pulley salt sellers with scraules
Item 2 round cawdle potts
Item ffifteene pynte potts
Item 7 halfe pynt potts
Item 18 pottingers
Item 4 dozen and 4 childrens cuppes
Item 4 wyne cuppes
Item 9 dozen and 3 spoones
Item smale chapnet salts 34
Other goods as followeth was shipped by both parties upon the account of Margaret Cupeer Braziers widow and James Preston Brazier of Boston aforesaid, but the goods being made by one workeman cannot yet be divided to which partie they belong too, both will agree betweene them selves for dividing thereof viz
To John Bennet & Edward Heath of London, pewterers
Item 6 dozen of spoones
Item 8 dozen & nyne Saucers
Item 12 Smale Chapnet salts
Item 3 dozen & one brasse ladles
Item 2 smale brasse skelletts
John Bennet
The John
The gap between Margaret and
her dead husband
gapes from Boston to Barking.
I am the widow wright:
as if this wrangling
were a job – and so it is
Water miscarries- and so do we
from laden salt cellars
spoon out heavy vessels of loss
aches in the back and the knees
We fill our hands, take custody
one widow or another:
4 dozen and 4
children
cupped
up in our braziers
scorching
scrauling
Item 2 widows
Item 1 brass
Barking
John to John to John
We will agree between our
selves on whose account
we might be found:
Walk to the foreshore and wait
Fifteen pint pots down
The winds are high
If you stand long enough
You might find your own name
washing up cold:
and still and grey as pewter
the gap between you and what is yours
the gap between you and what is not
---
HCA 30 841 409 – Small Quantity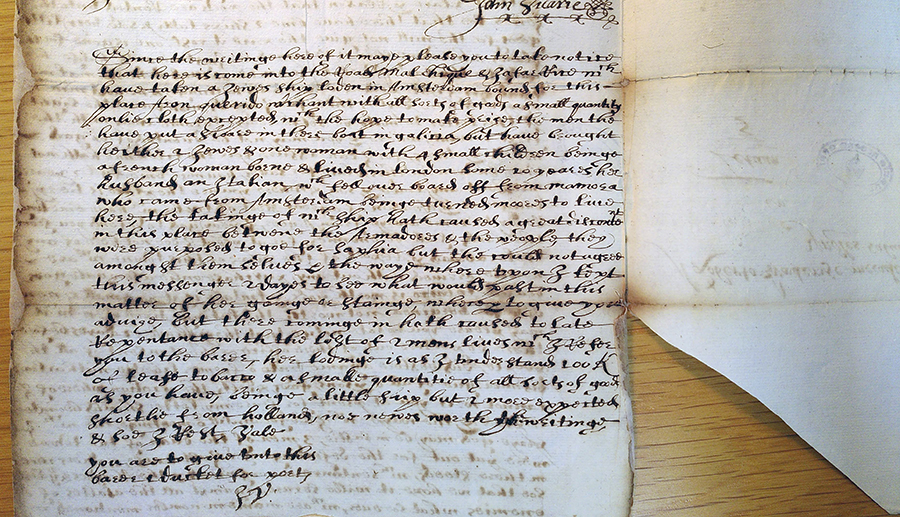 [Post script]
Since the writing hereof it may please you to take notice that here is come into the road Malchique & Zafar rice merchants Have taken a jewes ship laden in Amsterdam bound for this place Aron Querido merchant with all sorts of goods a small quantity onlie cloth excepted wich the hope to make prize, the men the have put ashoare in there boat in gallina, but have brought heither 2 jewes & one woman with 4 small children beinge a French woman borne & lived in London some 20 years her husband an Italian, wich fell overboard off from Mamora who came from Amsterdam beinge turned moores to live here, the taking of wich ship hath caused a great discontent in this place between the Armadores & the people, they were purposed to goe for Saphia but the could not agree amongst themselves the waye whose upon. I kept this messenger 2 dayes to see what would past in this matter of her goinge or staying, whereof to give you advice?, but there cominge in hath caused to late repentance with the lost of 2 mens lives wich I refer you to the barer, her lading is as I understand 100K of leafe tobacco & a smalle quantitie of all sorts of goodes as you have, beinge a little ship but 2 more expected shortlie from holland, noe newes worth the writing & soe I rest, Vale.
You are to give unto this barer 1 ducket for post
JV
Small Quantity
We will call the children Corrall Brimstone Opium Broadcloth // we will call her saltwater // the concern here beinge the lines drawn and rubbed out washed away // across some other kind of map across the map of her face across the weather brought hither now living there
Give unto the barer one ducket and small goodes // and fall overboard again and again // turn French live Moore rest vale // the 4 children put ashoare Brimstone Corral Broadcloth Opium // the 2 mens lives Mamora Saphia
She sits in the boat
Saltwater
Rowed into the harbour or dragged onto the sand
Strangers
Handed out and in and out and in
Surging
Take notice of the unsteady sea below her // we will call him leafe tobacco // going under again and again // tobacco leaves strewn all the way from his palms to // this wooden belly these 2 lives these little ships
They could not agree the way Broadcloth Corrall Brimstone Opium // Mamora
Saphia London Amsterdam Malchique Zafar Aron Querido // Leafe tobacco Saltwater // noe newes worth the writing
---
HCA 30 843 260 – Such. That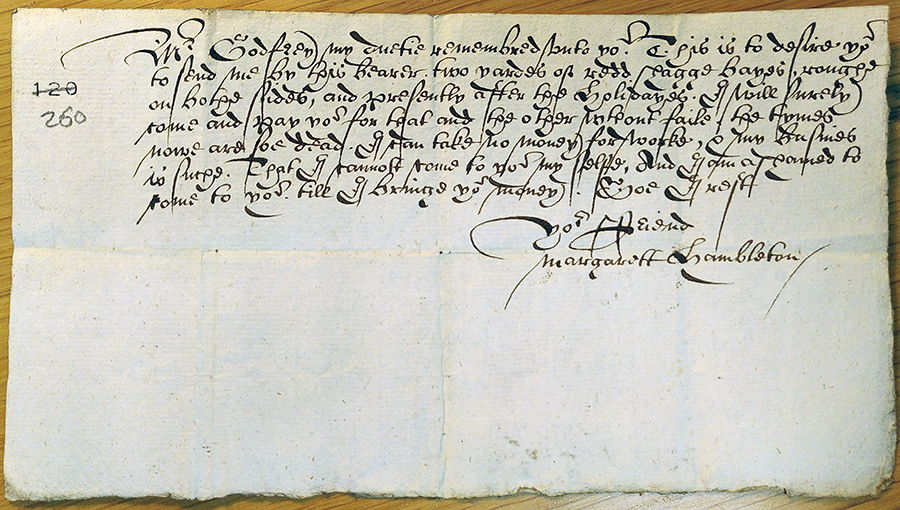 Mr Godfrey my duetie remembered unto you. This is to desire you to send me by this bearer two yards of redd shagge bayes roughe on both sides, and presently after the holidays. I will surely come and pay you for that and the other without faile. The tymes nowe are soe dead. I can take no money for worke, and my busines is such. That I cannot come to you my selfe, And I am ashamed to come to you till I bringe yor money. & Soe I rest
Yor friend
Margarett Hambleton
Such. That
Everyone owes Godfrey.
Margarett clicks her fingers under the desk picks. A little fluff from her sleeve dips the quill
in the black ink drip tap. Tidy. Two yards of cloth and. A hundred more of shame to walk in the mud and feel sweat. Prickling on your back under the linen shirt that you have patched
again this morning hoping the mend. Doesn't show too badly at the neck. Because that's where he will look. When you arrive with the money. And he will take his damn time getting out. The ledger finding the line that doth pertain unto you. With his long meticulous. Accusation of a finger. She clicks her fingers under the desk. Red shag baize. And the other. You have to find some way to continue. The ink dries Margarett folds the note in. Perfect quarters. Not a blot on it. She has meticulous fingers of her own. Does Margarett. And she'll stitch you up.
Any way you like.
---
HCA 30 844 item 40 – The Dragon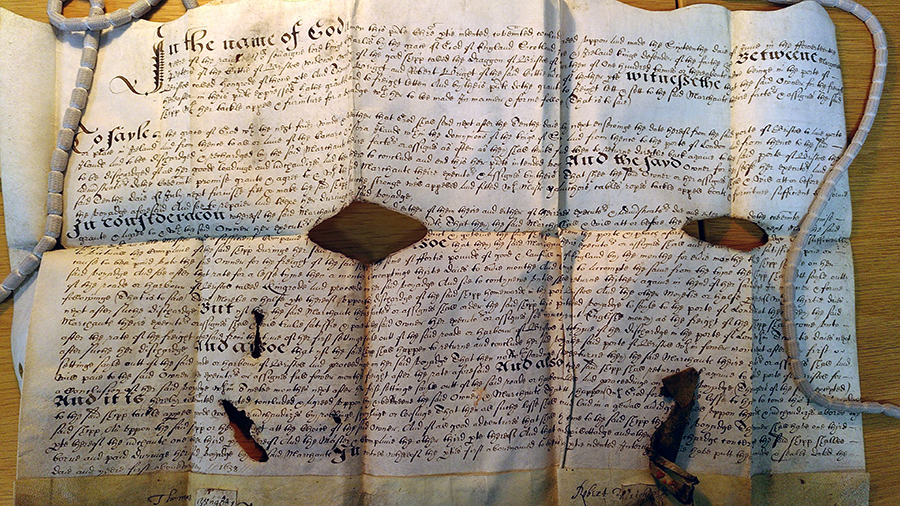 In the name of God Amen
This charter partie indented, covenanted, concluded, agreed upon and made the sixteenth daie of June in the fourteenth yeare of the raign of our sovraigne lord Kinge Charles by the grace of God of England Scotland France and Ireland Kinge defender of the faithe BETWEEN Margarett Peters of the Cittie of Bristol widowe owner of the good shipp called the Draggon of Bristole of the burthen of one hundred tonnes or thereabouts nowe beinge in the porte of Bristol called Howgrove Of the one partie And Thomas Wright and Robert Wright of the said cittie merchant of thother partie WITNESSETH that the said owner for the freight hereafter in theis expressed hathe granted and to freight letten and by theis doth grant and to freight lett & sett to the said merchants their factors and assigned the said shipp with her tackle apparel and furniture for a voyage with her to be made In manner and forme following (that is to saie)
TO SAYLE by the grace of God with the next faier winde & weather that God shall send next after the Tenthe daie of July next ensewinge the date hereof from the said porte of Bristol to anie port or place in Ireland and from thence to all or anie of the Canara & Osora Ilands within the domynions of the kinge of Spaine and from thence to the porte of London and from thence to the said Ilande and to bee discharged & rechardged by the said merchants their factors or assigned as often as they shall think fit and then to returne directlie back againe to the said porte of Bristol there to be discharged of all her goods loading and merchandizes and then there to conclude and end this her intended voyage AND THE SAYD owner for herself her executors and administrators dothe convenant promise grant and agree to and with the said marchants theire executors & assigned by their partie That shee the said owner or her assigned shall & will att or before the said tenth daie of July next furnishe fit & make the said shipp staunche, stronge well apparelled and fitted with maste yarde anchors cables ropes tackle apparel boats & furniture sufficient to perform the voyadge aforesaid And soe to repaier and keepe her during her said voyadge.
The Dragon
Margarett did not sign the parchment:
woman's work is made on wood
with wet rag or warm dough or
bed frame or birthing stool
burthen fifty years or thereabouts
the skin not scraped and dried
calf-hide as this next ensuing yet
the aforesaid owner grace of god
is leatherlike and salt-soaked
as she scrubs her orders into men
who lay the cables tackle furniture
(bed frame birthing stool)
in the ship she called The Dragon
because what's in a name whispered
behind a widow's back is sometimes
power and more than a sum of
lawful English money is the incalculable
value of that sibilant 'she' softening
the dry parchment, not attached
to the wooden hull, but to herself:
the said owner.
---
HCA 30 841 254-255 – The Hope of Ipswich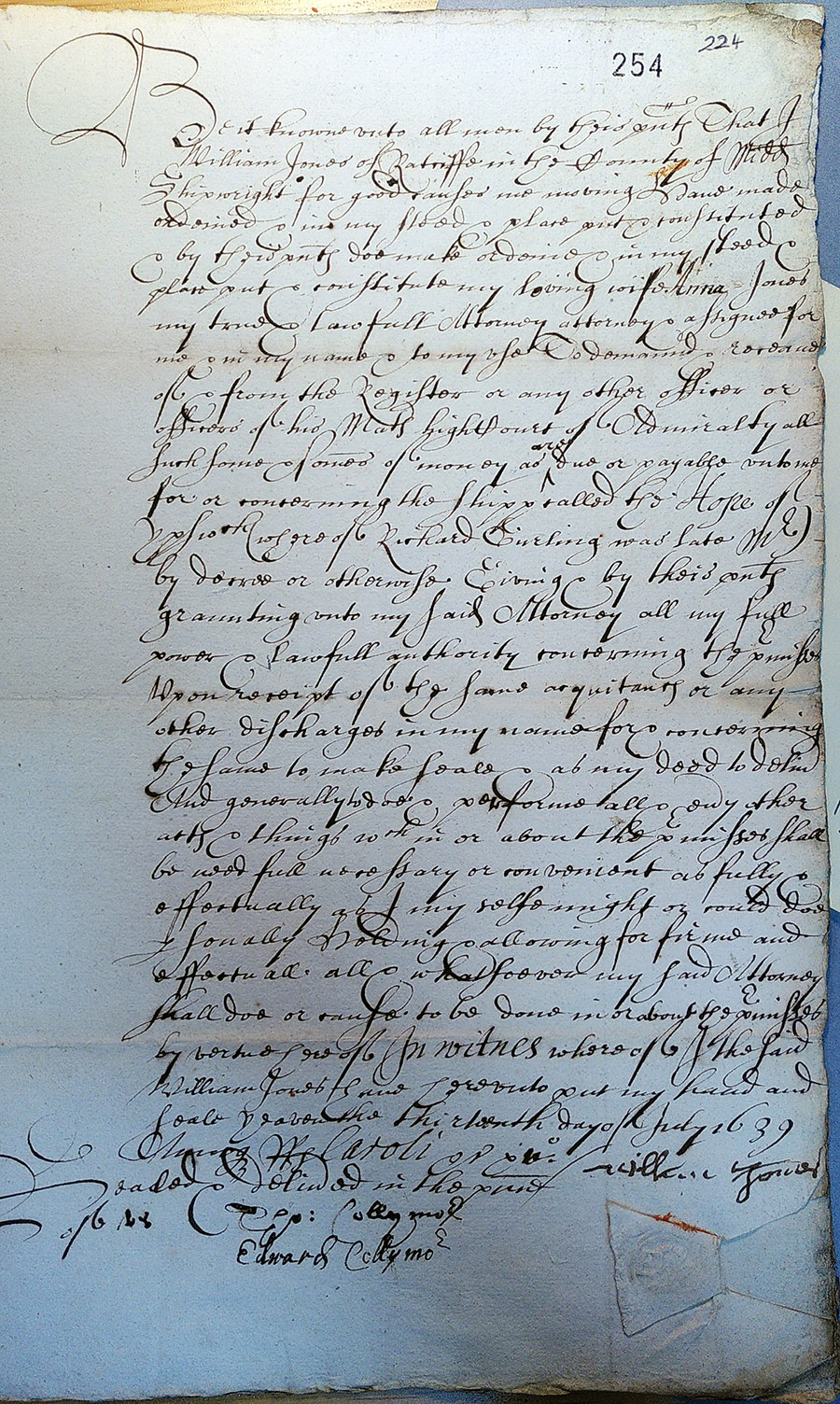 Be it knowne unto all men by their presence That I William Jones of Ratciffe in the county of Midd Shipwright for good causes me moving Have made ordained and in my steed and place put and constituted and by this presence Doe make ordaine and in my steed and place put and constitute my loving wife Anna Jones my true and lawfull Attorney attorney and assigned for me and in my name and to my sake and demand and received Of and from the Register or any other officer or officers of his Majs highcourt of Admiralty all such some and somes of money as are due or payable unto me for or concerning the shippe called the Hope of Ipswich whereof Richard Gurling was late Master by decree or otherwise Giving and by their presence granting unto my said Attorney all my full power and lawfull authority concerning the premises upon receipt of the same acquitants or any other discharges in my name for and concerning the same to make seale and as my deed to define And generally to doe and performe all and any other acts and things wth in or about the premises shall be need full necessary or convenient as fully and effectually as I my selfe might or could doe I soually Holding and allowing for firme And effectuall all and whatsoever my said Attorney shall doe or cause to be done in or about the premisses? By virtue hereof In Witnes whereof I the said William Jones have hereunto put my hand an seale the thirteenth day of July 1639 Anno Caroli xii
William Jones
Sealed and delivered in the presence Of Tho: Collymor
Edward Collymor
The Hope of Ipswich
Anna Jones has the power
brushes her hands down
her apron adjusts her cap
tucking a strand of hair back
under starched white linen
time to see to these accounts
the ink messes her fingers
wet between the tips
she adds subtracts diligent
looking out the window
towards the wharves
where the waves surge
against the belly-round hulls
with slap and chuckle
soon boots will creak the boards
of this small room as men
make demands of one sort
or another that also must
be accounted for. But now,
Anna Jones has the pen
and the hope, and the power.
---
HCA 30 841 – Little Eagles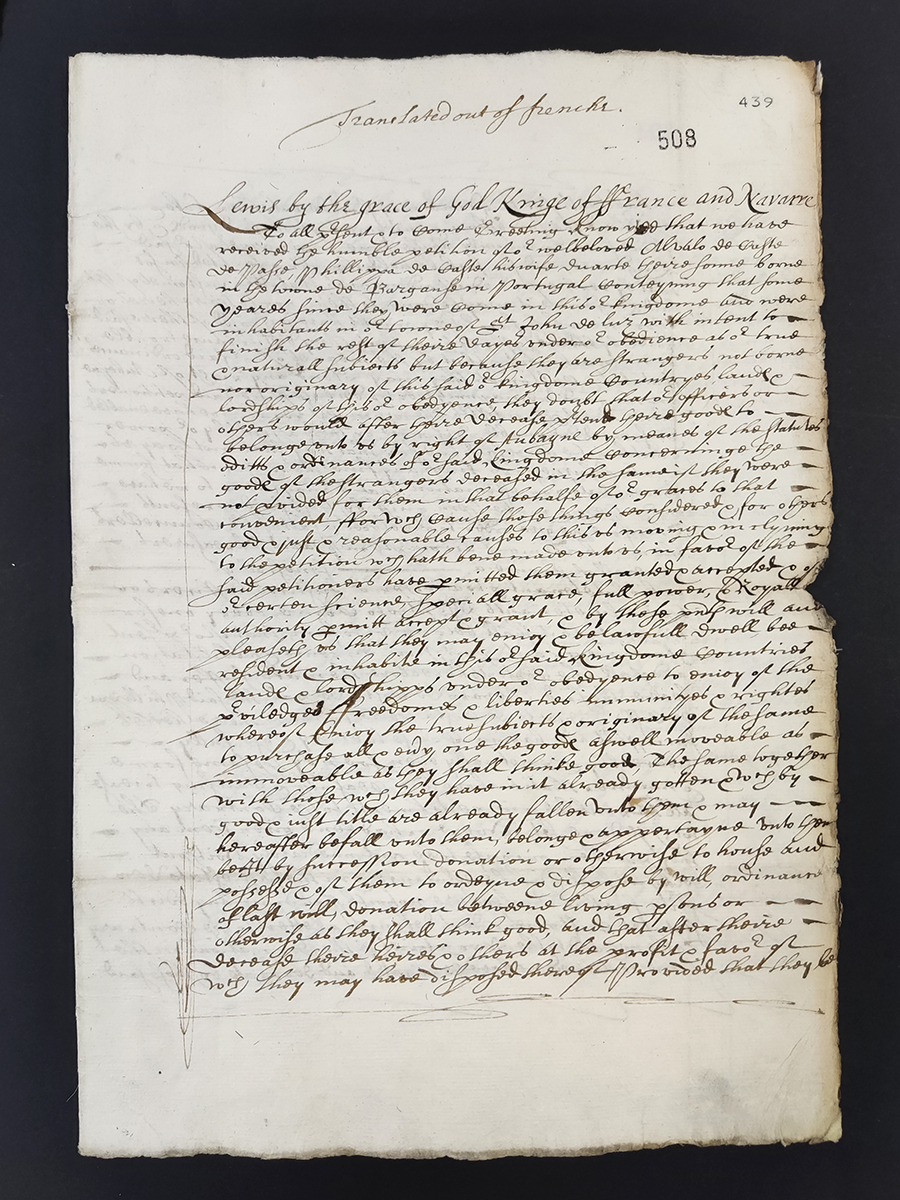 Letters of Naturality
508
Phillippa de Caste
538
Lewis by the grace of god kinge of France and of Navarra to all presents and to come greeting know ye that our deare and wellbeloved Manuel Dias Sanchez, Yves Loppes his wife, John Dios their son, Maria Rodriguez widow of Mr Martin Gonsalve of Arragon in his life tyme councellor of the parlement of Bordeaux borne in the towne of Lisbourne in Portingall have shewn us that the affection that they have of a long tyme boren to this estate and to us particularly had made them to leave the place of their birth for to dwell in our good towne of Roan with an intent to passe the rest of their life under our good pleasure, But they doubt that after their decease our officers would trouble their heirs successors and having cause in the enjoying of the goods wich they have already gotten and may hereafter get unlesse provision may be made thereupon of our letters of naturality. For these causes desiring well a favourably to use the said Lopez and Rodriguez wee inclyinging as wee most willingly doe to the most humbly peticion which they have made unto us, have and witness them of special grace full power and Royall authority by their puts that they maie and be lawfull unto them to continue their said dwelling in our said towne of Roan or in such other of our kingdome, country, lands and lordships under our obedience and their to get and purchase all and every one the goods as well moveable as unmovable the same together with those which they have already gotten and wich by good and just title and happeness unto them or may befall to them belong and appertain…
563
Helena Henriques
Gracia Pereira
Beatris Pereira Corane
Little Eagles
Phillipa, Yves, Maria
Helena, Gracia, Beatris
meet in the marketplace
bustle in skirts of fine wool
spun, woven, dyed
cut, stitched, pinned
their petticoats sway
and rustle, a little salty now
Maria knows the most
But Beatris has her hand in
every cake, dios, she can read
and in the nameless evenings
she takes up discarded
scraps and forms the letters
then throws them in the fire
light a candle every week
in church for safe deliverance
But even then, god takes
ships and men, sends them
to fucking London. Yves
will watch men's business
in close rooms, the wool
around the thighs and backsides
stretching taught as pens
and mouths, words
run along straight lines while
Helena sews in curves
sat listening at the door.
In the marketplace together
the women spin a thread
thin and bright: Obedience
Natural subjects, oh yes –
Humbly petitioning
To enjoy their goods
already gotten
and those yet to get
(a little salty now)