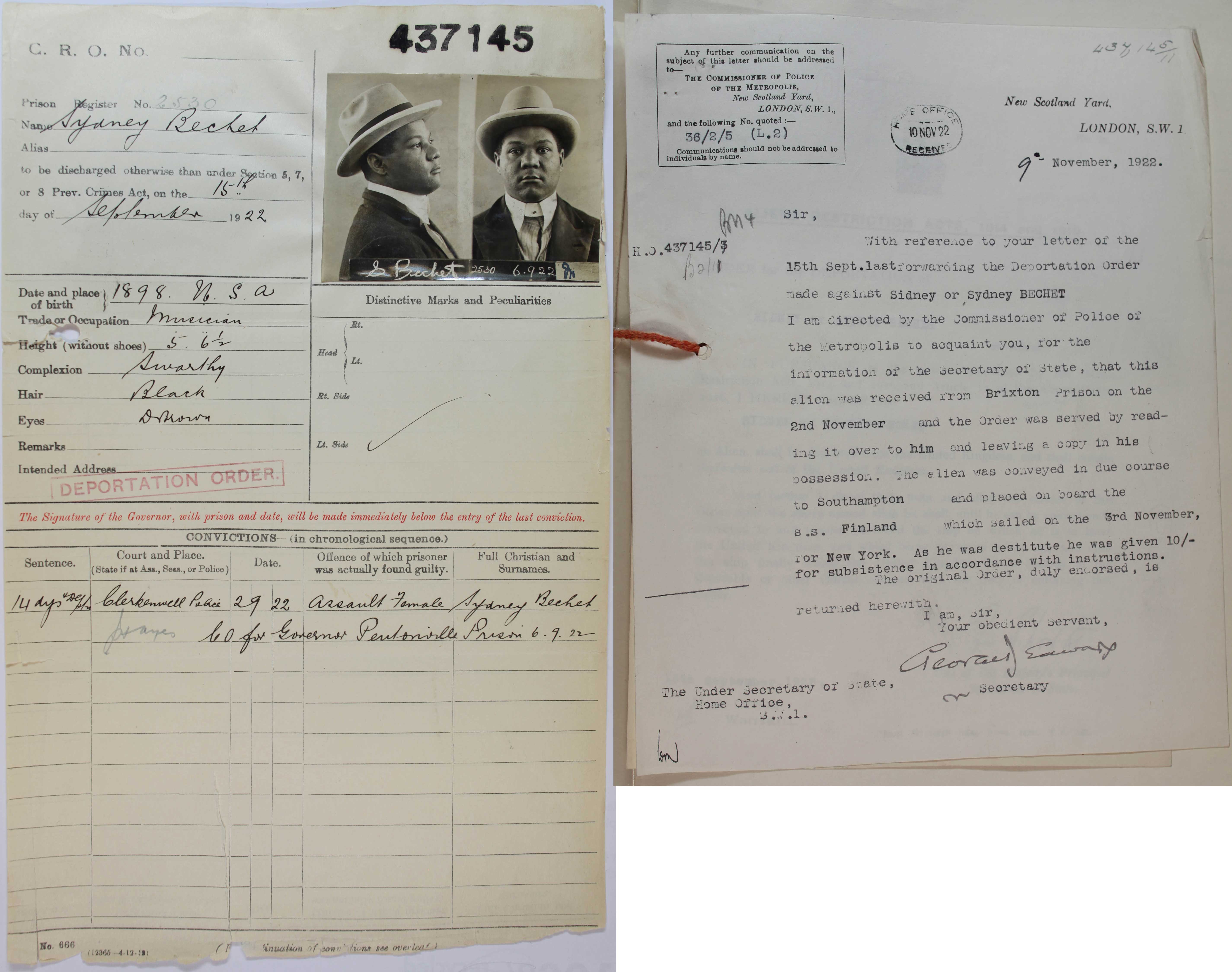 Sidney Bechet's deportation order, 16 September, 1922 (Catalogue ref: HO 45/24778)
In 1919, Sidney Bechet, jazz musician, went to New York City and joined Will Marion Cook's Syncopated Orchestra. They went to Europe and performed at London's Royal Philharmonic Hall. During the 1920s jazz was popular boosted by the music newspaper, Melody Maker, first published in 1926 and radio programmes from the new British Broadcasting Corporation. Jazz records from America were more available in Britain and British musicians like Patrick Cairns and 'Spike' Hughes learnt from American performers.
Transcript
C.R.O. No.                                                       437145
Prison Register No 2530
Name:                         Sydney Bechet
Alias
To be discharged otherwise than under Section 5, 7,
or 8 Prev. Crimes Act on the 15th day of     September    1922
————————————————————————————
Date and place of birth: 1898 U.S.A.                 Distinctive Marks and Peculiarties
Trade of Occupation      Musician
Height (without shoes)   5' 6½"
Complexion                    Swarthy
Hair                                Black
Eyes                               Brown
Remarks
Intended Address
DEPORATATION ORDER
The Signature of the Governor, with prison and date, will be made immediately below the entry of the last conviction
CONVICTIONS- (in chronological sequence)
Sentence
Court & Place (state if at Ass, Sess., or Police)
Date

Offence of which prisoner was actually found guilty.
Full Christian & Surnames
14 days & Deportation
Clerkenwell Police
2.9.22
Assault female
Sydney Bechet
  J.Hayes                                        C.O. for Governor Pentonville Prison 6.9.22
---
Letter from the Metropolitan Commissioner of Police to the Home Secretary confirming Sydney Bechet's extradition to New York, 9 November, 1922 (Catalogue ref: HO 45/24778)
Transcript
Any further communication on the subject of this letter should be addressed to:-
THE COMMISSIONER OF POLICE                                      New Scotland Yard
OF THE METROPOLIS                                                         LONDON, S.W.1
New Scotland Yard                                                                9th November, 1922.
LONDON, S.W.1.,
And the following No. quoted:-
36/2/5 (L.2)
Communications should not be addressed to
individuals by name.
[Stamp: HOME OFFICE, 10 Nov. 22 RECEIVED]
Sir,
With reference to your letter of the 15th Sept. last forwarding the Deportation order made against Sidney or Sydney BECHET.
I am directed by the Commissioner of Police of the Metropolis to acquaint you, for the information of the Secretary of State, that this alien was received from Brixton Prison 2nd November and the order was served by reading it over to him and leaving a copy in his possession. The alien was conveyed in due course to Southampton and placed on board the S.S. Finland which sailed on 3rd November, for New York. As he was destitute he was given 10/- for subsistence in accordance with instructions. The original Order, duly endorsed, is returned herewith.
I am Sir, Your obedient Servant,
George D. Edwards,       [Secretary]
The Under Secretary of State,
Home Office, S.W.1.
Return to Twenties Britain (part two)