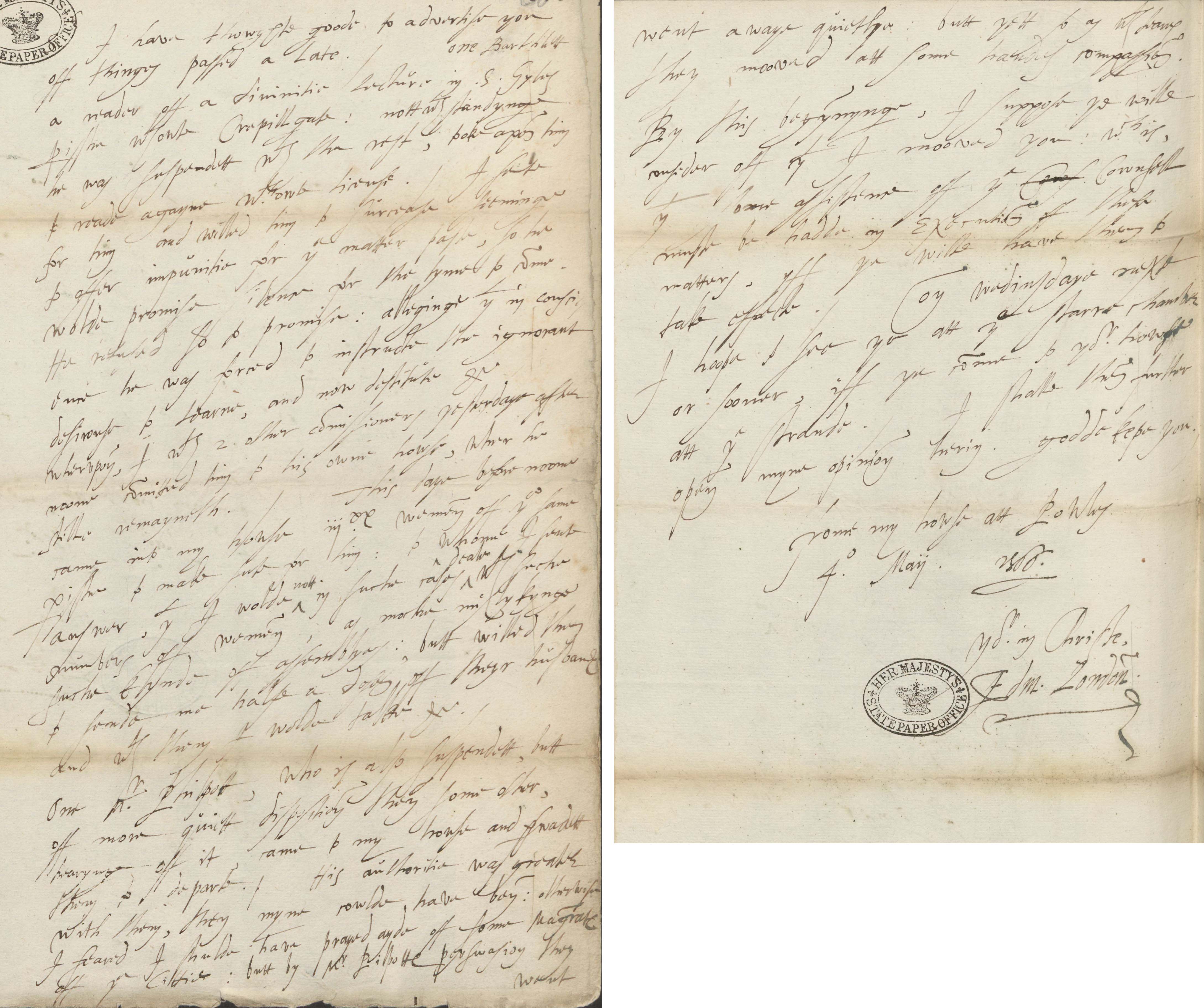 Edmund Grindal, Bishop of London, to William Cecil, 4 May 1566 (SP12/39/66, f.176r-176v)
The Vestiarian Controversy [dispute over clerical dress] was the first major attack in the puritans' campaign for reform. Archbishop Matthew Parker's response, to enforce conformity before Easter 1566, caused uproar in London: 37 ministers were suspended for refusing to wear the surplice, leaving parishes without a minister for Easter services.  This letter, in which Grindal describes the group of women who came to complain to him, shows how much protestant ideas had appealed to women in some parts of London. St Giles, Cripplegate (just outside the City walls) was a well-known puritan parish.
Transcript
Sir, I have thought good to advertise [explain] you of things passed a late [recently]. One Barthlett [John Bartlett, evangelical preacher] a reader off a divinity lecturer in St. Giles parish without [outside] Cripplegate notwithstanding he was suspended [for not wearing the correct clerical vestments] with the rest,[1] took upon him to read again [read the service again] without license. I sent for him and willed him to surcease [stop] seeming to offer impunity for the matter past,[2] so he would promise silence for the time to come.  He refused so to promise: alleging that in conscience he was forced to instruct the ignorant desirous to learn, and now destitute [without a minister].
Where upon, I with two other commissioners yesterday afternoon committed him to his own house, where he still remains. This day before noon came into my house sixty women of the same parishes to make suit for him: to whom I sent answer, that I would not in such case deal with such numbers of women, as much disliking such kind of assembly: but willed them to send me half a dozen off their husbands and with them I would talk etc.
One Mr Philpott, who is also suspended, but of more quiet disposition than some other, hearing of it came to my house and persuaded them to depart.  His authority was greater with them, than mine could have been: otherwise I feared I should have prayed aid of some magistrates off the City: but by Mr Philpott's persuasion they
[f.176v]
went away quietly: but yet so as it seems they moved at some hands compassion. By this beginning, I suppose ye will consider of that I moved you: which is, that some assistance of yet Council must be had in Execution off those matters, if ye will have them to take effect.  On Wednesday next I hope to see you at the Star Chamber or sooner, if you come to your house at the Strand. I shall then further open mine opinion herein.  God keep you…
[1] 37 ministers were suspended in the spring of 1566 during the Vestiarian Controversy.
[2] i.e. Grindal asks him to stop and will not prosecute him for reading service without a license if he does so.
Return to English Reformation c1527-1590