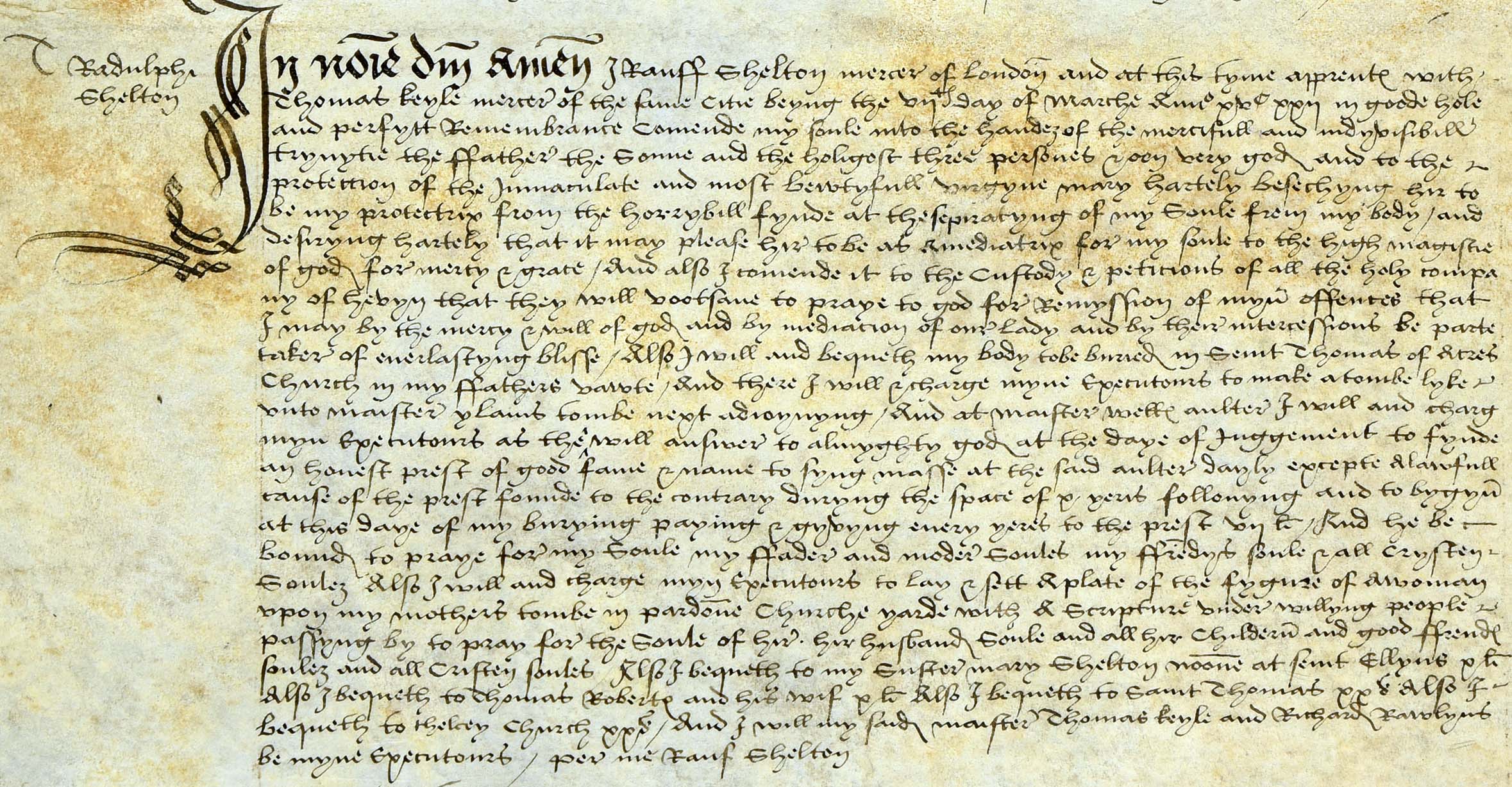 Will of Rauff Shelton, mercer [trader in cloth] and apprentice to Thomas Keyle, 7th March, 1522 (PROB 11/20/406 f89v)
Wills can provide information about religious beliefs, particularly in the 'preamble' or opening section where a testator might comment on his body and soul. However, they can be problematic as the testator did not always write the will or dictate it in full to a clerk. The clerk might have used their own formula or copied words from a book. Nevertheless, this source is a good example of a will from the pre-Reformation period. The testator bequeathed his soul to God with the intercession of the Virgin Mary and the saints. He also made bequests for prayers for his own, his family and others' souls. It is striking just how much of the will is taken up with these concerns and very little with the distribution of material goods.
Transcript
… I Rauff Shelton mercer of London and at this time apprentice with Thomas Keyle mercer of the same City being the vii day of March Anno xvc xxij in goods whole and perfect Remembrance commend my soul into the hands of the merciful and indivisible trinity, the father, the son and the holigost [Holy Ghost] three persons in one very god and to the protection of the Immaculate and most beautiful virgin Mary heartily beseeching her to be my protector from the horrible fiend at the separating of my soul from my body and desiring heartily that it may please her to be as a mediatrix [mediator] for my soul to the high majesty of god for mercy & grace. And also I commend it to the Custody & petitions of all the holy company of [heaven] that they will vouchsafe to pray to god for Remyssion [forgiveness] of mine offences that I may by the mercy & will of god and by mediation of our Lady and by their intercessions be partaker of everlasting bliss. Also I will and bequeath my body to be buried in Saint Thomas of Acres Church in my father's vault and there I will & charge mine Executors to make a tomb like unto master ylams tomb next adjoining. And at Master Welles altar I will and charge my executors as they will answer to almighty god at the day of Judgement to find an honest priest of good fame & name to sing masse at the said alter daily except a lawful cause of the priest found to the contrary during the space of ten years following and to begin at this day of my burying paying & giving every year to the priest £7. And he be bound to pray for my soul, my fader [father] and moder [mother] souls my friends soul & all crysten [Christian] souls [souls]. Also I will and charge my Executors to lay & set a plate of the figure of a woman upon my mother's tomb in pardonne Churche yarde with a scripture under willing people passing by to pray for the soul of her husband's soul and all her children and good friends souls and all Christian souls. Also I bequeath to my Sister Mary Shelton nun at sent Ellyns [Probably St Helen's, Bishopsgate, a [Benedictine order] £10. Also I bequeath to Thomas Roberts and his wife £10. Also I bequeath to Saint Thomas [presumably St Thomas Acres church] 20 shillings. Also I bequeath to chelcey Church [the church at Chelsea, at this time, a village separate from London] 20 shillings. And I will my said master Thomas Keyle and Richard Rawlyns be mine Executors per [by] me, Rauf Shelton
[1] 1522.  Though this is a legal document, Shelton or his scribe does not appear to have used the conventional 'Old Style' dating, i.e. when the start of the calendar year was 25 March (Lady Day).
[2] St Thomas Acres, originally a hospital, founded on the site of the birthplace of Thomas Beckett.  A church was established in the 1240s and its cemetery became a popular place for Londoners to be buried.  It developed close ties with the Mercers Company from at least the fifteenth century; the company was granted the site by the king in 1542.
[3] The Pardon Churchyard was part of the churchyard of St Paul's Cathedral and was the usual cemetery for parishioners of St Faith and St Gregory.
Return to English Reformation c1527-1590