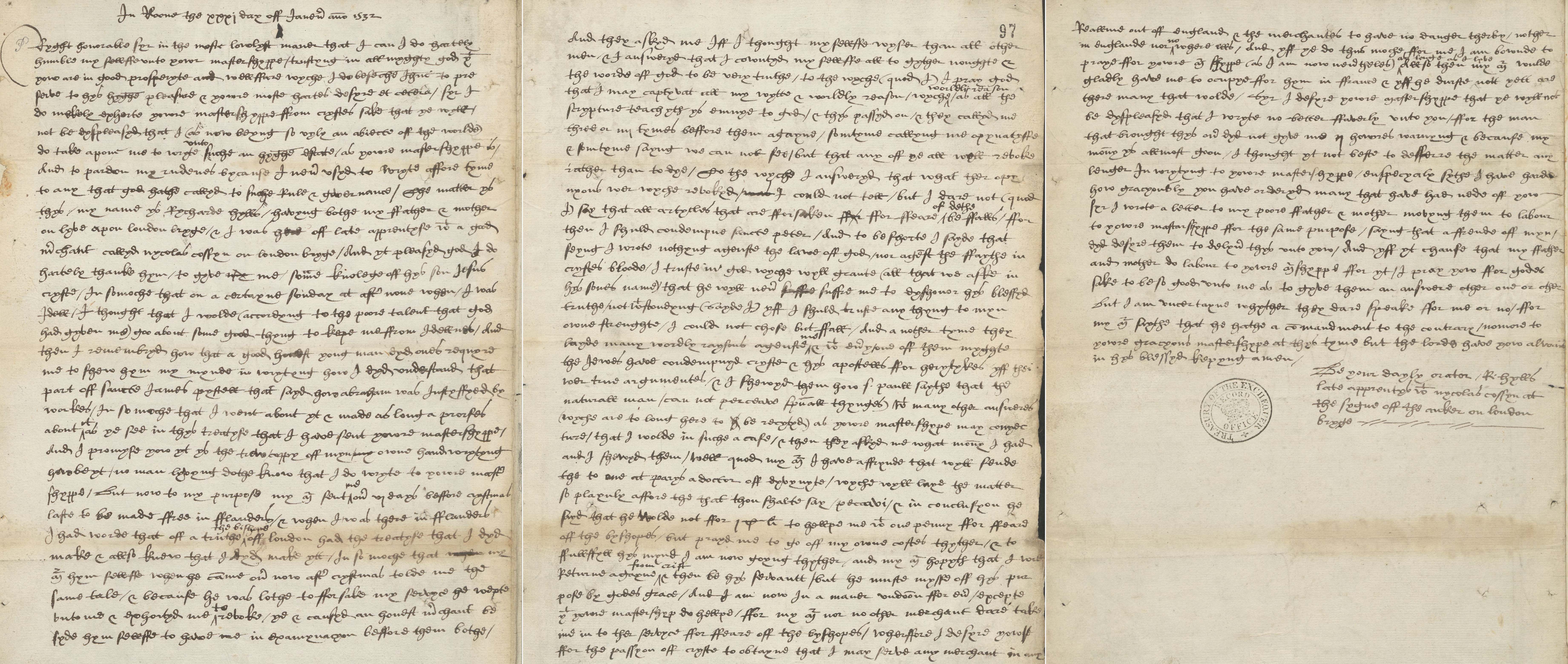 A letter from Richard Hylls to Thomas Cromwell, 31 January 1533, (SP1/74, f. 96v-97v)
This provides an insight into the development of one man's evangelical ideas and the impact they had on his life and work. Apprentices were commonly thought to be vulnerable to new ideas because they were young, impressionable and away from home. Here, despite his pleas of ignorance, it is clear that Hylls was relatively well educated because he was able to write a short treatise and knew his bible (not unusual). He clearly felt Cromwell was someone he could petition for help.  However, this letter may not have been written by Hylls himself, as it is written in the style of 'secretary hand', a writing style taught to clerks. Also, it was common for people to pay others to write for them.
Transcript
[f.96v]
In Roone [Rouen] xxxj[1] day off Janery anno 1532[2]
Right honourable sir in the most lowliest manner that I can I do heartily humble myself unto your mastership trusting in all mighty god that you are in good prosperity and welfare which I do beseech I— to preserve to his highness's pleasure & your most heart's desire etc . Sir I do meekly exhort [encourage] your mastership from Christ's sake that ye will not be displeased that I (as now being so vilely an abiecte off the worlde) [as now being so vilely cast out from the world] do take upon me to write unto such a high estate [important person] as your mastership is. And to pardon my rudeness because I never used to write affore [before] time to any that god hath called to such rule & governance. The matter is this. My name is Rycharde Hylls. Having both my father & mother on live upon London bryge [bridge] & I was here off late apprenticed with a good merchant called Nicholas Cossyn on London bryge. And it pleased god I do heartily thank him to give me some knowledge of his son Jesus Christ. In so much that on a certain Sunday at afternoon when I was idle I thought that I would (according to the poor talent that god had given me) go about some good thing to keep me from idleness.  And then I remembered how that a good honest young man did once require me to show him my mind in writing how I did understand that part of saint James pystell [epistle] that said how Abraham was Justified by works. In so much that I went about it & made as long a process about it as ye see in this treatise that I have sent your mastership. And I promise you it is the true copy off mine own hand written how be it no man living doth know that I do write to your mastership. But now to my purpose my master sent me over VI [six] days before Christmas last to be made free in Flanders & when I was there in Flanders I had word that of a truth, the Bishop of London [John Stokesley] had the treatise that I did make & also knew that I did make it. In so much that my master himself when he came over now after Christmas told me that same tale & because he was loth to forsake my service he wept unto me & exhorted me to revoke [withdraw] it & caused an honest merchant beside himself to have me in examination before them both
[f.97r]
And they asked me if I thought myself wiser than all other men & I answered that I counted myself all together nought & the word of god to be very truth to the which (quote I) I pray god that I may captivate [keep] all my wit & worldly reason which worldly reason as all the scripture teaches is enemy to god & this passed on & they called me three or four times before them again Sometime calling me apynatyffe [opinionated] & sometime saying we cannot see but that any of ye all will revoke rather than to die. To the which I answered that what their opinions were which revoke (error crossed out) I could not tell but I dare no say that all articles that are forsaken for fear of death be falls [false] for then I should condemn saint Peter. And to be short I said that saying I wrote nothing against the law of god. Nor against the faith in Christ's blood. I trust in god which will grant (all that we asked in his son's names) that he will never suffer me to dishonour his blessed truth, not
withstanding said I, if I should trust anything to mine own strength. I could not choose but fall.  And another time they laid many wordly reasons against me & with every one of them might the Jews have condemned Christ & his apostles for heretics if they were true arguments & I showed them how St Paul sayeth that the (which are too long here to be recited) as your mastership may conjecture that I would in such a case & then they asked me what money I had and I showed them. Well quote my master I have a friend that will send thee to one at Paris, a doctor of divinity, which will lay the matter so plainly before thee that thou shalt say peccavi [he has sinned] & in conclusion he said that he would not for £100 to help me with one penny for fear of the bishops. But prayed me to go of my own costs thither & to fulfil his mind I am now going thither and my master hopes that I will return again from Christ, then be his servant but he must miss off his purpose by god's grace. And I am now In a manner undone for ever, except that your mastership do help, for my master not no other merchant dare take me in to their service for fear of the bishops where for I desire your for the passion off Christ to obtain that I may serve any merchant in any
[f. 97v]
Realm out of England & the merchants to have no danger thereby other [than] in England nor nowhere else.  And if ye do thus much for me I am bound to pray for your mastership (as I am now nevertheless) as long as I live.  Also then my master would gladly have me to occupy for him in France & if he dare not yet are there many that would. Sir, I desire your mastership that ye will not be displeased that I write no better ffaverly [less agreeably] unto you for the man that brought this over did not give me two hours warning & because my money is almost gone. I thought it not best to defer the matter any longer in writing to your mastership,  especially since I have heard how graciously you have ordered many that have had need of you–sir I wrote a letter to my poor father & mother moving them to labour to your mastership for the same purpose saying that a friend of mine did desire them to deliver this unto you And if it chance that my father and mother do labour to your mastership for it  I pray yow for god's sake to be so good unto me as to give them an answer other one or other but I am uncertain whether they dare speak for me or know for my master saithe that he hath a commandment to the contrary,  no more to your gracious mastership at this time but the lord have you always in his blessed keeping, amen.
Be your daily orator R. Hylls, late apprentice with Nicholas Cossyn at the sign of the anker [Sign of the Anchor, it was usual for shops and businesses to be known by a sign, rather than a numbered street address] on London bridge.
[1] 31st.  It was common to use Roman numerals, rather than Arabic ones; it was also common for the final 'i' to be written as a 'long i' which looks like a 'j'.
[2] Though the start of the calendar year was 1 January, the civil and legal year began on 25 March (Lady Day).  Many documents use this 'Old Style' dating.  Hence, though this letter is dated '1532', it was actually written in 1533.
Return to English Reformation c1527-1590