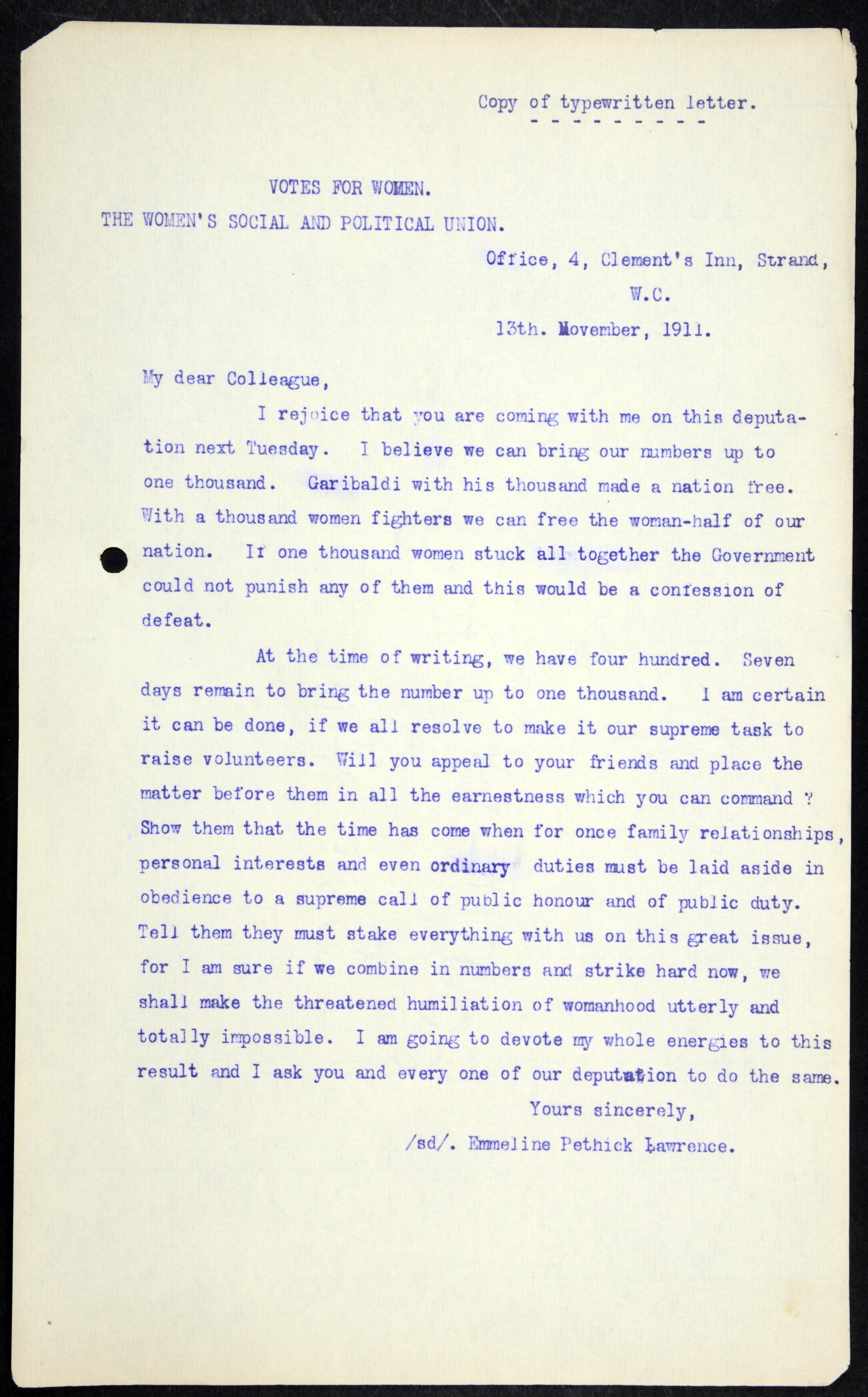 Letter from Emmeline Pethick Lawrence calling 'colleagues' to join a deputation to Parliament, 13 November 1913 (Catalogue ref: HO 144/1119/203651)
Transcript
Copy of typewritten letter
VOTES FOR WOMEN.
THE WOMEN'S SOCIAL AND POLITICAL UNION.
Office, 4, Clement's Inn, Strand, W.C. 13th November, 1911.
My dear Colleague,
I rejoice that you are coming with me on this deputation next Tuesday. I believe we can bring our numbers up to one thousand. Garibaldi with his thousand made a nation free. With a thousand women fighters we can free the woman-half of our nation. If one thousand women stuck all together the Government could not punish any of them and this would be a confession of defeat.
At the time of writing, we have four hundred. Seven days remain to bring the number up to one thousand. I am certain it can be done, if we all resolve to make it our supreme task to raise volunteers. Will you appeal to your friends and place the matter before them in all the earnestness which you can command? Show them that the time has come when for once family relationships, personal interests and even ordinary duties must be laid aside in obedience to a supreme call of public honour and of public duty. Tell them they must stake everything with us on this great issue, for I am sure if we combine in numbers and strike hard now, we shall make the threatened humiliation of womanhood utterly and totally impossible. I am going to devote my whole energies to this result and I ask you and every one of our deputation to do the same.
Yours sincerely,
/sd/. Emmeline Pethick Lawrence.
Return to Suffragettes on file