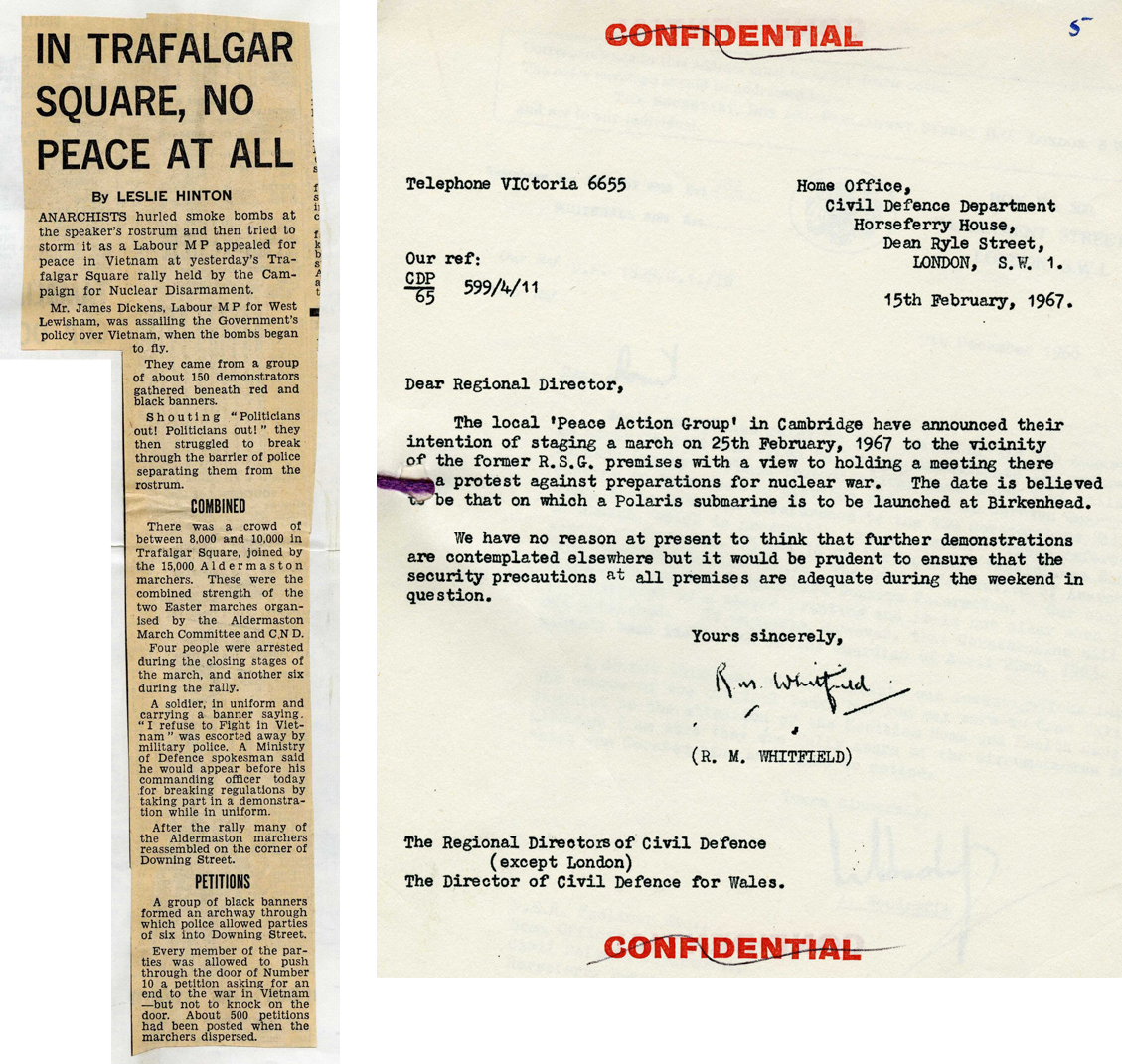 Article from The Sun concerning an anti-war demonstration, 28th March 1967, courtesy of Mirrorpix and a letter from the Home Office to Regional Directors for Civil Defence, 15th February 1967 (HO 322/651)
Transcript (of article)
IN TRAFALGAR SQUARE, NO PEACE AT ALL
By Leslie Hinton
Anarchists hurled smoke bombs at the speaker's rostrum and then tried to storm it as a Labour MP appealed for peace in Vietnam at yesterday's Trafalgar Square rally held by the Campaign for Nuclear Disarmament.
Mr. James Dickens, Labour MP for West Lewisham, was assailing the Government's policy over Vietnam, when the bombs began to fly.
They came from a group of about 150 demonstrators gathered beneath red and black banners.
Shouting 'Politicians out! Politicians out!' they struggled through the barrier of police separating them from the rostrum.
COMBINED
There was a crowd of between 8,000 and 10,000 in Trafalgar Square, joined by the 15,000 Aldermaston marchers. These were the combined strength of the two Easter marches organised by the Aldermaston March Committee and CND.
Four people were arrested during the closing stages of the march, and another six during the rally.
A soldier, in uniform and carrying a banner saying 'I refuse to Fight in Vietnam' was escorted away by military police. A Ministry of Defence spokesman said he would appear before his commanding officer today for breaking regulations by taking part in a demonstration while in uniform.
After the rally many of the Aldermaston marchers reassembled on the corner of Downing Street.
PETITIONS
A group of black banners formed an archway through which police allowed parties of six into Downing Street.
Every member of the parties was allowed to push through the door of Number 10 a petition asking for an end to the war in Vietnam — but not to knock on the door. About 500 petitions had been posted when the marchers dispersed.
Transcript (of letter)
Dear Regional Director,
The local 'Peace Action Group' in Cambridge have announced their intention of staging a march on 25th February, 1967 to the vicinity of the former R.S.G.* premises with a view to holding a meeting there for a protest against preparations for nuclear war. The date is believed to be that on which a Polaris submarine is to be launched at Birkenhead.
We have no reason at present to think that further demonstrations are contemplated elsewhere but it would be prudent to ensure that the security precautions at all premises are adequate during the weekend in question.
Yours sincerely,
(R. M. WHITFIELD)
The Regional Directors of Civil Defence
(except London)
The Director of Civil Defence for Wales
CONFIDENTIAL
* R.S.G means Regional Seat of Government, a regional command centre, built to resist nuclear attack
Return to Sixties Britain