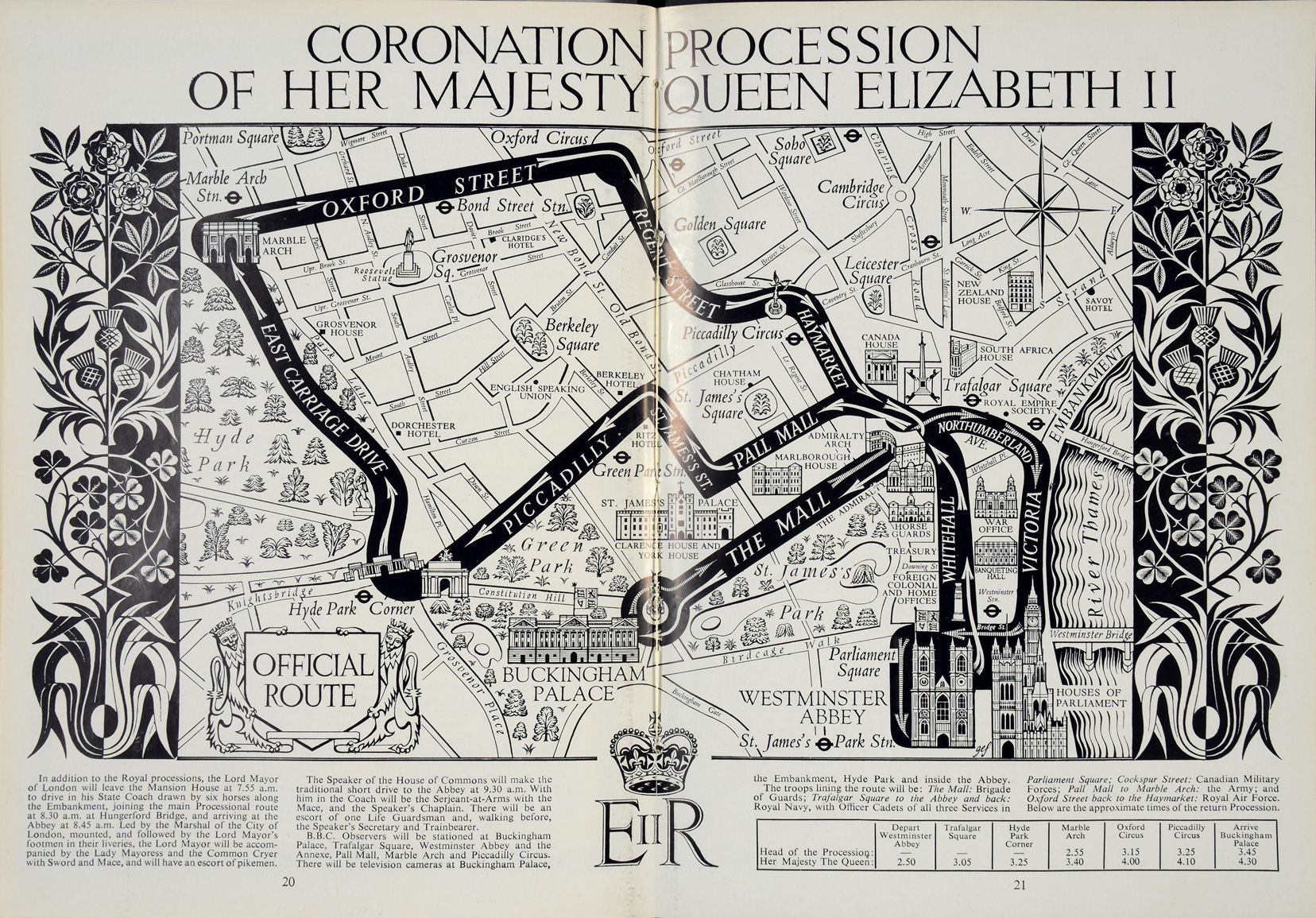 Map to show the route of the Royal Procession after the coronation of Queen Elizabeth II, 2 June, 1953 (Catalogue ref: PC 22/11)
Transcript
In addition to the Royal Processions, the Lord Mayor of London will leave the Mansion House at 7.55 a.m. to drive in his State Coach drawn by six horses along the Embankment, joining the main Processional route at 8.30 a.m. at Hungerford Bridge, and arriving at the Abbey at *.45 a.m. Led by the Marshal of the City of London, mounted, and followed by the Lord Mayor's footmen in their liveries, the Lrd Mayor will be accompanied by the Lady Mayoress and the Common Cryer with Sword and Mace, and will have an escort of pikemen.
The Speaker of the House of Commons will make the traditional short drive to the Abbey at 9.30 a.m. With him in the coach will be the Serjeant-at-Arms with the Mace, and the Speaker's Chaplain. There will be an escort of one Life Guardsman and, walking before, the Speaker's Secretary and Trainbearer.
B.B.C. observers will be stationed at Buckingham Palace, Trafalgar Square, Pall Mall, Marble Arch and Piccadilly Circus. There will be television cameras at Buckingham Palace, the Embankment, Hyde Park and inside the Abbey.
The troops lining the route will be; The Mall: Brigade of Guards; Trafalgar Square to the Abbey and back: Royal Navy, with Officer Cadets of all three Services in Parliament Square; Cockspur Street: Canadian Military Forces; Pall Mall to Marble Arch: The Army; and Oxford Street back to the Haymarket: Royal Air Force. Below are the approximate times of the return Procession.
Head of the Procession: Her Majesty The Queen
Depart Westminster

Abbey

2.50

Trafalgar

Square

3.05

Hyde Park

Corner

3.25

Marble

Arch

2.55

3.40

Oxford

Circus

3.15

4.00

Piccadilly

Circus

3.25

4.10

Arrive

Buckingham

Palace

3.45

4.30
Return to Significant Events