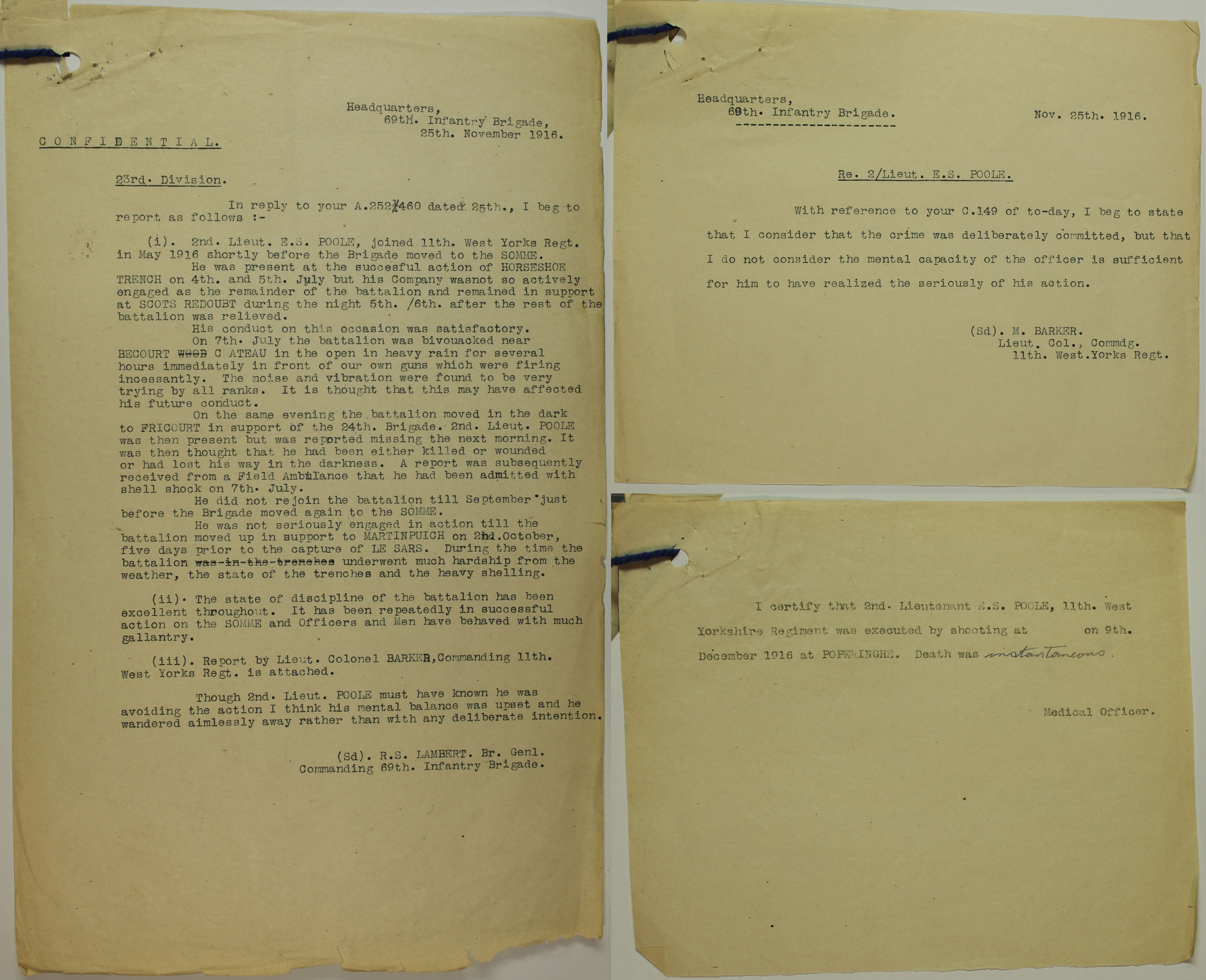 These War Office documents concern the tragic case of 2nd Lieutenant E.S. Poole who was shot for desertion. Documents relating to his pardon in August 2007 have since been added to this file. (Catalogue ref: WO 71/1027)
Transcript
CONFIDENTIAL                                         Headquarters,
69 Infantry Brigade,
25th November 1916
23rd Division
In reply to your A.252/460 dated 25th, I beg to report as follows:-
(i). 2nd Lieut. E.S. POOLE, joined 11th West Yorks. Regt. in May 1916 shortly before the Brigade moved to the Somme. He was present at the successful action of HORSESHOE TRENCH on 4th and 5th July but his company was not so actively engaged as the remainder of the battalion and remained in support at SCOTS REDOUBT during the night 5th/6th after the rest of the battalion was relieved.
His conduct on this occasion was satisfactory. On 7th July the battalion was bivouacked near BECOURT WOOD CHATEAU in the open in heavy rain for several hours immediately in front of our own guns which were firing incessantly. The noise and vibration were found to be very trying by all ranks. It is thought that this may have affected his future conduct.
On the same evening the battalion moved in the dark to FRICOURT in support of the 24th Brigade. 2nd Lieut. POOLE was then present but was reported missing the next morning. It was then thought that he had either been killed or wounded or had lost his way in the darkness. A report was subsequently received from a Field Ambulance that he had been admitted with shell shock on 7th July.
He did not re-join the battalion till September just before the Brigade moved again to the Somme.
He was not seriously engaged in action till the battalion moved up in support to MARTINPUICH on 2nd October five days prior to the capture of LE SARS. During the time the battalion was in the trenches underwent much hardship from the weather, the state of the trenches and the heavy shelling.
(ii). The state of discipline of the battalion has been excellent throughout. It has been repeatedly in successful action at the SOMME and Officers and Men have behaved with much gallantry.
(iii). Report by Lieut. Colonel BARKER, Commanding 11th West Yorks. Regt. Is attached.
Though 2nd Lieut. POOLE must have known he was avoiding action I think his mental balance was upset and he wandered aimlessly away rather than with any deliberate intention.
(Sd). R.S. LAMBERT. Br. General, Commanding 69th Infantry Brigade.
---
Headquarters,
69 Infantry Brigade                                                                   25th November 1916
Re. 2/Lieut. E.S.POOLE
With reference to your C.149 of today, I beg to state that I consider that the crime was deliberately committed, but that I do not consider the mental capacity of the officer is sufficient for him to have realized the seriously [sic] of his action.
(Sd). M. Barker.
Lieut. Col., Commanding
11th. West. Yorkshire. Regiment
---
I certify that 2nd Lieutenant E.S.POOLE, 11th. West Yorkshire Regiment was executed by shooting at   on 9th December 1916 at POPERINGHE. Death was instantaneous.
Medical Officer
Return to Medicine on the Western Front (part two)