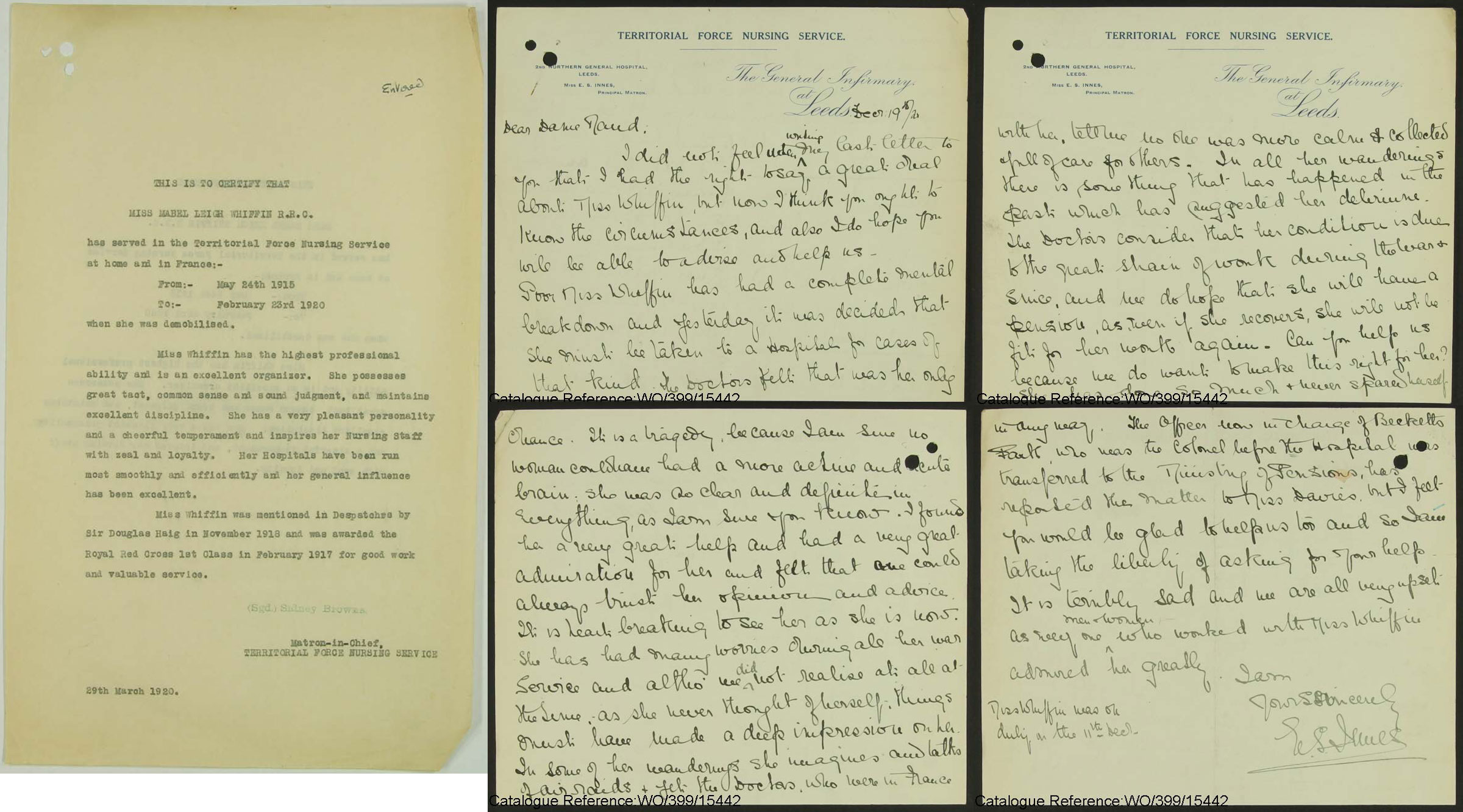 Letter to certify that Miss Mabel Leigh Whiffin, R.R.C. [Royal Red Cross] served in the Territorial Force Nursing Service, 29 March 1920, (Catalogue re: WO 399/15442)
Miss Mabel Leigh Whiffin served in the Territorial Force Nursing Service at home and in France from 14 May 1915 until 23 February 1920. She was a highly effective matron who later had breakdown after her service in the war.
Transcript
THIS IS TO CERTIFY THAT
MISS MABEL WHIFFIN R.R.C.
has served in the Territorial Force Nursing Service at home and in France-:
From:- May 24th 1915
To:-     February 23rd 1920
When she was demobilised.
Miss Whiffin has the highest professional ability and is an excellent organiser. She possesses great tact, common sense and sound judgment, and maintains excellent discipline. She has a very pleasant personality and a cheerful temperament and inspires her Nursing Staff with zeal and loyalty. Her Hospitals have been run most smoothly and efficiently and her general influence has been excellent.
Miss Whiffin was mentioned in Despatches by Sir Douglas Haig in November 1918 and was awarded the Royal Red Cross 1st Class in February 1917 for good work and valuable service.
(Signed) Sidney Browes
Matron-in-Chief
TERRITORIAL FORCE NURSING SERVICE
29th March 1920
---
Letter from Miss E.S. Innes, Territorial Force Nursing Service, at the 2nd Northern General Hospital Leeds, 19th December, 1920 (Catalogue re: WO 399/15442)
Transcript
TERRITORIAL FORCE NURSING SERVICE
2nd Northern General Hospital,                    The General Infirmary at Leeds
Leeds,                                                            December 19th 1920
Miss E.S. Innes
Principal Matron
Dear Madame Maud
I did not feel when writing my last letter to you that I had the right to say a great deal about Miss Whiffin, but now I think you ought to know the circumstances, and also I do hope you will be able to advise and help us. Poor Miss Whiffin has had a complete mental breakdown and yesterday it was decided that that she must be taken to a Hospital for cases of that kind. The Doctors felt that was her only chance. It is a tragedy, because I am sure no woman could have had a more active and acute brain. She was so clear and definite in everything, as I am sure you know. I found her a very great help and had a very great admiration for her and felt that one could always trust her opinion and advice. It is heart breaking to see her as she is now. She has had many worries during all her war service and although we did not realise at all at the time, as she never thought of herself. Things must have made a deep impression on her. In some of her wanderings she imagines and talks of air raids and yet the Doctors, who were in France with her, tell me so she was more calm & collected & full of care for others. In all her wanderings there is something that has happened in the past which has suggested her delirium. The Doctors consider that her condition is due to the great strain of work during the war & since, and we do hope that she will have a pension, as even if she recovers, she will not be fit for her work again. Can you help us because we do want to make this right for her? She has done so much & never spared herself in any way. The officer now in charge of Becketts Park, who was the Colonel before the Hospital was transferred to the Ministry of Pensions has reported the matter to Miss Davies, but I felt you would be glad to help us too and so I am taking the liberty of asking for your help. It is terribly sad and we are very upset as everyone, men & women who worked with Miss Whiffin admired her greatly.
Miss Whiffin was on duty on the 11th December,
Yours sincerely E.S. Innes
Return to Medicine on the Western Front (part two)