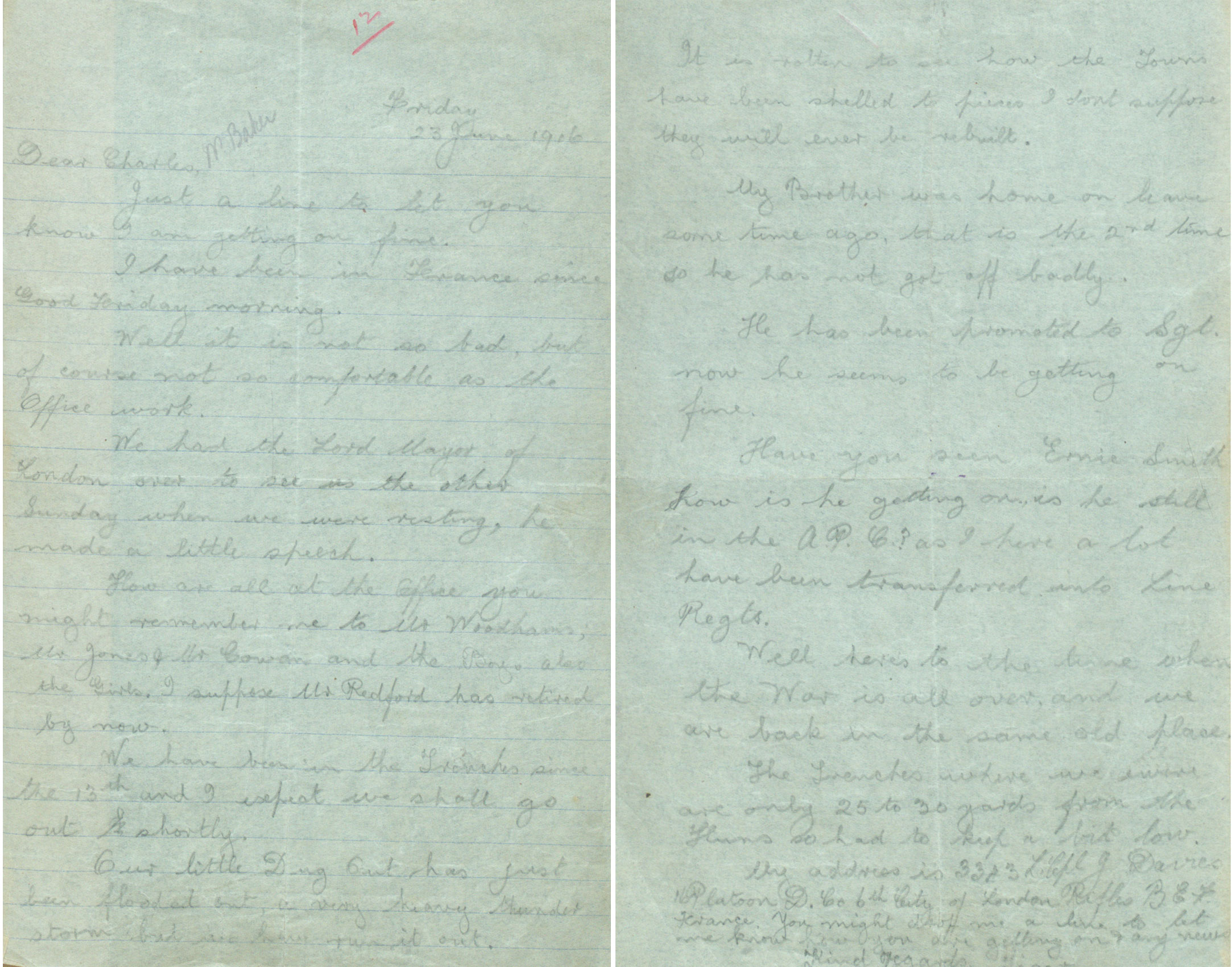 This is one of many letters sent by staff of the Great Western Railway Audit office at Paddington who had enlisted to fight in the First World War. (RAIL 253/516)
James Davies, 23 June 1916, France. Regiment: 6 City of London Rifles, Regiment number: 3343, Rank: Lance Corporal
Transcript
Dear Charles,
Just a line to let you know I am getting on fine. I have been in France since Good Friday morning. Well it is not so bad, but of course not so comfortable as the office work.
We had the Lord Mayor of London over to see us the other Sunday when we were resting, he made a little speech.
How are all at the office? You might remember me to Mr Woodhams, Mr Jones and Mr Cowan and the boys also the girls. I suppose Mr Redford has retired by now.
We have been in the trenches since the 13th and I expect we shall go out shortly. Our little dugout has just been flooded out, a very heavy thunderstorm, but we have run it out. It is rotten to see how the towns have been shelled to pieces. I don't suppose they will ever be rebuilt.
My brother was home on leave some time ago that is the second time so he has not got off badly. He has been promoted to Sergeant now. He seems to be getting on fine.
Have you seen Ernie Smith? How is he getting on, is he still in the A.P.C. (Army Pay Corps, non-fighting troops)? As I hear a lot have been transferred into line regiments.
Well here's to the time when the war is all over and we are back in the same old place. The trenches where we were are only 25 to 30 yards from the Huns so had to keep a bit low.
My address is 3343 Lance Corporal J. Davies, No. 1 Platoon D Company, 6th City of London Rifles, B.E.F., France. You might drop me a line to let me know how you are getting on and any news,
Kind regards…
Return to Letters from the First World War, part two