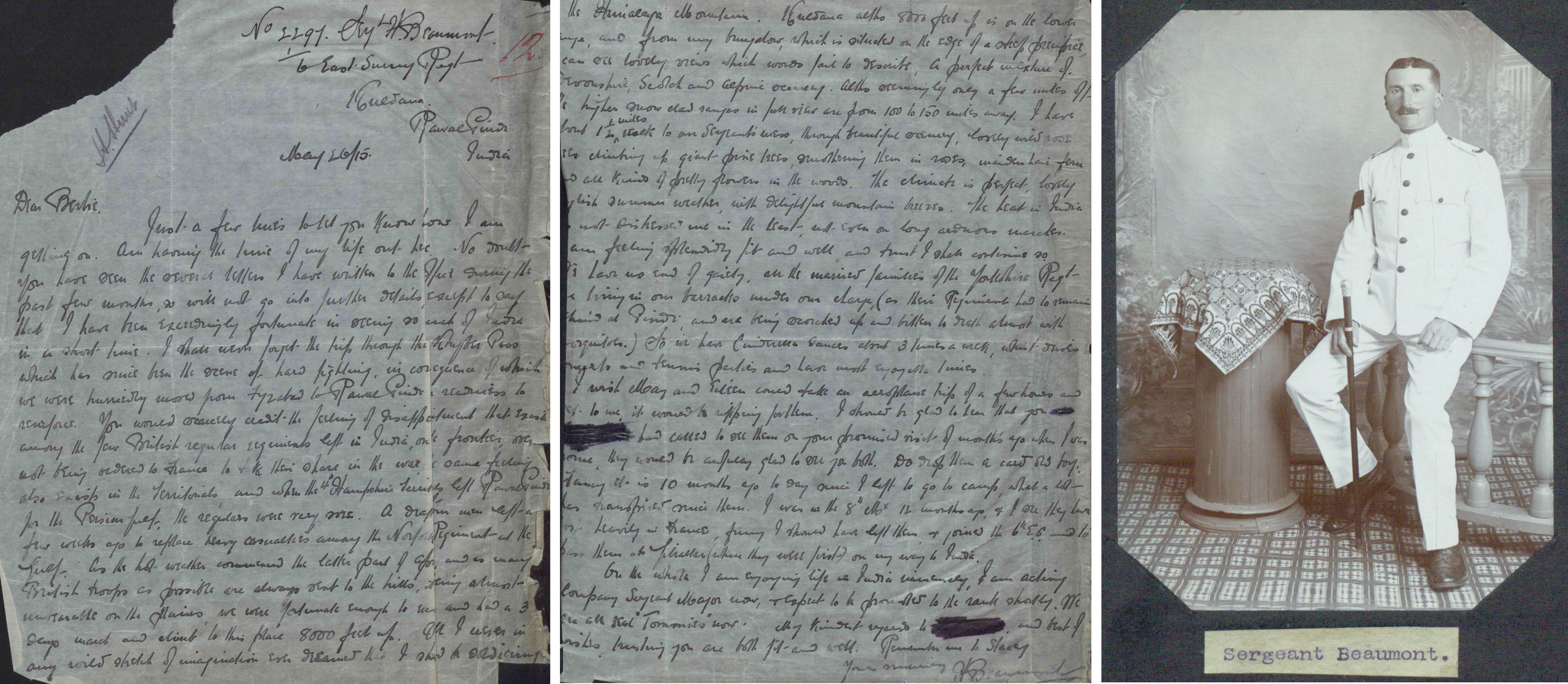 This is one of many letters sent by staff of the Great Western Railway Audit office at Paddington who had enlisted to fight in the First World War. (RAIL 253/516)
Harry Beaumont, May 1915, Rawalpindi, India. Born: 17 October 1873, Regiment: 1/6 East Surrey Regiment, Regiment number: 2297, Rank: Quarter Master Sergeant, Died: 1952
Note: Beaumont was a member of volunteer army as a young man. He was a life governor of Richmond Hospital, London and held an MBE (Military Division)
Transcript
Dear Bertie,
Just a few lines to let you know how I am getting on. Am having the time of my life out here.
No doubt you have seen the several letters I have written to the office during the past few months, so will not go into further details, except to say that I have been exceedingly fortunate in seeing so much of India in a short time. I shall never forget my trip through the Khyber Pass which has since been the scene of hard fighting, one consequence of which we were hurriedly moved from Fyzabad to Rawalpindi in readiness to reinforce.
You would scarcely credit the feeling of disappointment that exists among the few British regular regiments left in India, over not being ordered to France to take their share in the war. The same feeling also exists in the Territorials… A dragoon then left a few weeks ago to replace heavy casualties among the Norfolk regiment at the Gulf.
As the hot weather commenced the latter part of April, and as many British troops as possible are always sent to the hills (being almost unbearable on the plains), we are fortunate enough to go, and had a three days' march and climb to this place 8,000 feet up. Well I never in any wild stretch of imagination ever dreamed that I should be soldiering in the Himalayan mountains.
Kuldana, although 8,000 feet up is on the lower Himalaya, and from my bungalow, which is situated on the edge of a steep precipice, I can see lovely views which words fail to describe, a perfect mixture of Devonshire, Scotch and Alpine scenery. Although seemingly only a few miles off, the higher snow clad ranges in full view are from 100 to 150 miles away. I have about 1½ miles trek to our Sergeant's mess, through beautiful scenery, lovely wild rose bushes climbing up giant pink trees, smothering them in roses, maiden hair fern and all kinds of pretty flowers in the woods. The climate is perfect, lovely English summer weather, with delightful mountain breezes. The heat in India has not distressed me in the least, not even on long arduous marches. I am feeling splendidly fit and well, and trust I shall continue so. We have no end of gaiety; all the married families of the Yorkshire regiment are living in our barracks under our charge, (as their regiments had to remain behind at Pindi, and are being bitten to death almost with mosquitoes.) So we have Cinderella dances about three times a week, whist drives, racquet and tennis parties and have most enjoyable times.
I wish May and Eileen could take an aeroplane trip of a few hours and get to me, it would be ripping for them. I should be glad to hear that you had called to see them on your promised visit of months ago when I was home, they would be awfully glad to see you both. Do drop them a card old boy. Fancy it is 10 months ago today since I left to go to camp, what a lot has transpired since then. I was in the 8th Middlesex 12 months ago, and I see they have lost heavily in France, funny I should have left them, and joined the 6th East Surrey and to pass them at Gibraltar (where they were first) on my way to India.
On the whole I am enjoying life in India immensely; I am acting Company Sergeant Major now, and expect to be promoted to the rank shortly. We are all 'Tommies' now. Trusting you are both fit and well. Remember me to Stacey. Yours sincerely,
H. Beaumont
Photo caption: Sergeant Beaumont.
Return to Letters from the First World War, part one