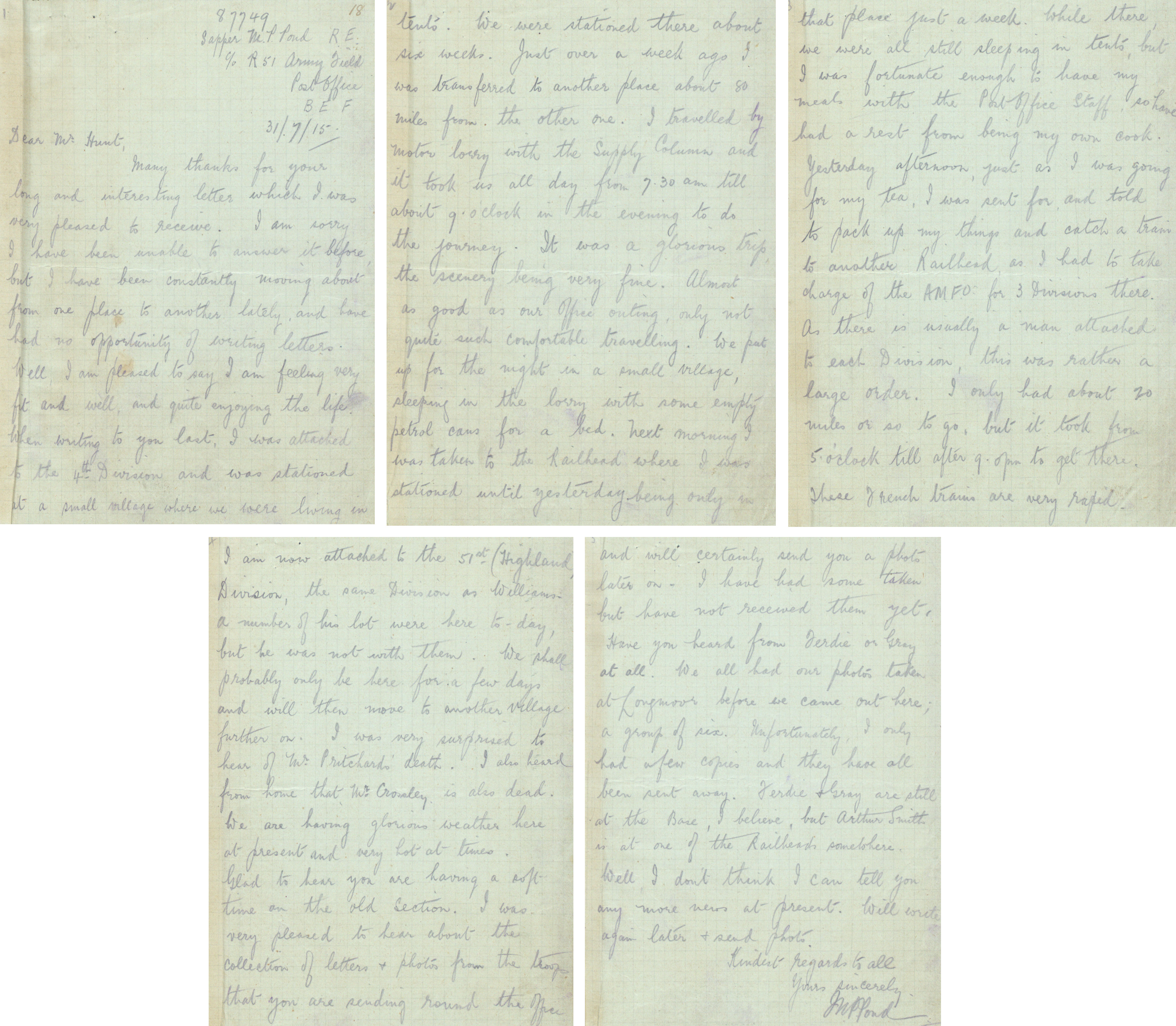 This is one of many letters sent by staff of the Great Western Railway (GWR) Audit office at Paddington who had enlisted to fight in the First World War. (RAIL 253/516)
Montague Percy Pond, 31 July 1915, France. Born: 13 September 1888, Joined GWR: 19 May 1904, Regiment: Railway Troop, Royal Engineers, Regiment number: 87749, Rank: Sapper, Died: Killed in action on 6 May 1917
Transcript
Dear Mr Hunt
Many thanks for your long and interesting letter which I was very pleased to receive. I am sorry I have been unable to answer it before but I have been constantly moving about from one place to another lately, and have had no opportunity of writing letters. Well I am very pleased to say I am feeling very fit and well, and quite enjoying the life. When writing to you last, I was attached to the 4th Division and was stationed at a small village where we were living in tents. We were stationed there about six weeks. Just over a week ago I was transferred to another place about eighty miles from the other one. I travelled by motor lorry with the Supply column and it took us all day from 7.30am till about 9 o'clock in the evening to do the journey. It was a glorious trip, the scenery being very fine. Almost as good as our office outing, only not quite such comfortable travelling. We put up for the night in a small village, sleeping in the lorry with some empty petrol cans for a bed. Next morning I was taken to the railhead where I was stationed until yesterday being only in that place just a week. While there we were all still sleeping in tents, but I was fortunate enough to have my meals with the Post Office Staff so have had a rest from being my own cook. Yesterday afternoon, just as I was going for my tea, I was sent for and told to pack up my things and catch a train to another railhead as I had to take charge as the A.M.F.O* for three Divisions there. As there is usually a man attached to each division, this was rather a large order. I only had about twenty miles or so to go, but it took from 5 o'clock till after 9pm to get there. These French trains are very rapid.
I am now attached to the 51st (Highland) Division, the same division as Williams, a number of his lot were here today, but he was not with them. We shall probably only be here for a few days and will then move to another village further on. I was very surprised to hear of Mr Pritchard's death. I also heard that Mr Crossley is also dead. We are having glorious weather here at present and very hot at times. Glad to hear you are having a soft time on the old section.
I was very pleased to hear about the collection of letters and photos from the troops that you are sending round the office and will certainly send you a photo later on. I have has some taken but have not received them yet. Have you heard from Ferdie or Gray at all? We all had our photos taken at Longmoor before we came out here a group of six. Unfortunately, I only had a few copies and they have all been sent away. Ferdie and Gray are still at the Base, I believe, but Arthur Smith is at one of the railheads somewhere. Well I don't think I can tell you any more news at present. Will write again later and send photo.
Kindest regards to all.
Yours sincerely,
M.P. Pond
Return to Letters from the First World War, part one