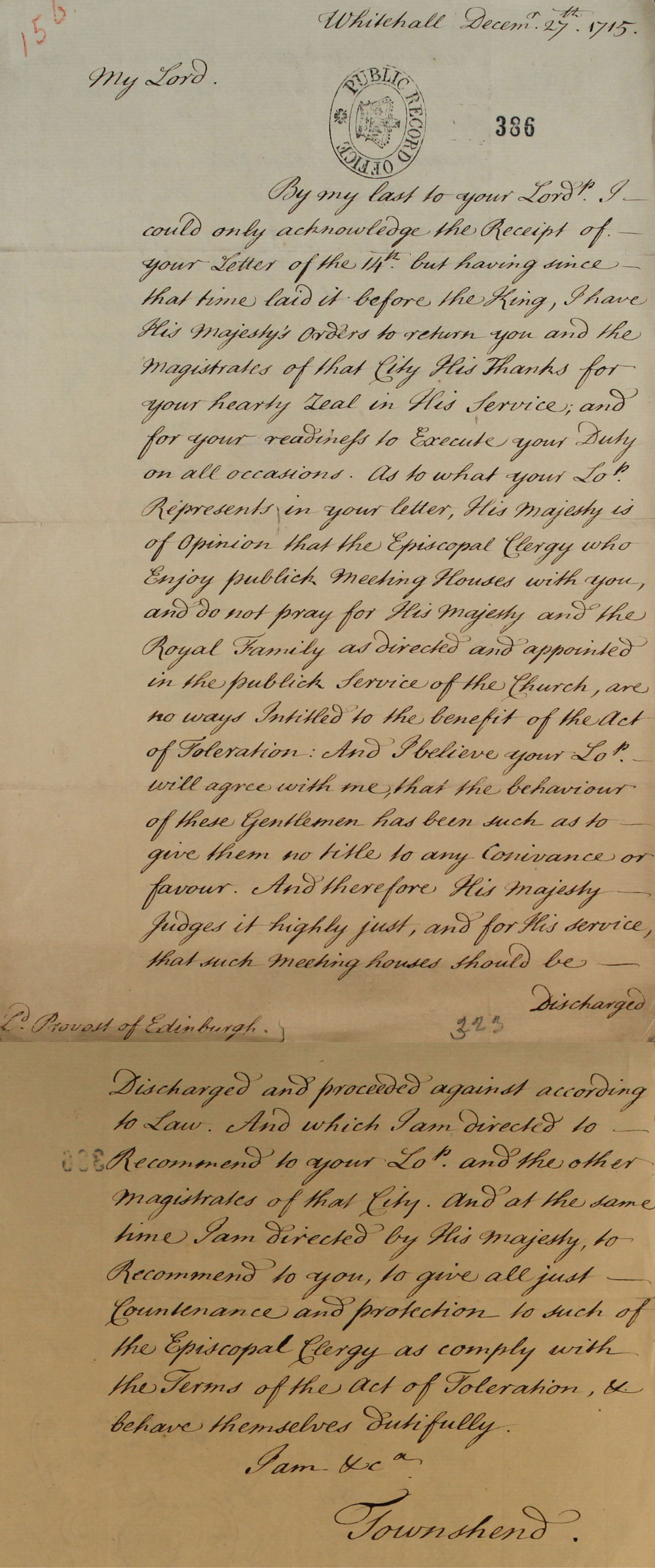 A letter from Secretary Townshend to the Provost of Edinburgh [the chief magistrate] reminding him that legal action will be taken against churchmen who do not pray for the royal family in their services and they will not be to able practice their faith freely as provided by the Toleration Act*, (SP 54/10/156).
Transcript
Whitehall December 27th 1715
My Lord,
By my last to your Lordship I could only acknowledge the Receipt of your letter of the 14th but having since that time laid it before the king, I have His Majesty's Orders to return you and the Magistrates of that City His thanks for your hearty zeal [enthusiasm] in His Service; and for your readiness to Execute [carry out] your Duty on all occasions. As to what your Lordship Represents [describes] in your letter, His Majesty is of Opinion that the Episcopal clergy [church government by bishops] who Enjoy publick [public] meeting Houses with you, and do not pray for His Majesty and the Royal Family as directed and appointed in the publick Service of the Church, are no ways Intitled [entitled] to the benefit of the Act of Toleration: And I believe your Lordship will agree with me, that the behaviour of these Gentlemen has been such as to give them no title to any Conivance [consent to wrong doing] or favour. And therefore His Majesty judges it highly just, and for His service, that such meeting houses should be Discharged and proceeded against according to Law.  And which I am directed to Recommend to your Lordship and the other magistrates of that City, And at the same time I am directed by His Majesty, to Recommend to you, to give all just countenance and protection to such of the Episcopal clergy as comply with the Terms of the Act of Toleration & behave themselves dutifully,
I am Etc.
Townshend
Notes
*The Toleration Act of 1689 made by the Parliament of England gave all non-conformists, except Roman Catholics, freedom of worship, thus rewarding Protestant dissenters for their refusal to side with James II. They had to promise to be loyal to the British ruler and their heirs.
Return to Jacobite Rebellion of 1715